ar_feiniel posting in

scans_daily
Rurouni Kenshin was a manga published in Weekly Shonen Jump during the 90s, set in the early Meiji period of post civil war Japan (the 1870s). It follows the character of Kenshin Himura, a former fighter/assassin who fought on the (victorious) Imperial side of the civil war; but who afterward chose to disappear and become a wandering swordsman to atone for his killings.
I'm not generally a big manga reader, but I really fell in love with this one. It's got a wonderful little ensemble of characters who come together to form their own family, and I'm always a big sucker for those kind of stories.
I thought long and hard over what to post. I thought about putting up the first chapter, but it's a bit longish. So here's the third chapter, which introduces the character Yahiko.
So, it's 1871, and Kenshin's decided to stop wandering for a while. In the first chapter he helped a seventeen year old female kenjutsu instructor, Kaoru; afterwards she invited him to stay at her dojo and he agreed. Kaoru knows his real identity.
As the two are walking along in Tokyo, a street kid lifts Kenshin's wallet. Kaoru immediately pounces on him and takes back the wallet. But Kenshin is sympathetic.
Remember: read right to left!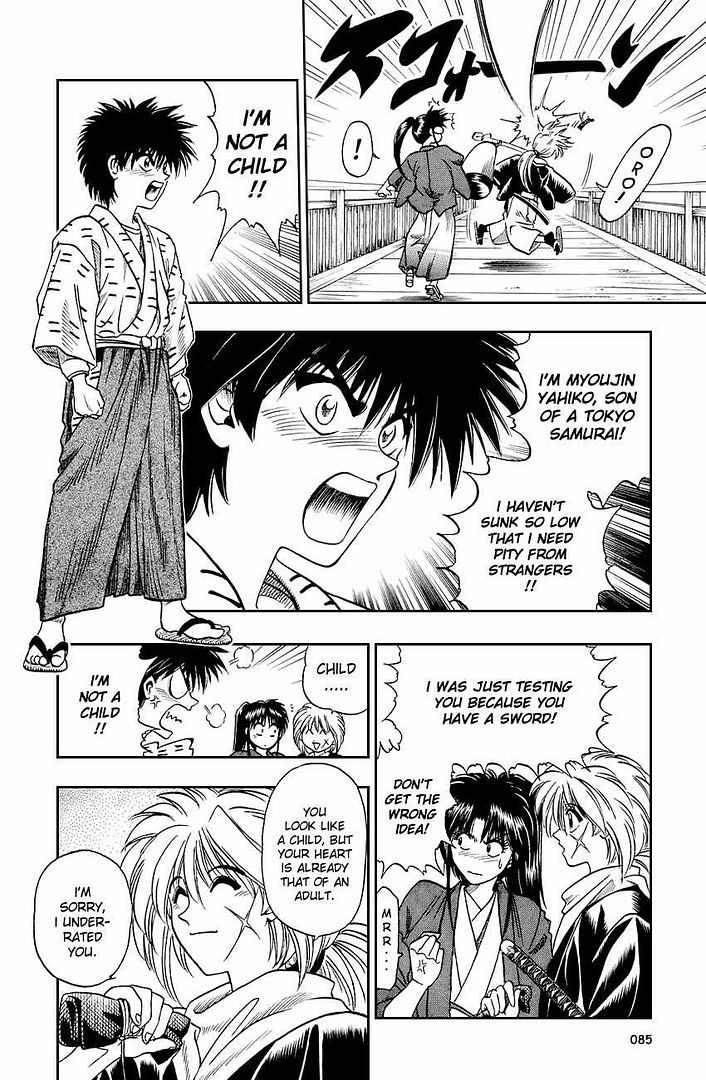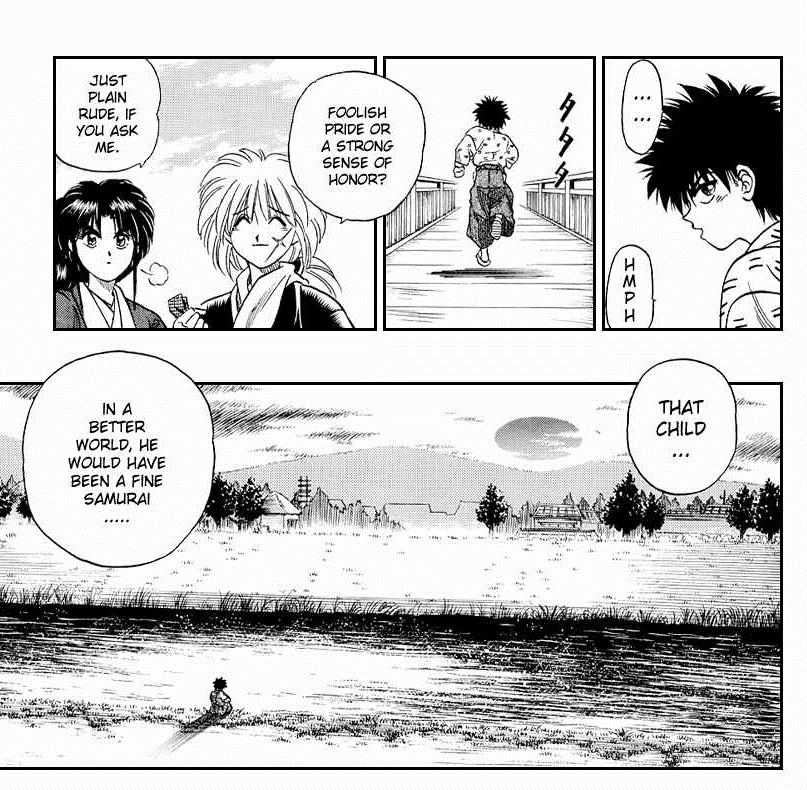 The story follows Yahiko for a bit. We learn he's been forced to work for a local gangster. A couple of goons meet up with Yahiko by the river and demand payment from him, but his pride's still up and he declares that he's quitting working with them.
This doesn't go over so well. One of the goons (Gasuke, who's the big muscle in the gang) beats him up, and they take him back to the boss.
(In the meantime, Kaoru is out running errands and sees what's happening to Yahiko.)
Back at the yakuza HQ, Yahiko is still adamant that he's done with pickpocketing...
(that's the boss in the middle of the first panel):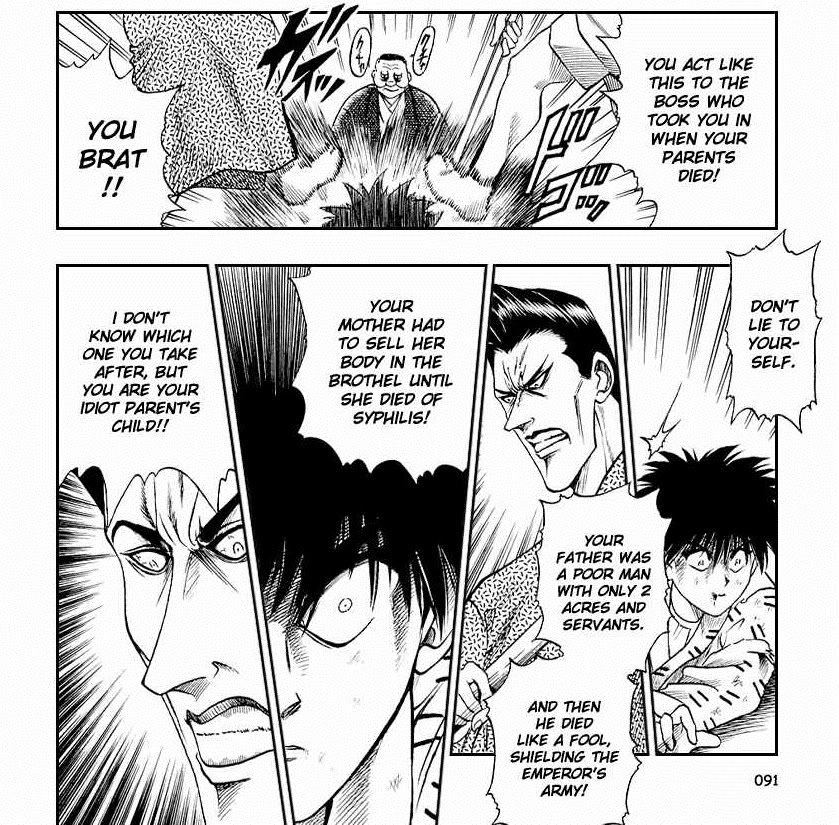 Yahiko's had enough at this point and bites Gasuke (the guy insulting him) in the groin. Sadly, page limitations prevent you from witnessing this.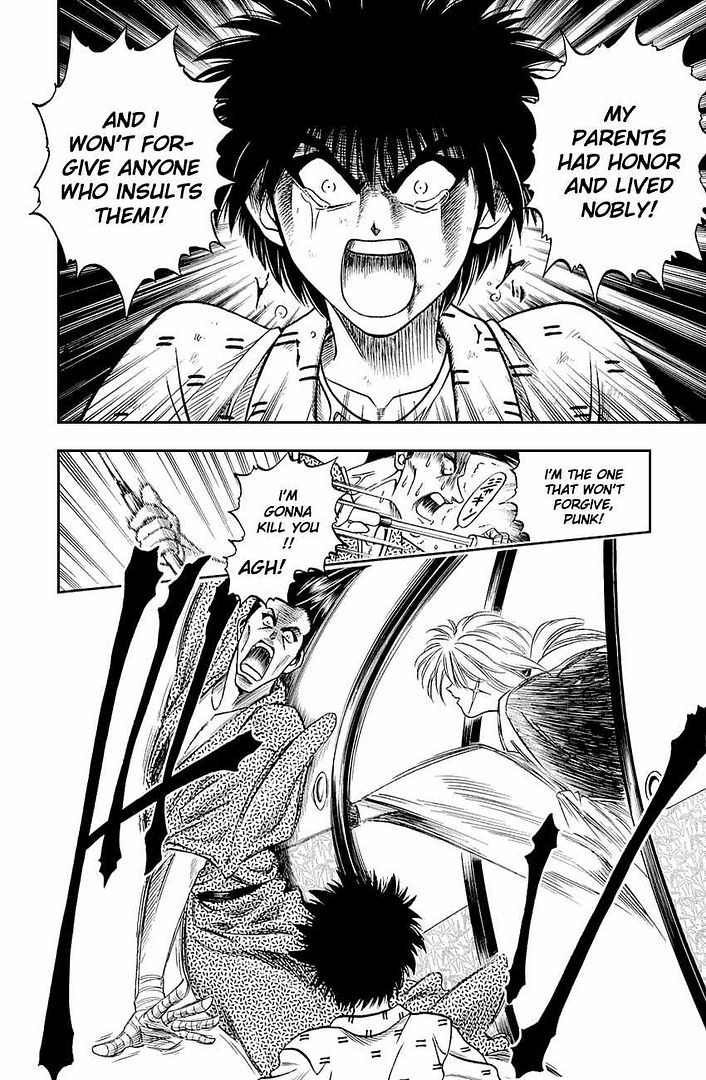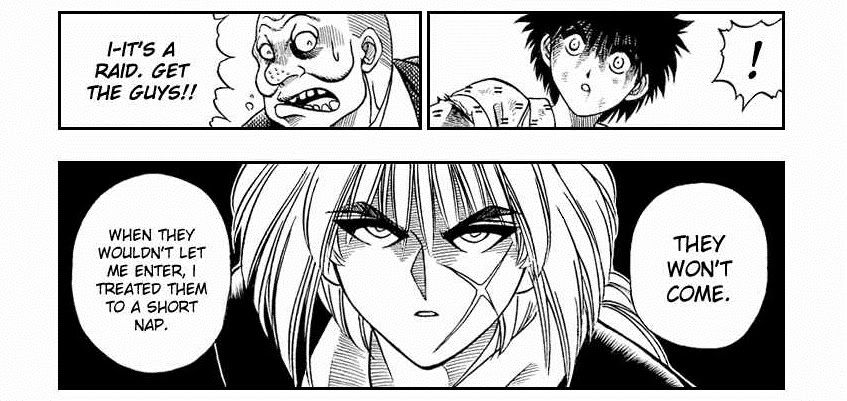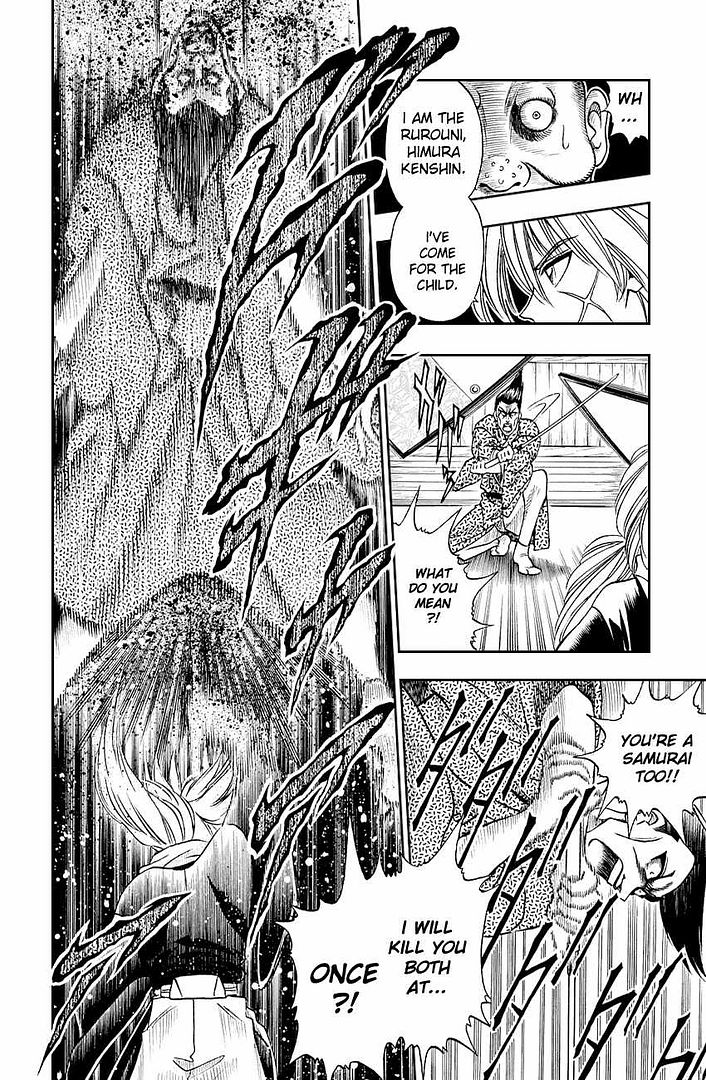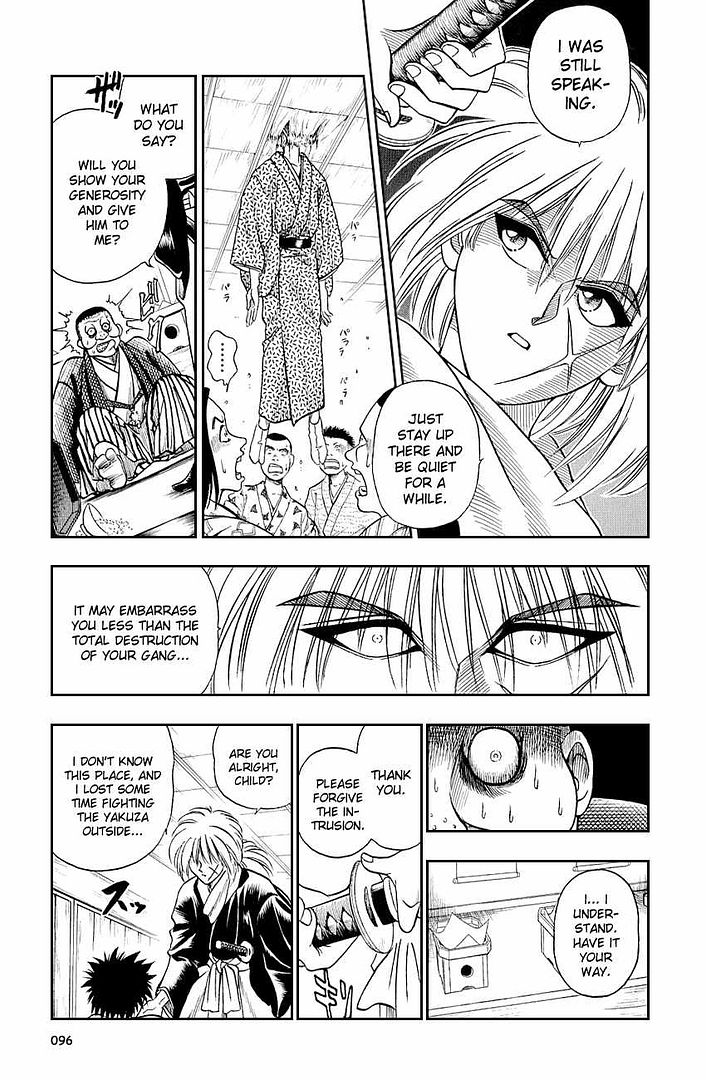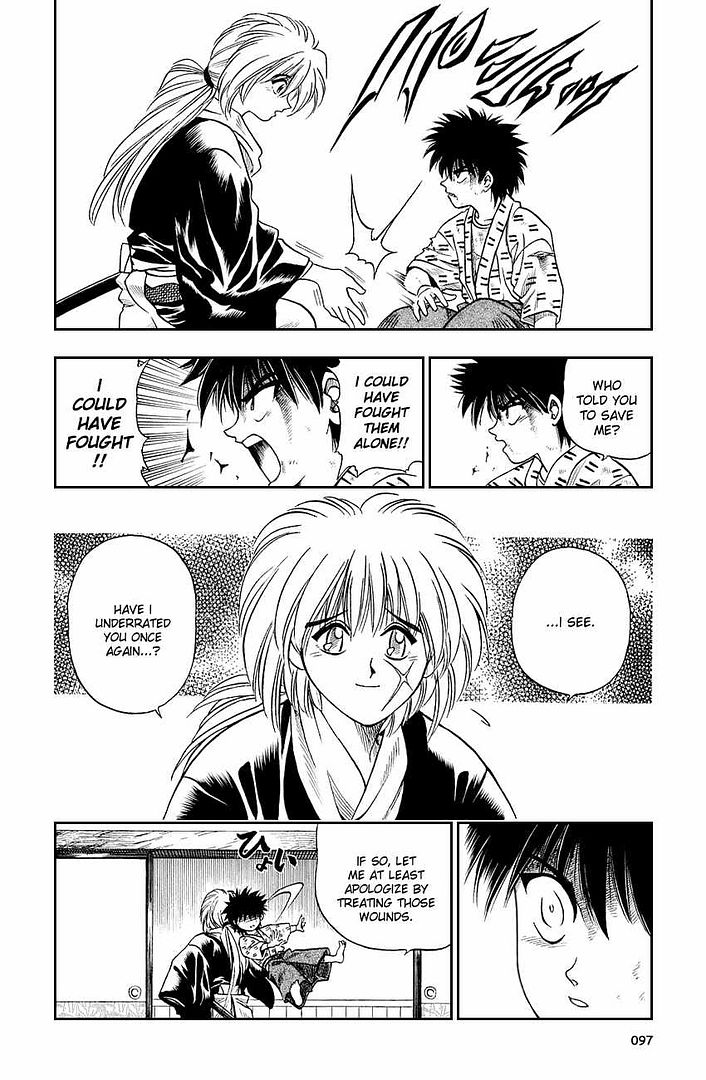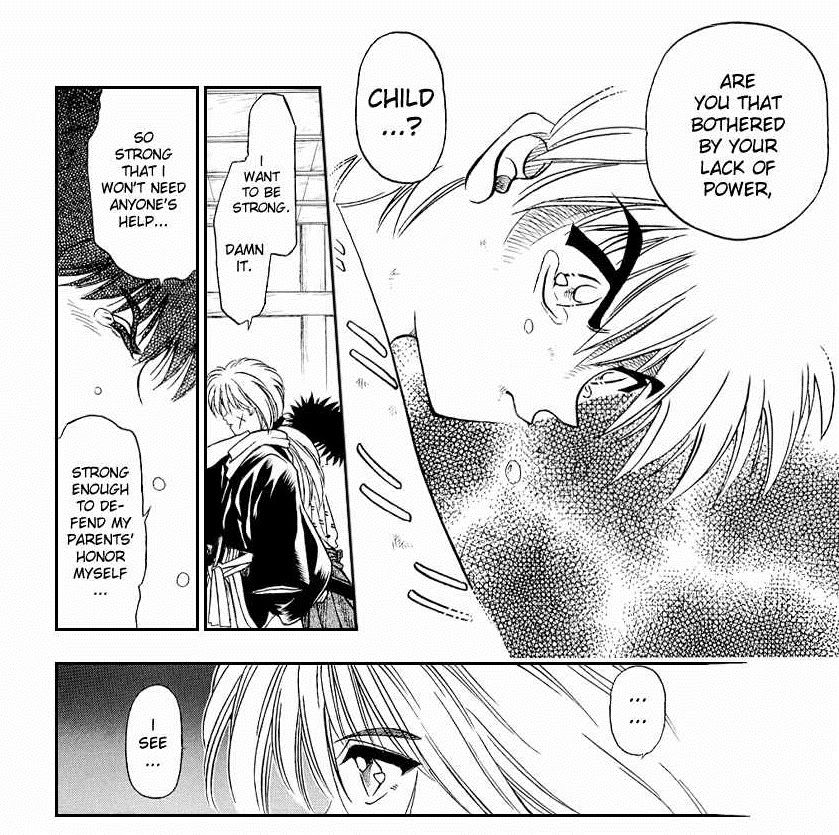 Kenshin brings Yahiko back to Kaoru's dojo and makes him her student. Kaoru and Yahiko spend the next hundred-ish chapters bickering, but he actually becomes a good student.