greenmask posting in

scans_daily
Following on from
yesterday
, I bring you some more Witchblade (issues 63 and 64), feat. Magdalena. Whose name, in this incarnation (legacy heroine), is Patience.
This post also includes one of my favourite comics panels ever, drawn by Francis Manapul. WHY was he the first peciller whose name I knew? LEARN! SEE! WONDER!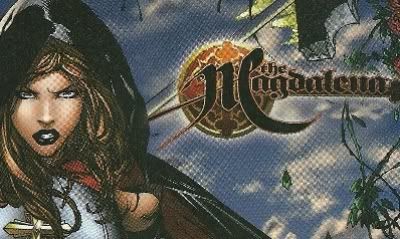 Coincidentally, the left-hand side of this first page is The Panel:
Skip this paragraph if you're not into reading about people's emotions/psyche!
It's 2003. I'm sixteen. I'm reading Witchblade, a comic about a lady in a "man's profession" who's surrounded by men and often stalked by men and who fairly often loses half her clothes to, essentially, a bladed monster-hands bra with which she fights violent evil; I'm doing this because I'm trying to have a conversation with myself about sexuality without having to, ew,
touch other humans
. Trying to reconcile "sex is sounding PRETTY GOOD" with my desperate need to not be looked at as a sexual image. It's all very confusing. To be honest, I am finding Witchblade enjoyable in several ways, but on the whole it's not making me feel very good. AND THEN! The page above. Francis Manapul. Sara Pezzini. Drawn
without
any UU or OO telegraphing Here Be Titties? And-- she's still-- still an officially attractive lady cop? What? Right? And, and,
is this real life
??
And that's why I would like to shake Francis Manapul by the hand.
On with the show.
[Patience can tell they're being watched; we cut to a green-glowing room of screens that's possibly in space, I don't remember what's going on there.]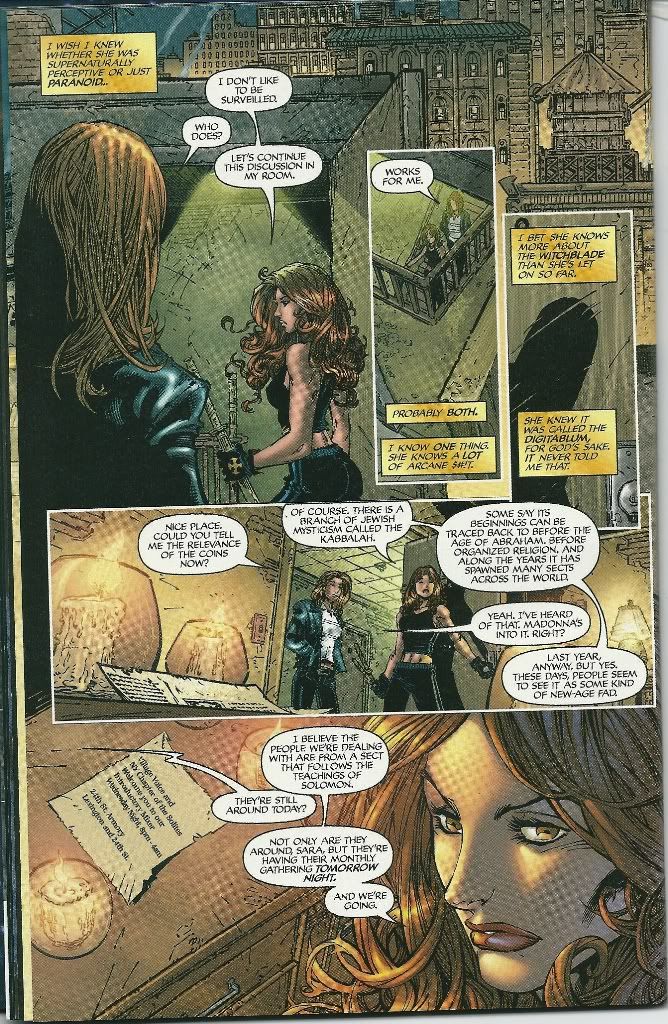 The o-going police plot is, people are getting murdered somehow, it's supernatural, there are coins involved somehow, and maybe cultism (it is disastrous). The cults have these parties. There's a creepy kid (or maybe several) that keep turning up in some panels. Sara and Jake, as cops, decide to check things out with Patience's help. Jake's kind of a goon.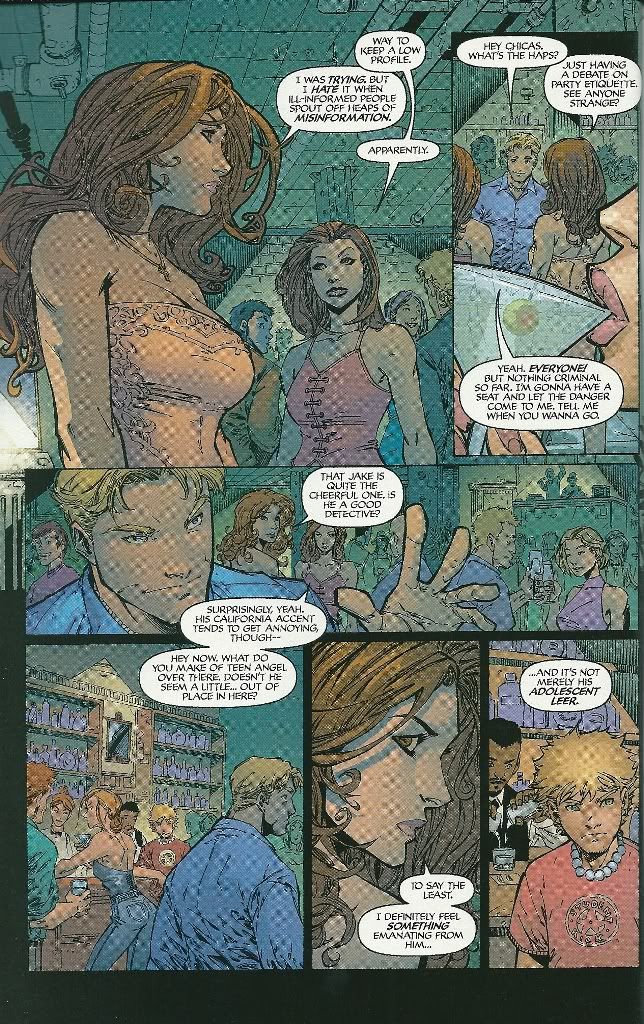 [a rock monster comes out of the road and attacks Sara, Patience, Jake and Mandy (a woman who does some PR for something related to the cult, who is pretty. She went outside with Jake to smoke).]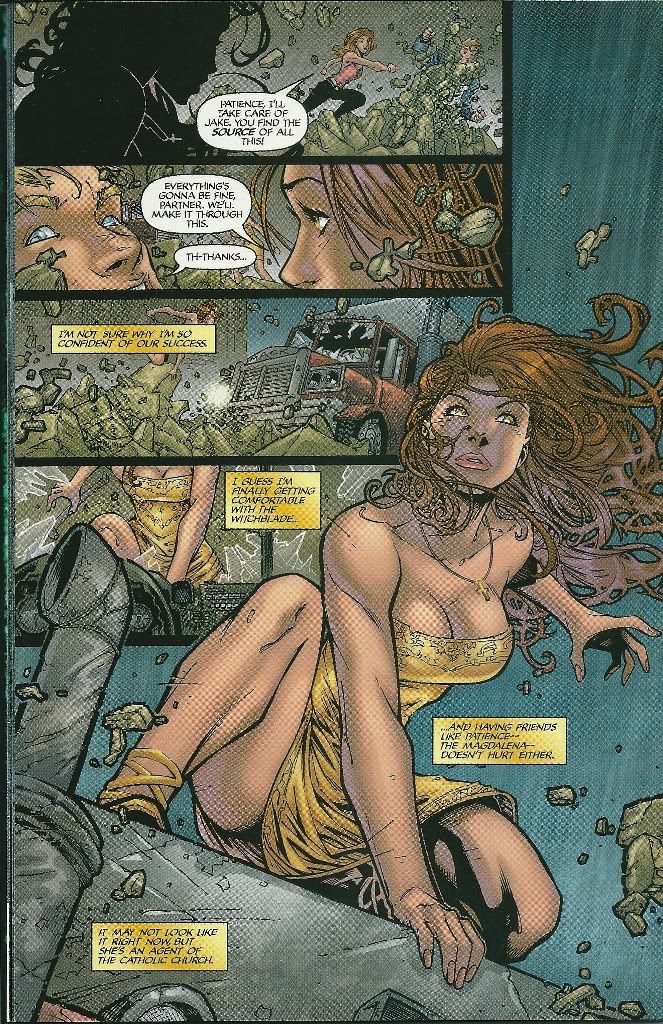 And here's another example of how great Manapul is: you see that above? You see her face? She's not posing, she's thinking.
Mandy leaves. She isn't going to date Jake after all. They take the kid to the station, he's cocky, his dad fetches him. Sara investigates another scene.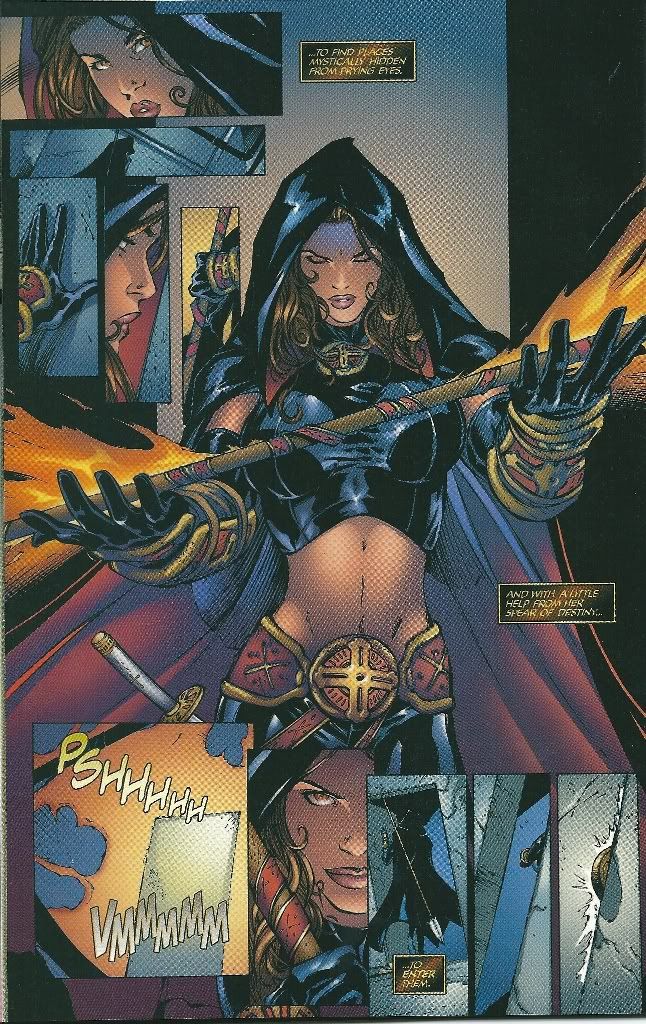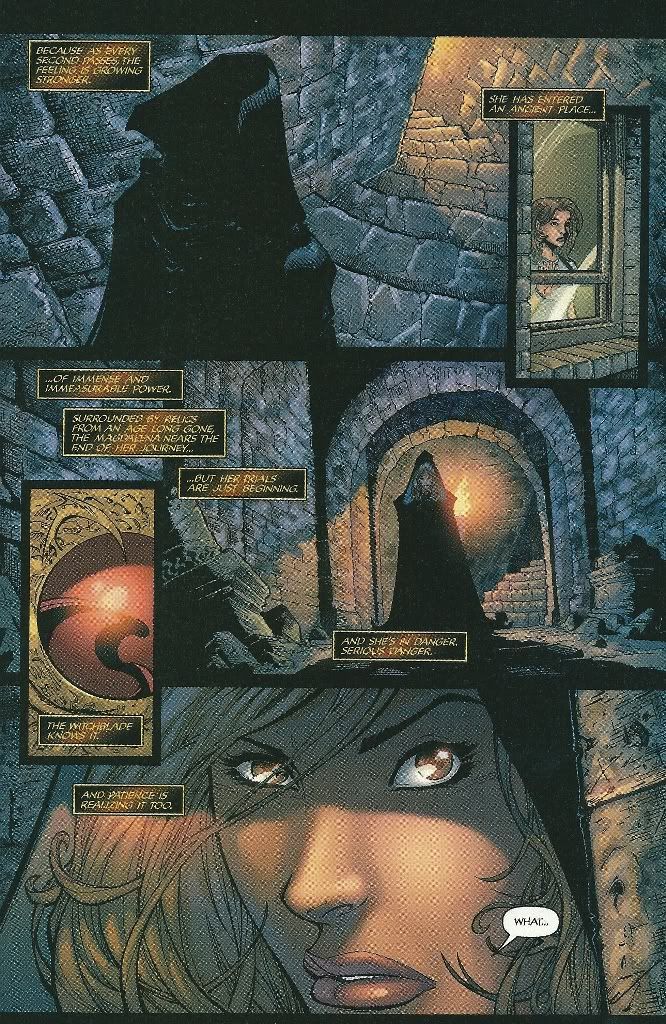 DUN DUN DUNNN!
If you like the Magdalena, she appears in one further issue for this story but you also have this opportunity: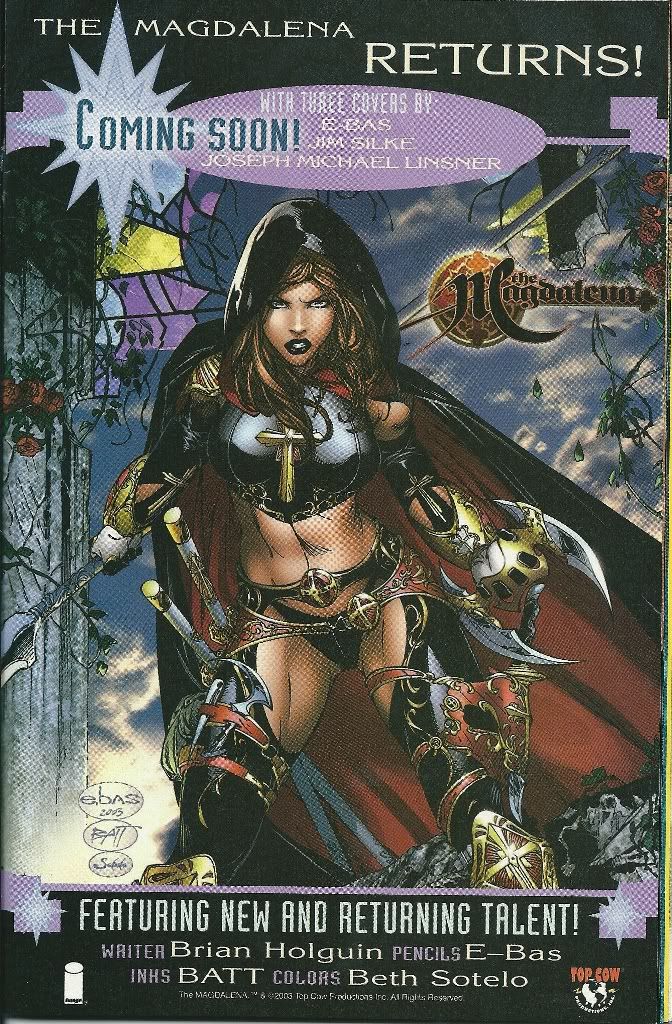 Not sure what's up with the battlepants.