Birds of Prey
#6. Bruce has been secretly monitoring Babs to confirm that she's stable and capable of operating on her own. Babs has a few choice words for him on the subject.
Birds of Prey
#8. 'Nuff said.
Birds of Prey
#15: "rollingthunder"'s first face-to-face meeting with "bumblebeeb".
Birds of Prey
#21. Oracle's being hunted down. Of course, she's not going down without a fight.
Like I could do a
Birds of Prey
post without including that scan. :D
Birds of Prey
#34. Barbara gives up the chance to walk again for Dinah. Without so much as a second thought.
Birds of Prey
#58-59. The beginning of Gail's run! Yay! Savant has taken Canary hostage in order to force Oracle into working for him.
But you don't piss off Oracle.
Why? Because she will kick your ass.
#61, after Savant's escape from prison:
Birds of Prey
#64-65. Babs is cool under pressure, despite her identity as Oracle being close to being compromised.
Cue backup, in the form of Huntress.
Incidentally, Helena, I love you, but that costume is
horrendous
.
Oh, and just because it's Ed Benes, we get a gratuitous ass shot.
Birds of Prey
#73. With Dinah's aid, Babs fights off possession at the hands of Brainiac.
Batman Chronicles
#5.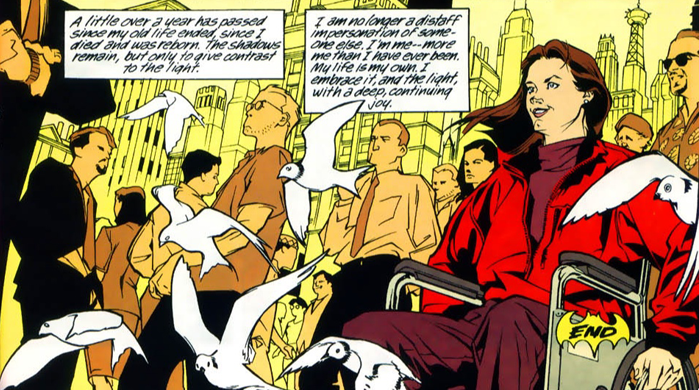 ---