When it comes to cute romances, I can't help but think of
Love and Capes
, a web series by Thom Zahler. The series is basically Lois and Clark starring in a romantic comedy and focuses primarily on their relationship.
In this world the greatest super hero is The Crusader, who is secretly an accountant named Mark. He's dating a bookstore owner named Abby Tennyson and at the start of the story they have been dating a while but he hasn't told her the secret
Mark starts to think that Abby is The One, and is debating whether it is time to tell her his secret, so he talks about it with his best friend Paul, who happens to be the hero Darkblade.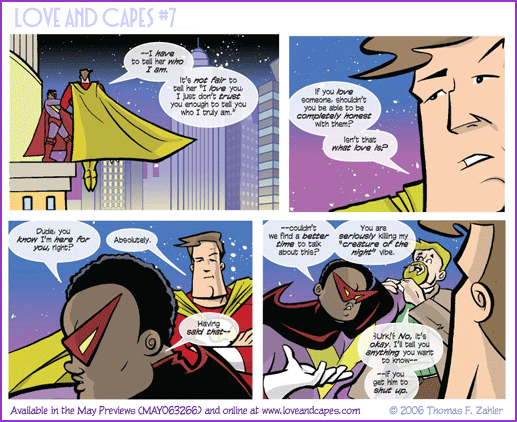 Mark does tell her the big secret...
Overall, it's a fun little series, I have the first trade and really need to get the rest when I have a chance.
EDIT: I just found out through Thom's Facebook page that he's released a Love and Capes Valentines story on
The Mary Sue
it's a PDF downloadable at the bottom of the interview.