perletwo posting in

scans_daily
Welcome, s_d, to the tale of a sweet, modest little romance that bloomed in the background of the Big Universe Saving plots of the 1980s Legion of Super-Heroes. It's the story of a new-agey crystal girl and her mineral balance.
Blok and the White Witch.
For Blok, the attraction was instantaneous - love at first sight, when Dream Girl summoned her sister Mysa to help the Legion combat the Servants of Darkness and their unseen master in LOSH #291.
Mysa was instrumental in stopping the Great Darkness and earned a battlefield commission to Legionnaire in so doing. Once the dust settled in #296, however, Blok didn't let the grass grow under his feet.
Poor guy - cockblocked by the married folk...
They hummed along in the background with light flirty things like this - I remember but couldn't find Mysa making Blok a jewel as a thank-you for volunteering for the thankless task of cleaning up the computer archives. That made a nice setup for some 'history' stories, and in Tales of the Legion #314-316 Blok and Mysa were featured in a backup tale covering the White Witch's origin story. But it's the framing sequences around the archive tape that we're interested in.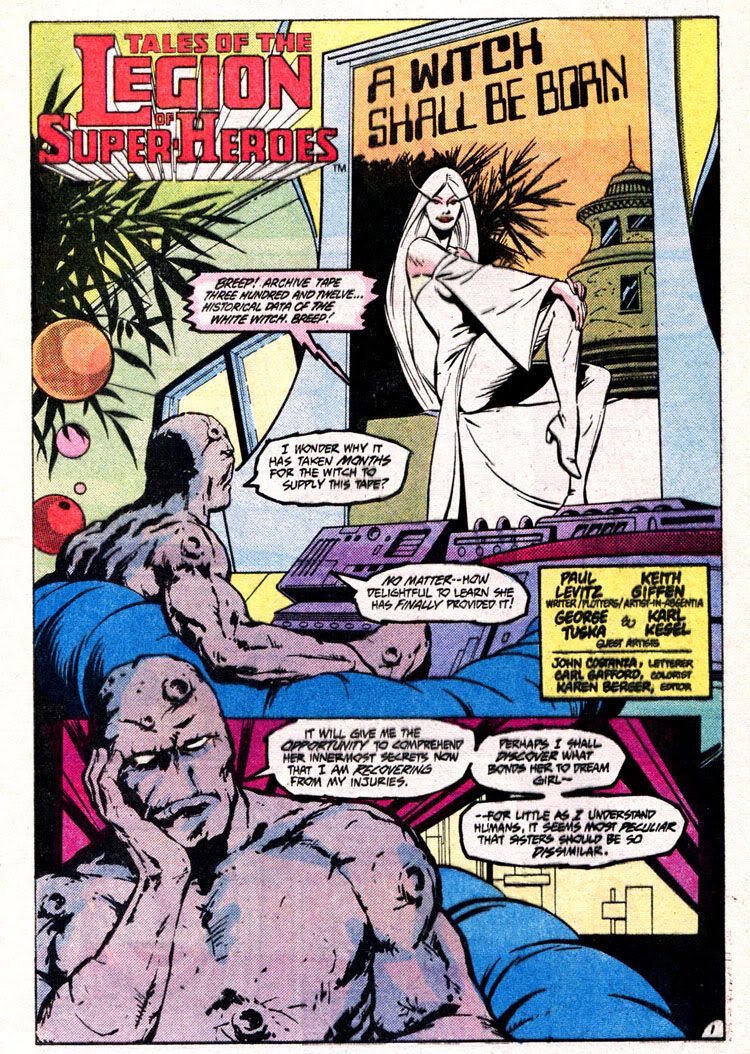 He watches a sequence of Mysa's early childhood as the second daughter of Naltor's High Seer, and the only person on the planet blind to the future, viewed there as a crippling handicap. When Nura and Mysa's mother dies, she takes off looking for the fabled, and maybe nonexistent, Sorceror's World, which impresses the heck out of Blok.
Busted!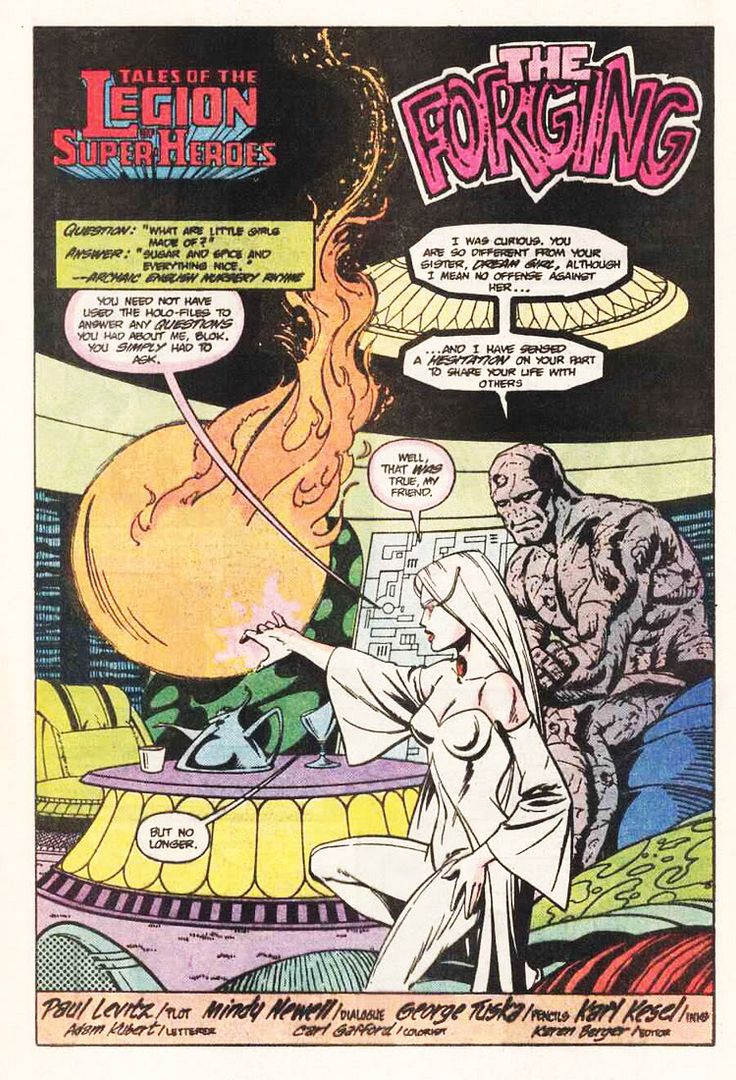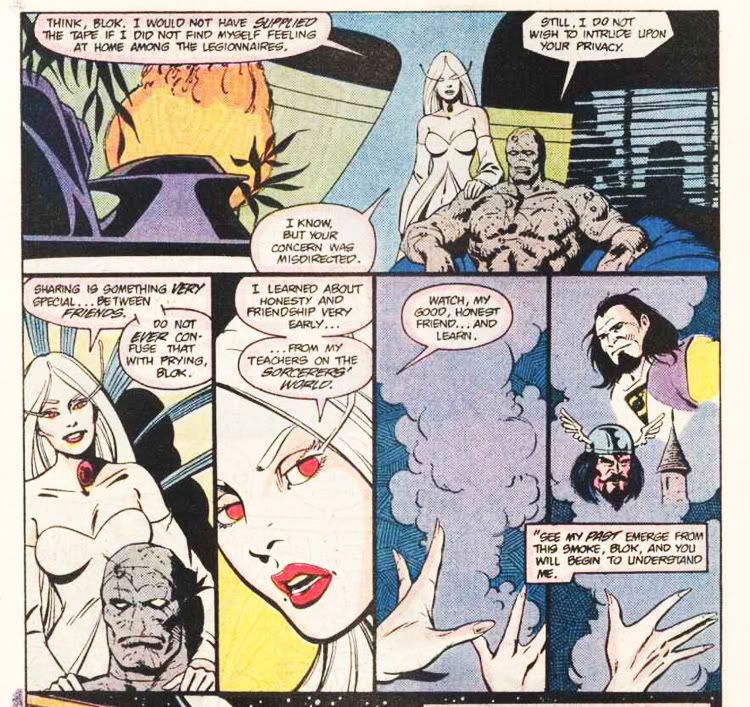 Another archive tape sequence, of her struggling to gain her apprenticeship. Yes, this is a younger version of sometime Legion nemesis Mordru taking inappropriate notice of Mysa.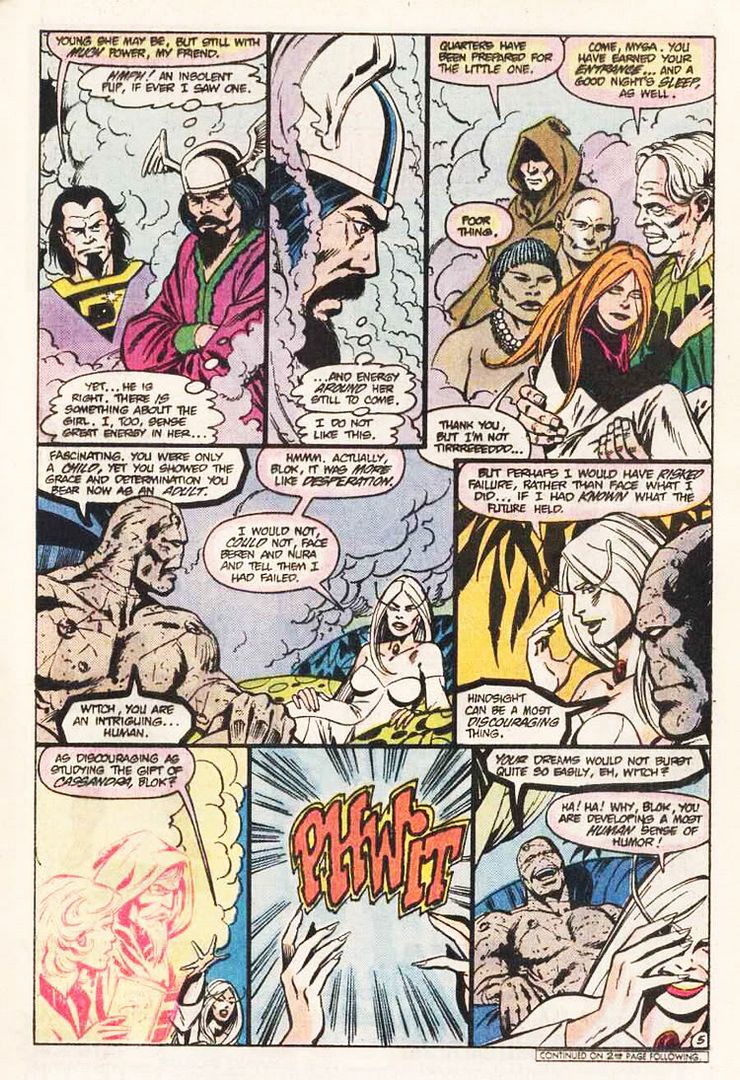 On the tape, Mordru enslaves Mysa, but she manages to get a S.O.S. out to her Legionnaire sister.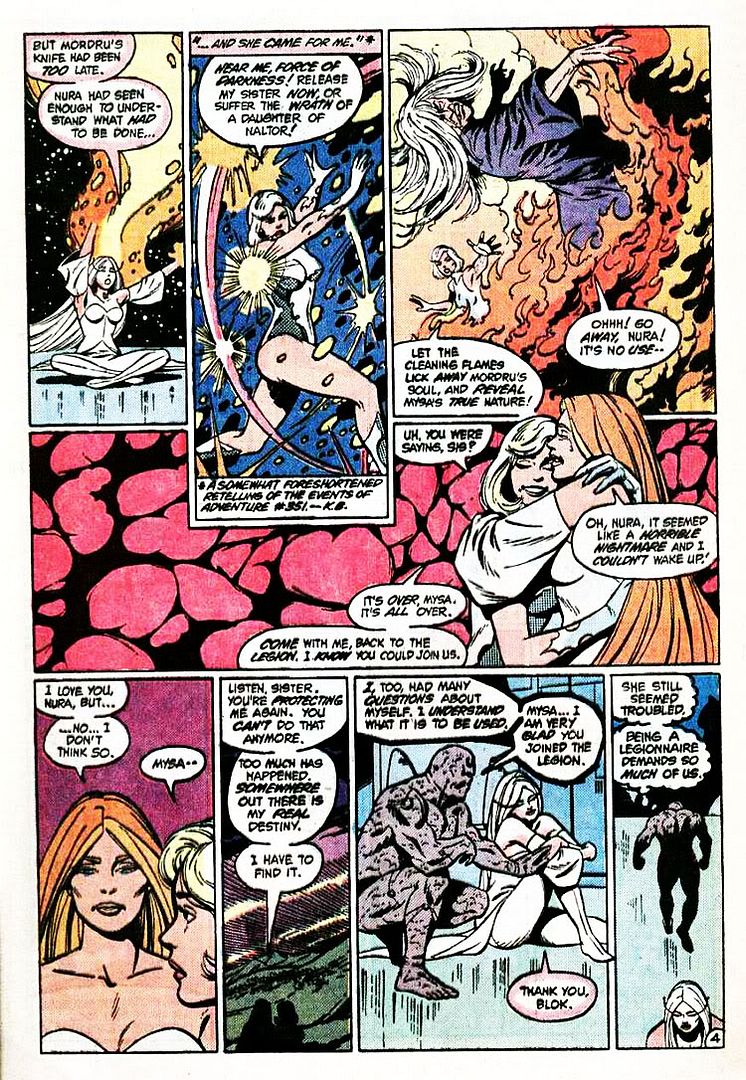 After they part, she muses in flashback about her redoubled efforts to study white magic, and in the art we see it slowly change her into the porcelain butterfly of her 80s look. She concludes the story deciding she is worthy and proud to be a Legionnaire.
That's where we leave it as the Legion's history fractures into different continuities and reboots. But in Final Crisis: Legion of 3 Worlds, those continuities all collide, and the White Witch is a big part of the story.
As we open, Mordru has taken advantage of the interdimensional chaos created by the Final Crisis to enslave Mysa again.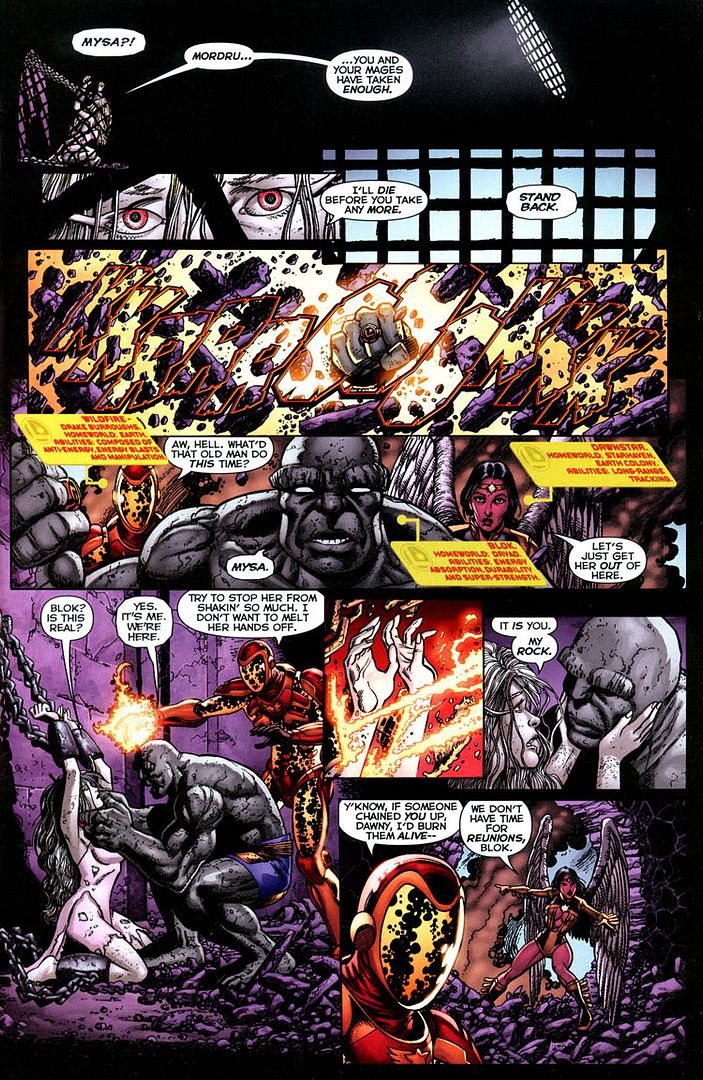 She helps them escape back to Legion HQ, and helps create the portal to bring the 3 Legions together. She also facilitates the seance to bring back Kid Flash. But the tide turns, in a very bad way, when Kinetix is killed.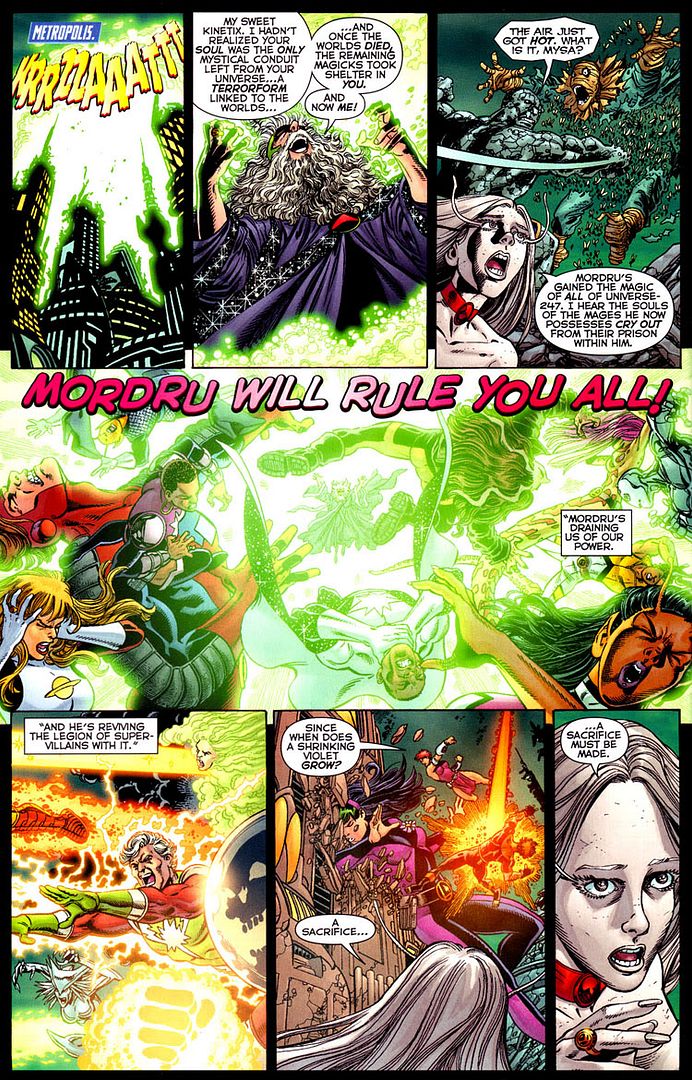 "...and the sacrifice must be mine."
The effects of Mysa's sacrifice are felt immediately, and widely.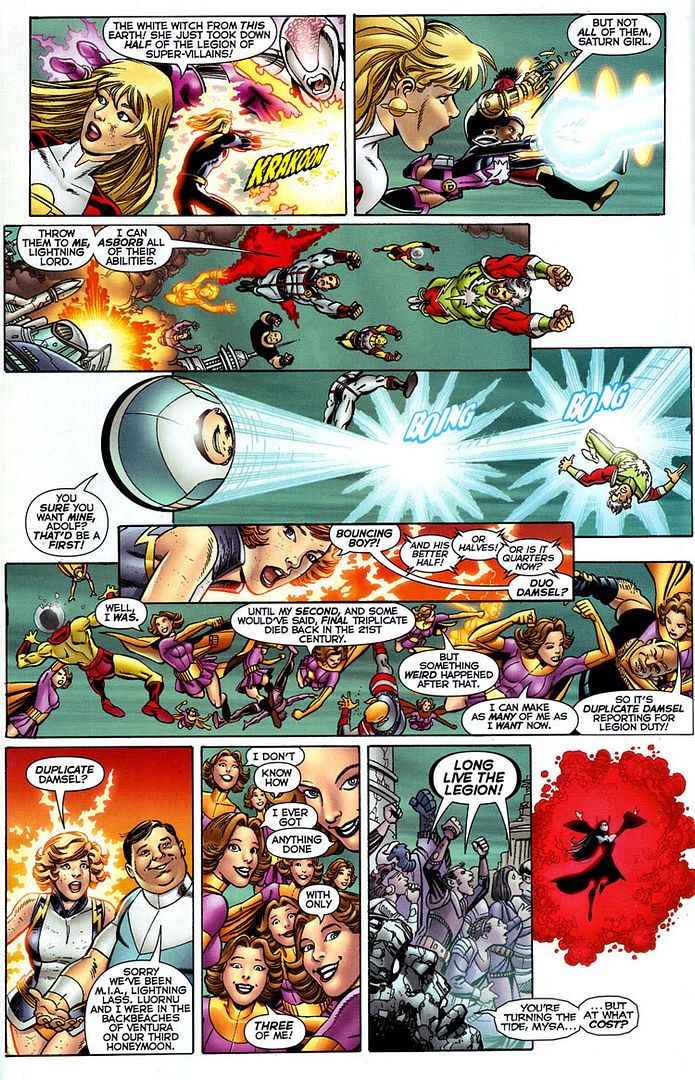 At the end of the story, as the multiversal Legionnaires regroup and separate, Mysa refuses to go home with them, returning instead to Sorceror's World. Blok can't understand why she'd go back to the site of her torture, and leave him behind.
In Adventure Comics #4 of that title's last reboot, Blok is literally climbing the walls he's so frantic to find Mysa. Only his ongoing injuries from FC:LO3W keep him from going after her. So Brainy sends him with the two Legionnaires he feels will be most sympatico on a journey to Sorceror's World.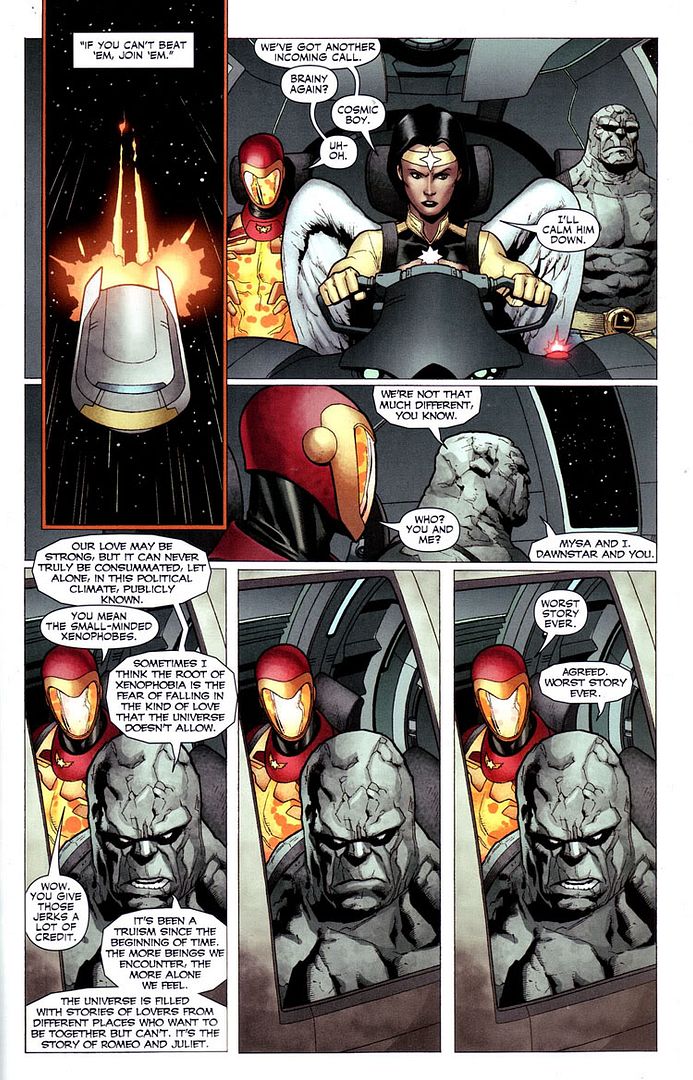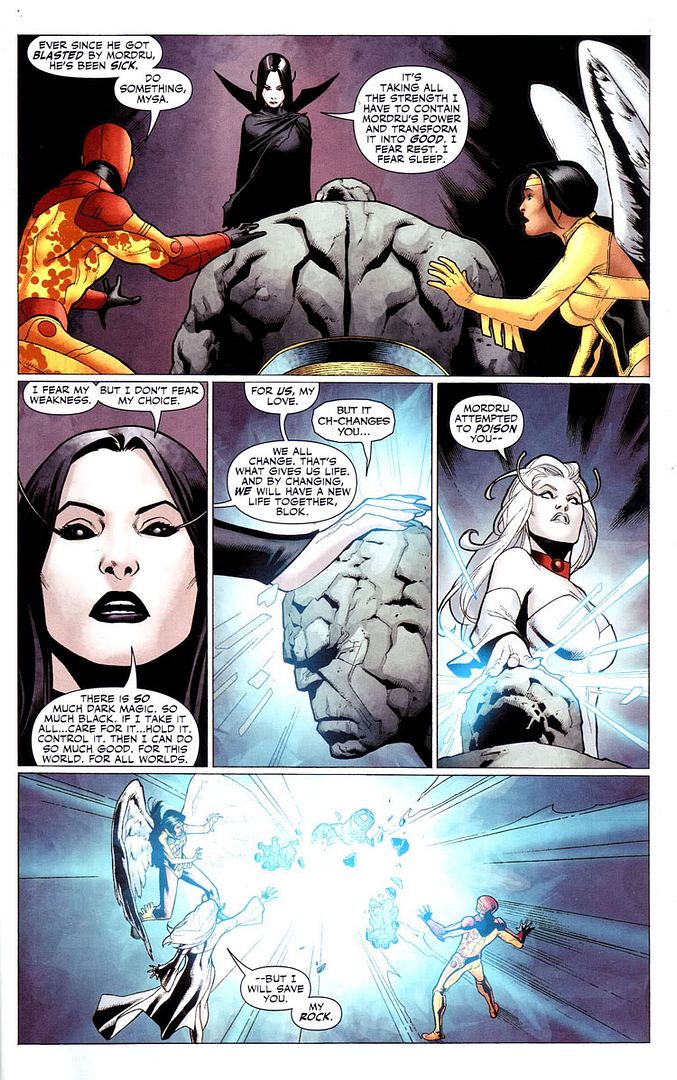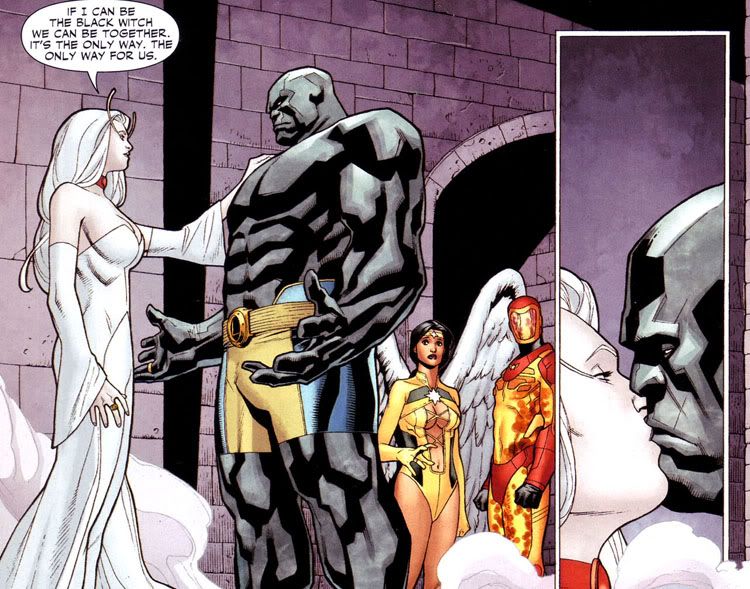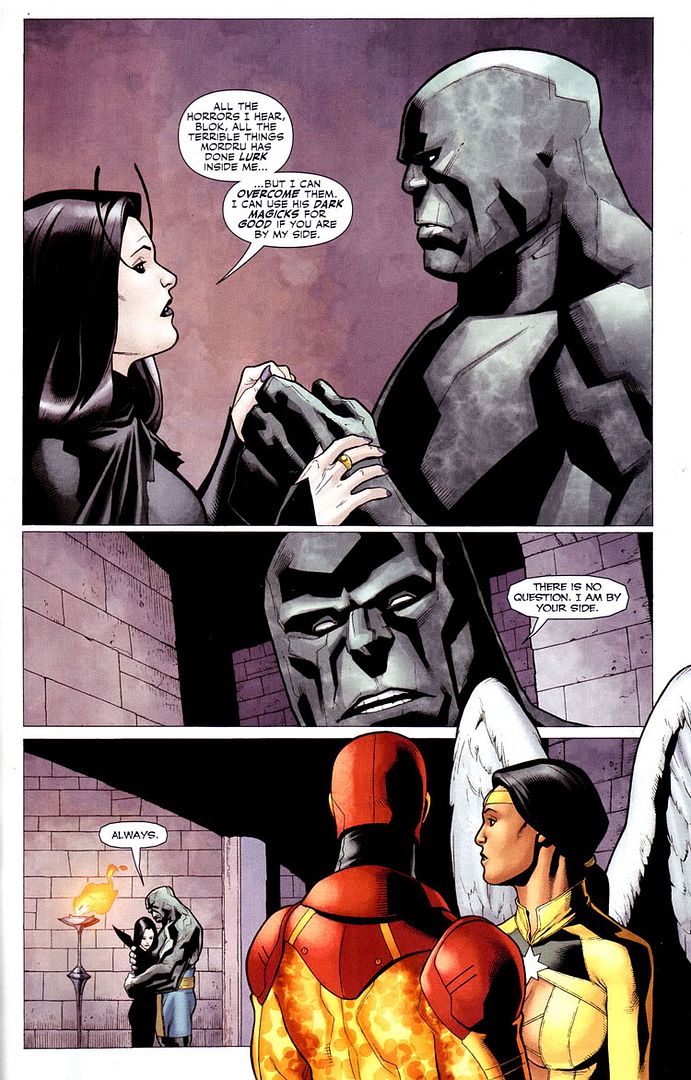 And that's where they are now - on Sorceror's World, where Mysa rules and Blok is her consort. She's made it into a beautiful place again, and trained Glorith as her apprentice. She goes into a deep well to have her magical struggles against the Essence de Mordru inside her, for the protection of Blok and everyone else - should she fail, the whole planet will collapse on her, killing the black magicks' host. They've sent Glorith on to join first the Academy and now the Legion and keep a close watch over her through a scrying pool. It's not a happy ending, but they
are
happy, and together.
So now they're both on inactive status. But maybe someday they'll rejoin the Legion, and be cute and lighthearted again. Hope springs eternal, right?