janegray posting in

scans_daily
Five days ago, the videogame Company Valve released free
Portal 2
downloadable content titled "Perpetual Testing Initiative." Basically, it's a free in-game map editor, which allows players to create and share maps with other player.
Everybody knows the "the cake is a lie" meme, but not everybody knows where it's from. Well, the answer is
Portal
.
The new maps reminded me that I really, really, really love the Portal games. So I've decided it's about time I shared my love for them by posting some scans from the comic "Lab Rat."
I love the art in this comic. The main character suffers from schizophrenia, and the art reflects his state of mind: when he is off his medication, it's all sketchy, but in flashbacks the pictures are clear.
16 pages out of a free 27-pages comic. At the end of this post you can find the link to the full comic.
WARNING:
Lab Rat
takes place between
Portal
and
Portal 2
, and as such is full of spoilers for the first game.
Of course,
Portal
is a 5-year-old game, so you might say that anybody who wanted to play it already has. But I got it 5 months ago, so I think it's always best to put spoiler warnings :P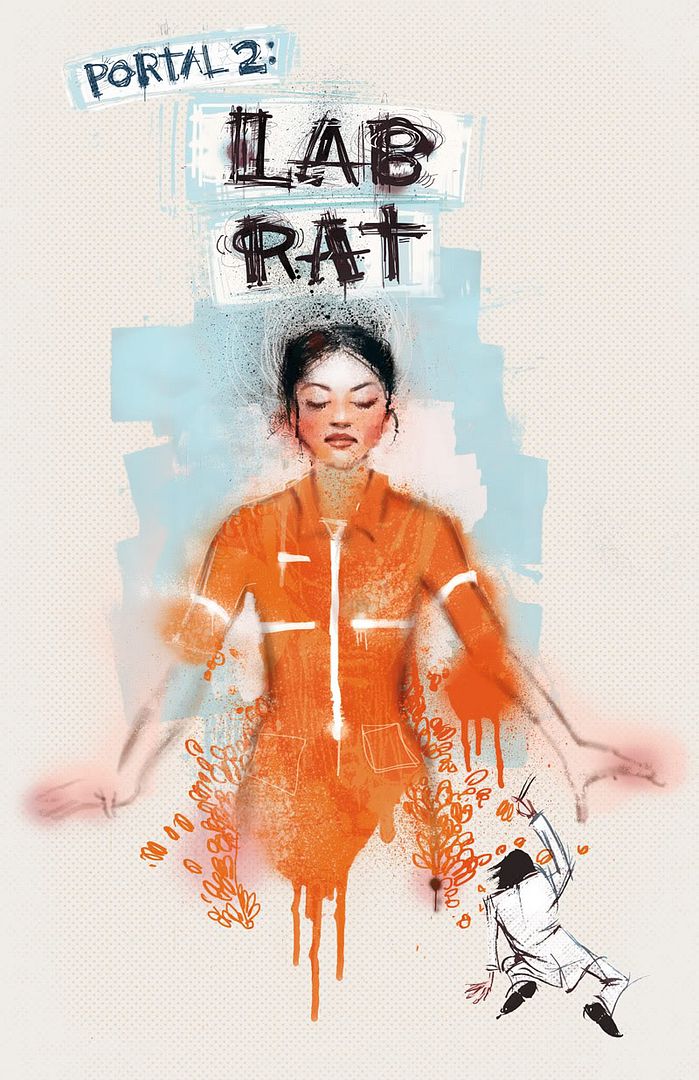 Doug Rattmann, also known as "the Ratman," is the person who wrote all those "the cake is a lie" warnings in the first game. He is the only survivor (excluding the frozen test subjects) of GLaDOS's initial mass murder at the Aperture Science Enrichment Center; as GLaDOS locked the facility down, he couldn't escape, so he has been hiding from her and leaving clues for Chell, the playable character of the games.
Yes, that's a Companion Cube. When Rattmann is off his medication, he can hear the CC speak as if it was sentient. The CC actually gives him good advice.
Even so, Rattmann figures that he'll have better chances of survival if he has a clear head when the time comes to take out GLaDOS. So, he has saved the last of his medication until now.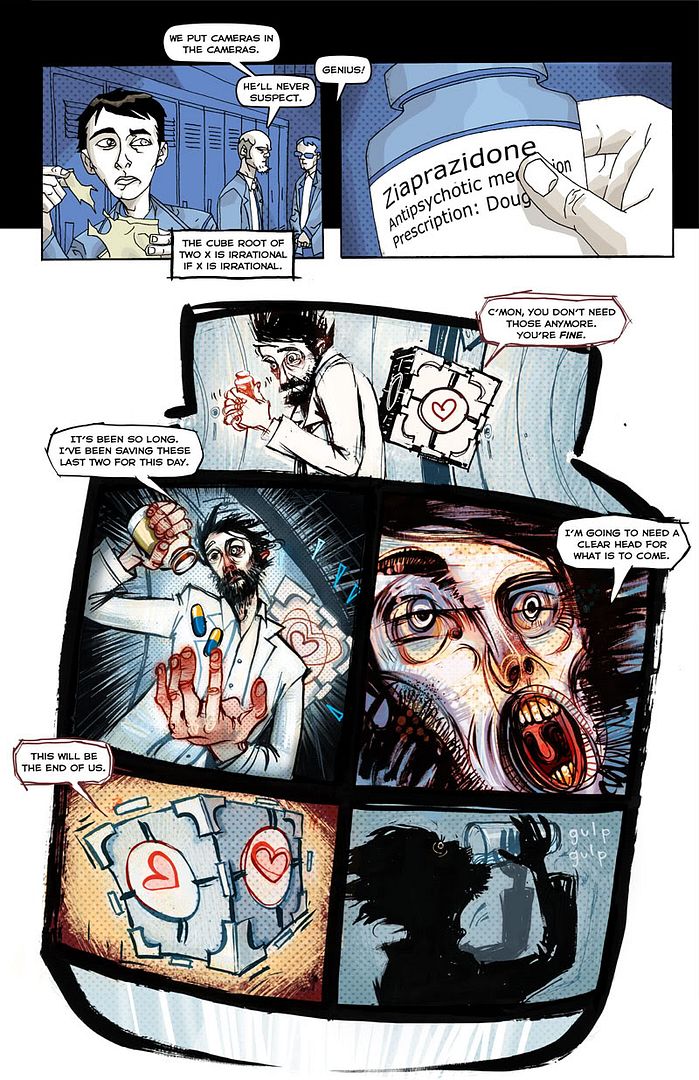 Now, flashback time!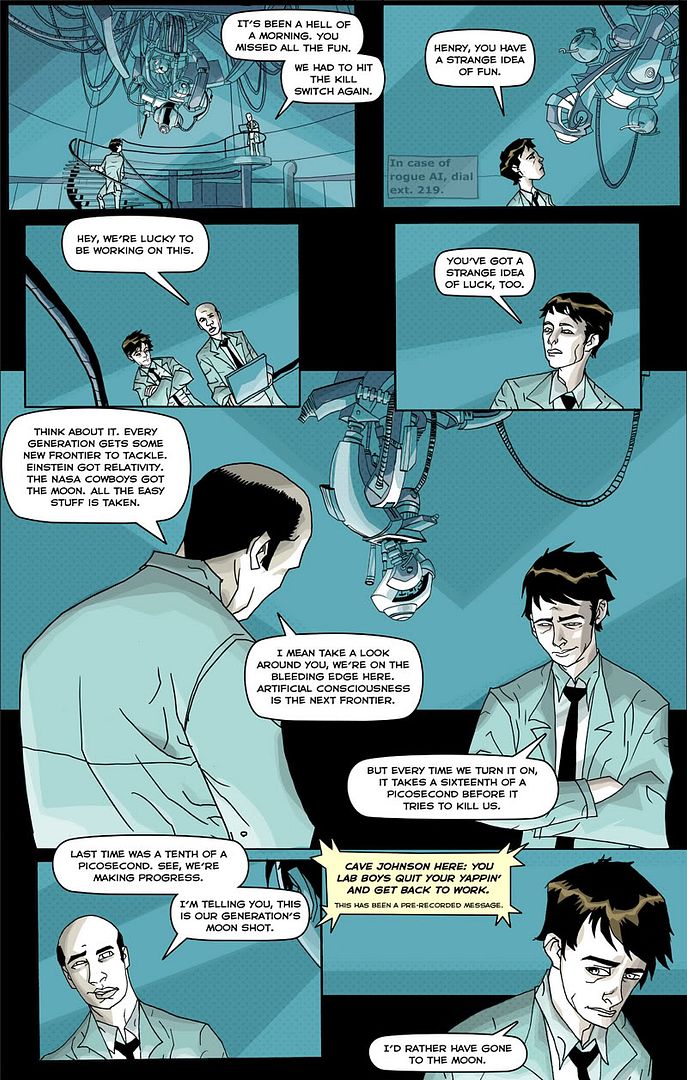 Back to the present, Chell has defeated GLaDOS!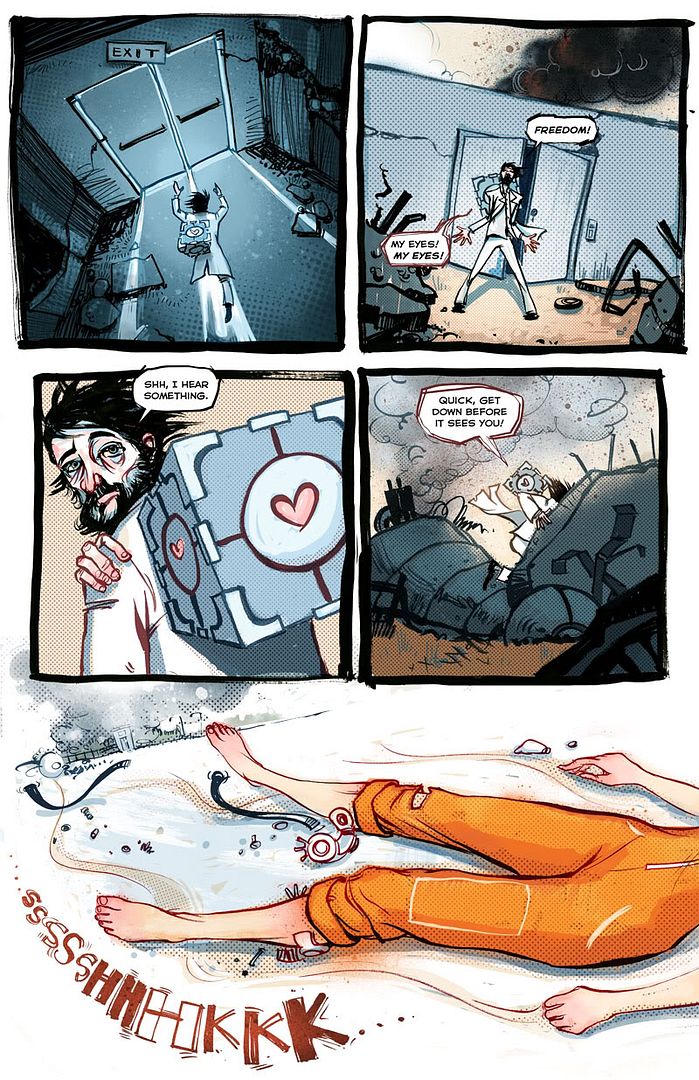 This is where
Portal
ends, with Chell captured and dragged back to the facility.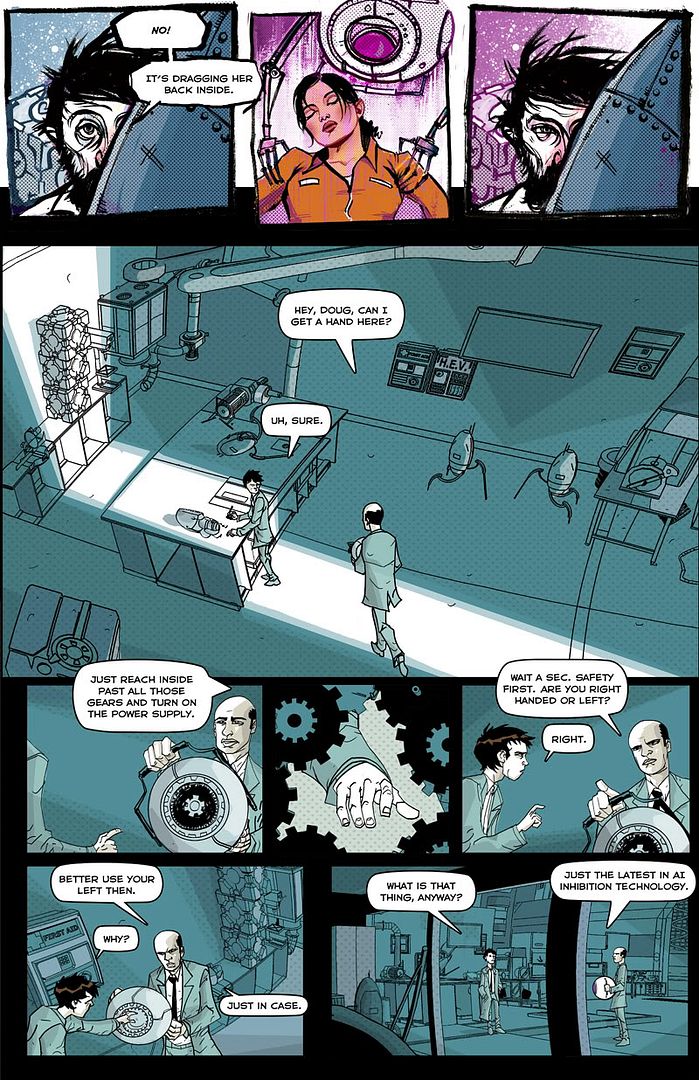 Rattmann to the rescue!
I really love him. He has gone through a mass murder and spent a long time (months?) locked in a dark and cold prison, without his medication and with the sole company of an inanimate object, running away from a murderous AI and countless death-traps. Then, he finally,
finally
gets away and sees the sun, sweet freedom awaiting him... and he chooses to go back to save Chell!
He is not an action hero or anything. He has no military training, no equipment. But he is a genuinely kind guy, and he wants to help.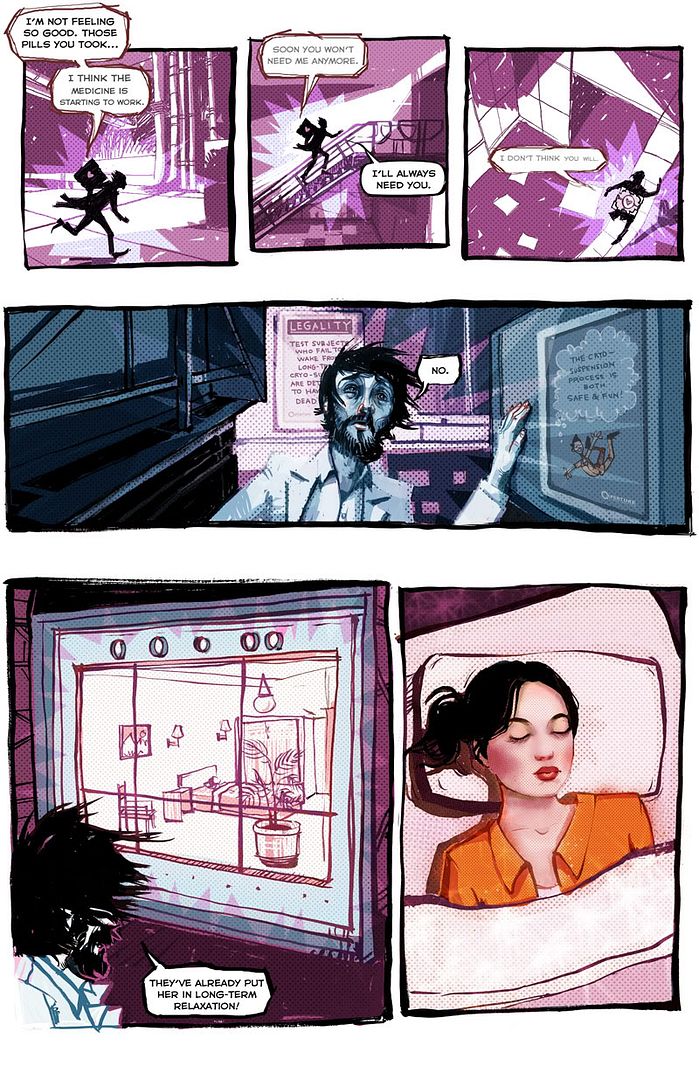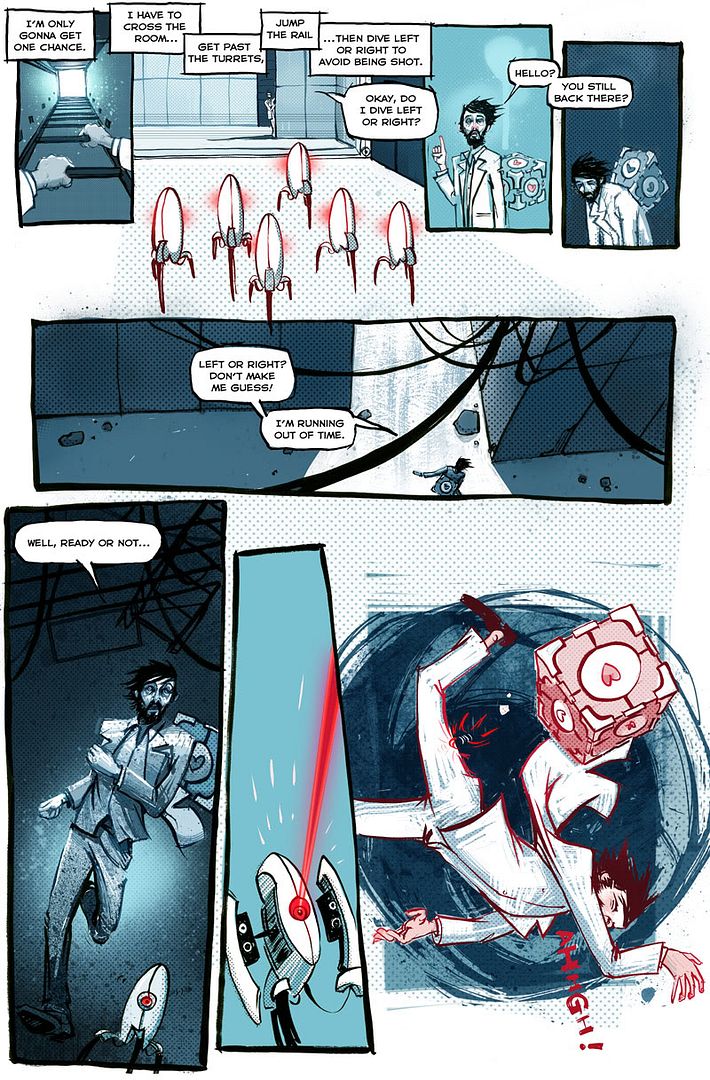 Flashback again! Right after GLaDOS' flooding of the Enrichment Center with neurotoxin.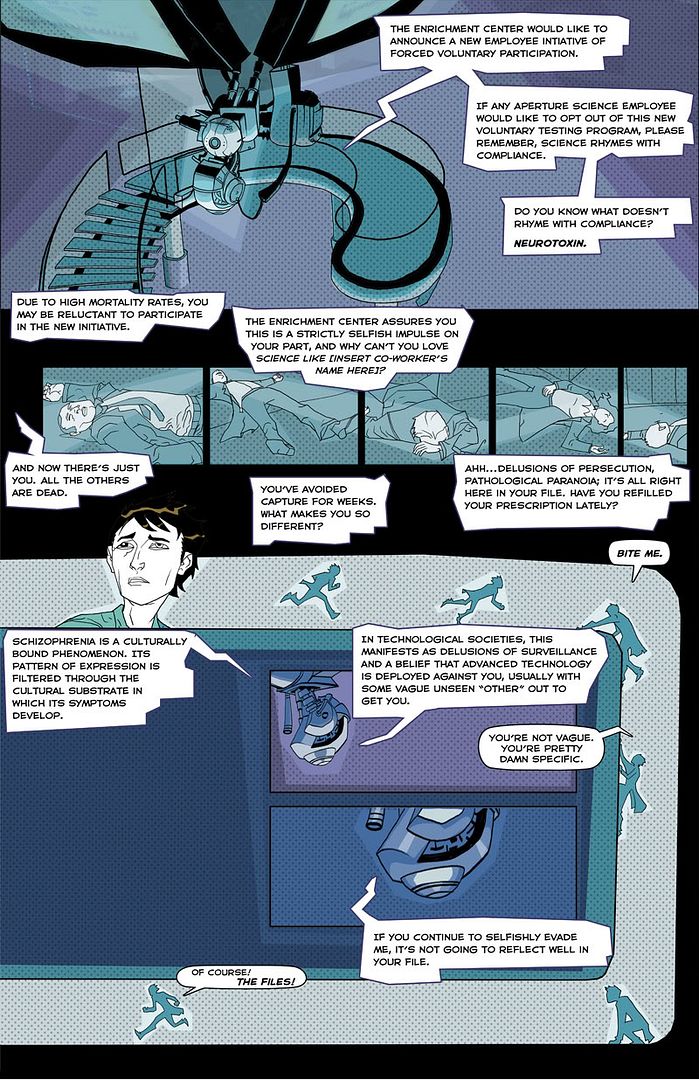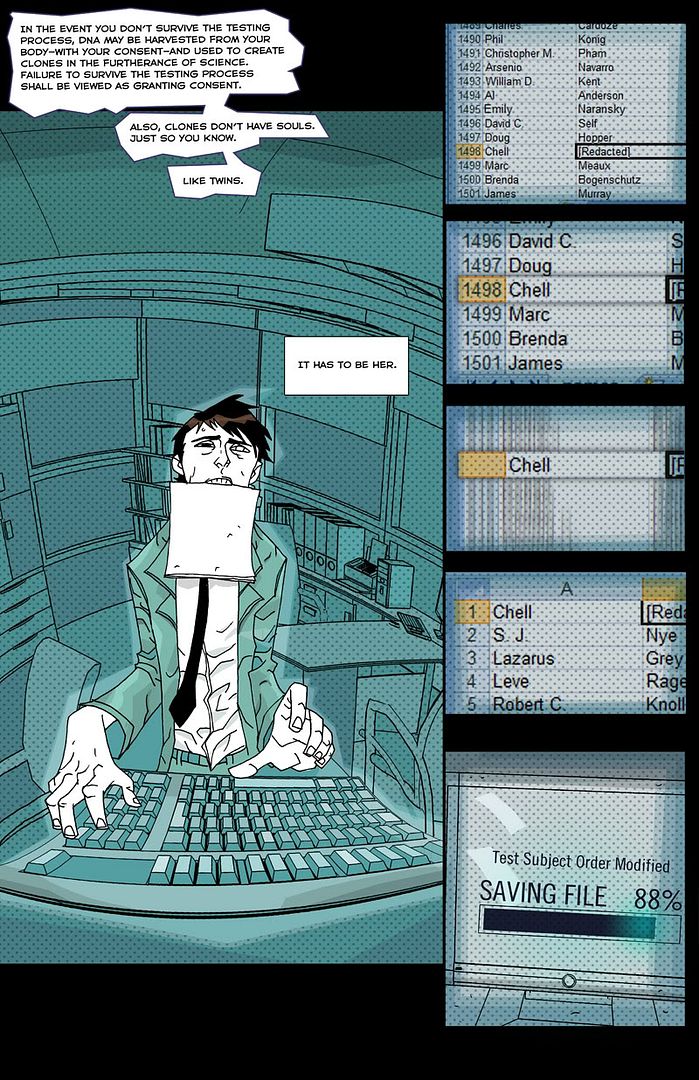 You can read the conclusion, as well as all the pages I cut, here:
http://www.thinkwithportals.com/comic/#1