http://proteus_lives.insanejournal.com/ (

proteus_lives.insanejournal.com) wrote in

scans_daily
2009-05-30
02:07
Greetings True Believers! I'm in a Doom state of mind! Sherkahn has inspired me to do another Doom post featuring a correctly written Victor Von Doom. So here is "Masks" from Marvel's Double-shot #2. It's a great story about not only the risks of trifling with Doom's heart/mind but also his mastery of psychology and the way he looks at the world. Enjoy!
Who here would like a Dr. Doom week? Let's do it!! Doom demands that you paid tribute to the Lion of Latveria with a WEEK OF DOOM!
We join Doom at the symphony. Where, naturally, he has the best seats.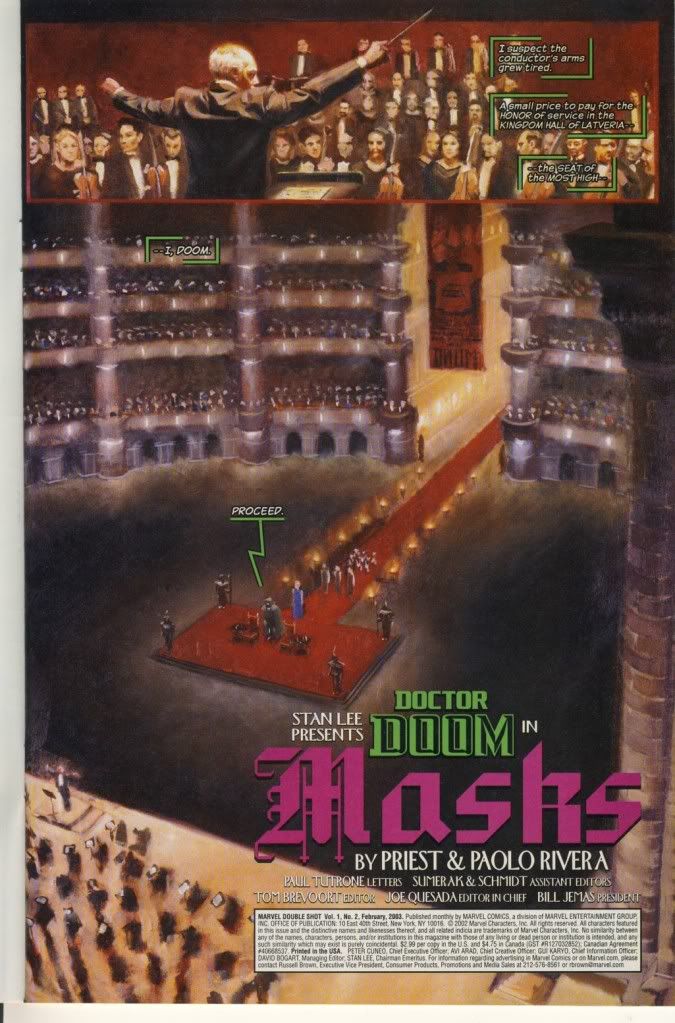 I really like the word boxes in this story. The use of open boxes and colors is cool.
I love that page! 1. Doom's formal, quasi-military outfit is badass! 2. Snark about the Russians? That's right, Doom can cleverly snark about anybody! 3. Doom's date? Dumped. Doom-style.
Now we find out what caught Doom's attention and pissed him off.
She is officially up shit creek without a paddle. Doom talks about his origin and how he lost Valeria when he chose his path. Then he invite the women outside where he continues to deconstruct her motives and mission.
Can you imagine how scared she is. Her fate is in the hands of Doom. I would be blubbering and offering to fly to NY, walk right up to Reed Richards and kick him square in the stretchy nuts.
Doom's horses fly. Why? Because Doom wanted a flying chariot, that's why. But here's the dialogue because it's awesome. Starting with the last line from the previous page.
Karen Sutter: "You--you know my name--?"
Doom: "Of course. I am Doom, am I not? You, Karen Sutter, are a German National, a journalist for a small, local paper in Stuttgart. You earned 42 thousand Euro last year, barely enough to pay for your flat and feed Hector, your Shiatsu mix breed. Festival, a national publication, sought you out because of your uncanny resemblance to a woman from Doom's past--and you eagerly accepted the assignment of writing an in-depth expose on the emotional side of Doom---the man beneath the mask. So desperate were you to escape your pitiful life, you accepted the assignment without stopping to consider--it would be impossible for you ro get close to Doom without the resources of a national intelligence agency. The "magazine" was but a facade--a mask for your true masters--NATO Intelligence. You are but a tool in their fruitless propaganda efforts to creat unrest in Latveria.
Doom: "As though such a thing was possible. Latveria, once an impoverished land of brutal despots--has, under the inspired vision of Doom, become paradise. How does one foster unrest in paradise? In a land without poverty--without disease--without famine or plague? Latveria is the model for what this entire planet should be--and would be--if only the world would follow Doom's example."
KS: "Dr. Doom--I'm--I'm just a reporter. If you've investigated me, you must know...I never intended you any harm."
Doom: "Your intentions are irrelevant. You are irrelevant. All that matters is the message your presence was intended to send Doom--and what message Doom shall choose to send back."
Verbal pwnage.
Now they have retired to one of Doom's residences.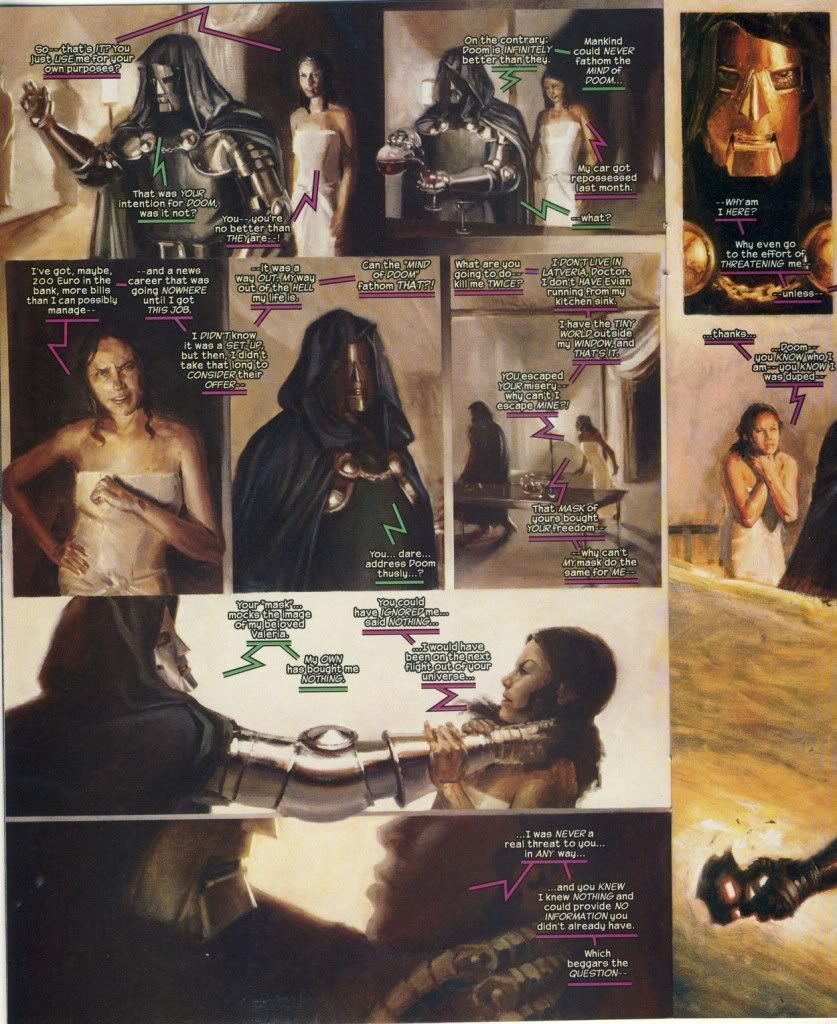 Nice rant but it rarely pays to raise your voice to Doom. Now it's time for truth.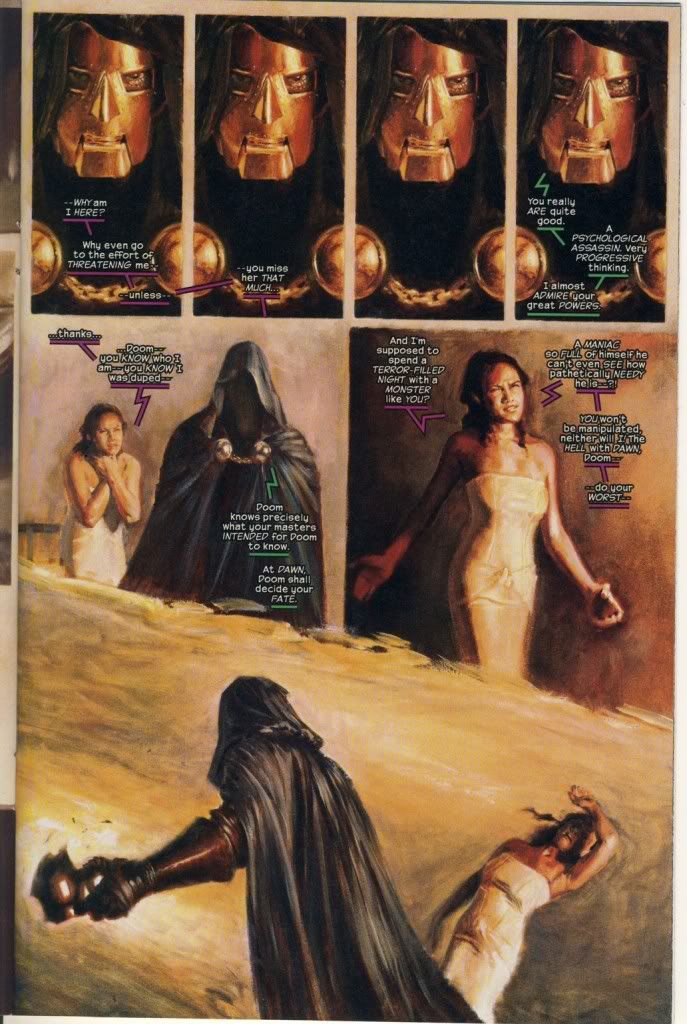 Such a awesome moment. The art and movement, her awesome swoon and Doom's unrivalled mastery of the dramatic gesture.
Now the finale and her fate.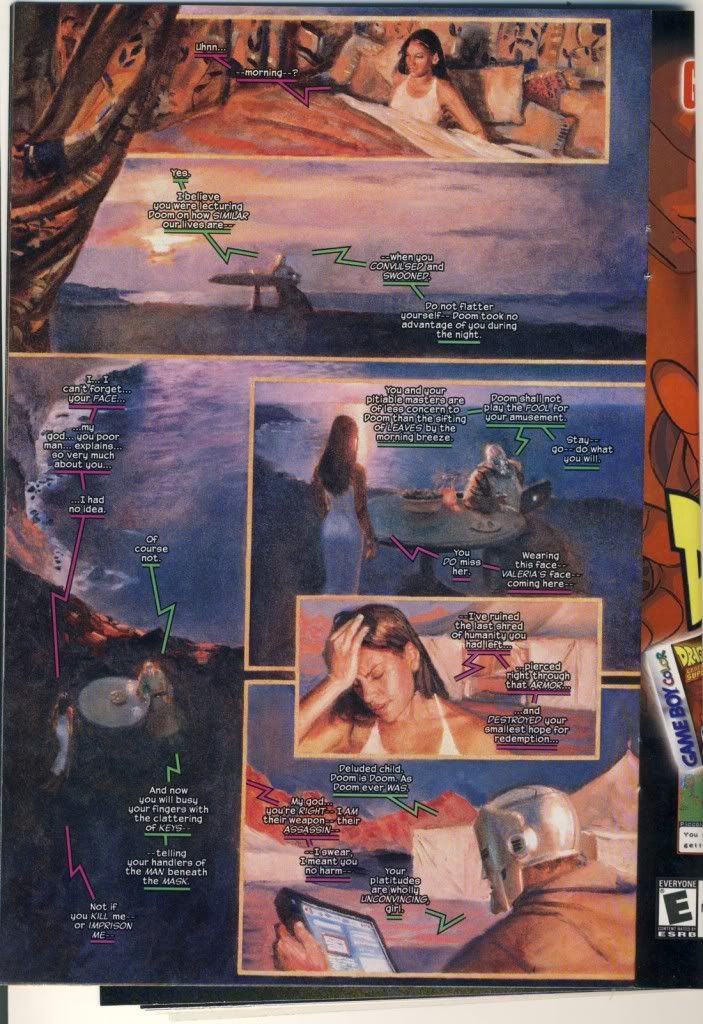 Doom Snark is the best snark. His wit and sarcasm have no equal. He's painted her into a corner, how will she react?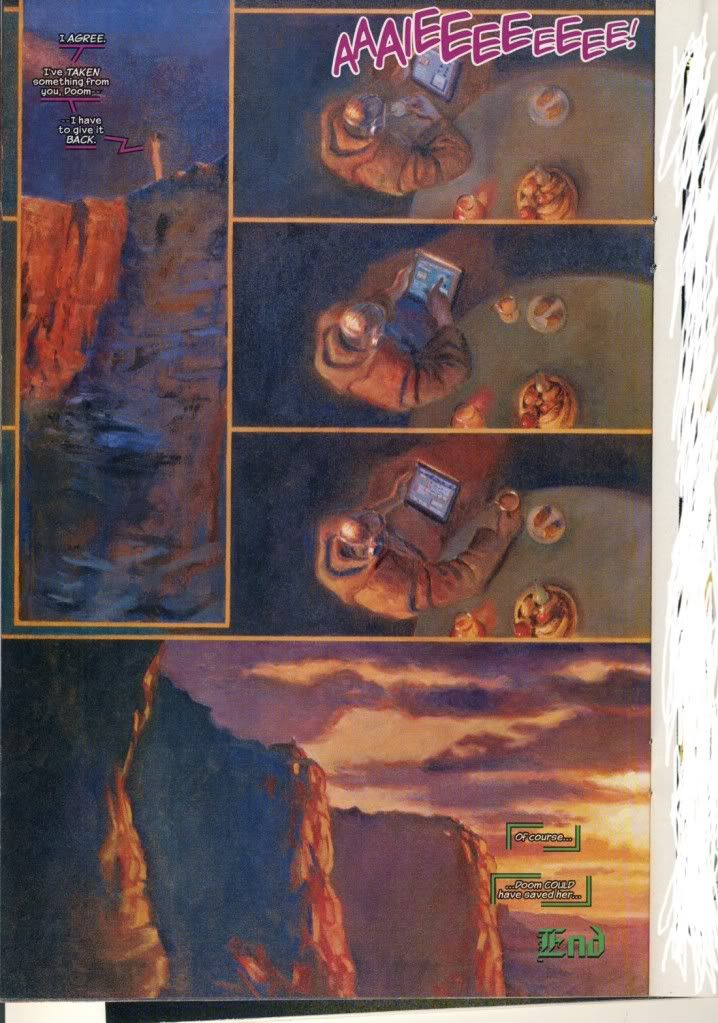 That's how. Well that's what you get for showing up at Doom's villa univited. He's lack of reaction to her suicide is great. He destroyed her with nothing but the truth.
Seriously, why? Was Doom angered by the use of Valeria's image? Was this just an an intellectual experiment in the psychology of pushing people? Did she die because she offended Doom's honor. (Doom had to know what she'd do. He undoubtedly had the odds worked out.)
Anyway you look at, it's a great story and a thinker. DOOM!