auggie18 posting in

scans_daily
More fancomics! Excited? No? Well, here you are anyway!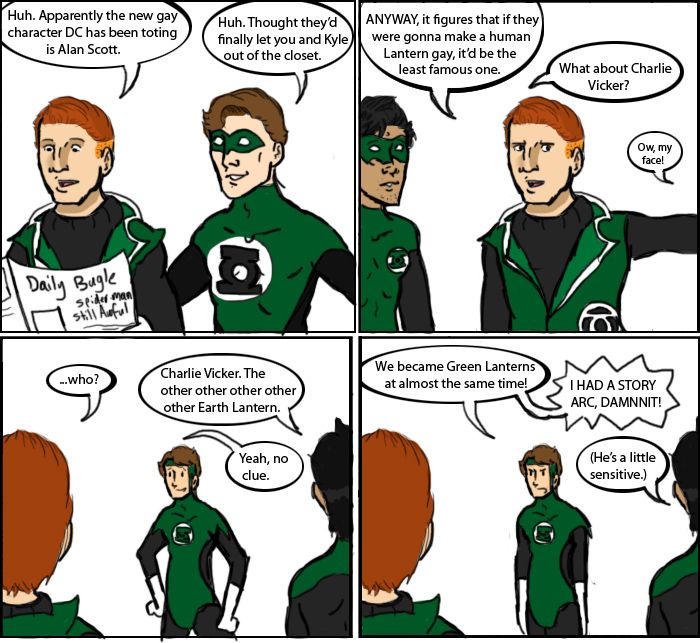 He's probably just upset because he was horribly murdered by Darkseid's son. No, his other son. Well, the other other son.
Charlie Vicker was pretty much Adam West if Adam West became Batman, but for the Green Lanterns. In universe, he was an actor who portrayed the Green Lantern on tv who ended up getting a ring from the Corps. He learned how to deal with his alien-racism and got over the death of his brother. Then he died.
Whoops.
I'm noting that Guy was talking about male human Lanterns, because the press release said that the new gay character would be male. Before people mention Jade.
Also note that I'm talking about real world fame, not in-comic fame. Alan Scott has probably had the least media exposure of any of the Lanterns.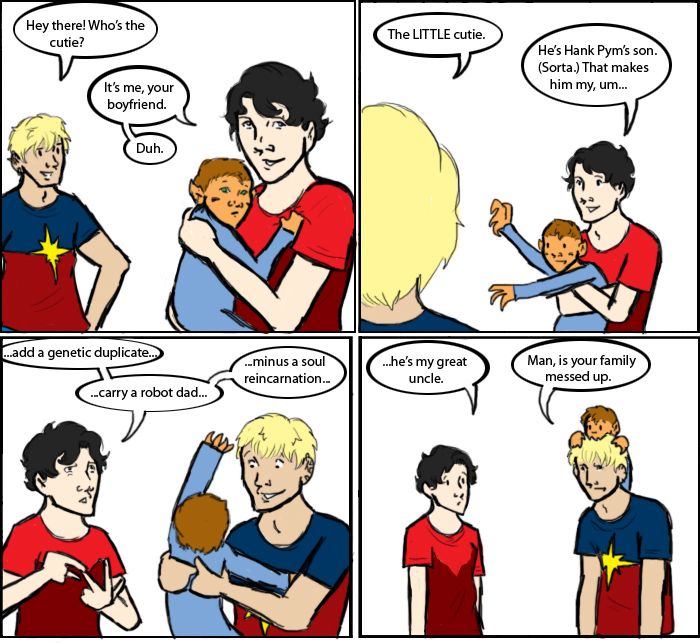 So, to block-quote Comic Vine, this little dude is "Son of Tigra & Criti Noll, the Skrull who had impersonated Hank Pym. It was revealed that William Nelson is genetically the son of Tigra and Hank Pym. Criti Noll had transformed into Hank Pym down to the genetic level at the time of his affair with Tigra."
So, apparently he's Hank Pym's kid. Sorta. And through the weirdo comic book lineage:
Hank Pym->Ultron->The Vision->Billy.
Fun fact! The little guy is also named William! Popular name in that family.
Which leads us to...

Okay, so I already sorta did this here: http://magickmaker.deviantart.com/art/Ma
gneto-s-Family-Reunion-156134547
It was also in my first post to scans_daily. Boy, was that a while ago.
But this is a little more expanded version. The Maximoff family extends from Ghost Rider to Black Bolt, from Hellcat to Wolverine. They're pretty much related to every single person in the Marvel universe, so I'm not sure if I'm gonna do another one of these.
Nocturne is probably the only alternate universe family member I'm bringing in because she spent a fair amount of time in the 616.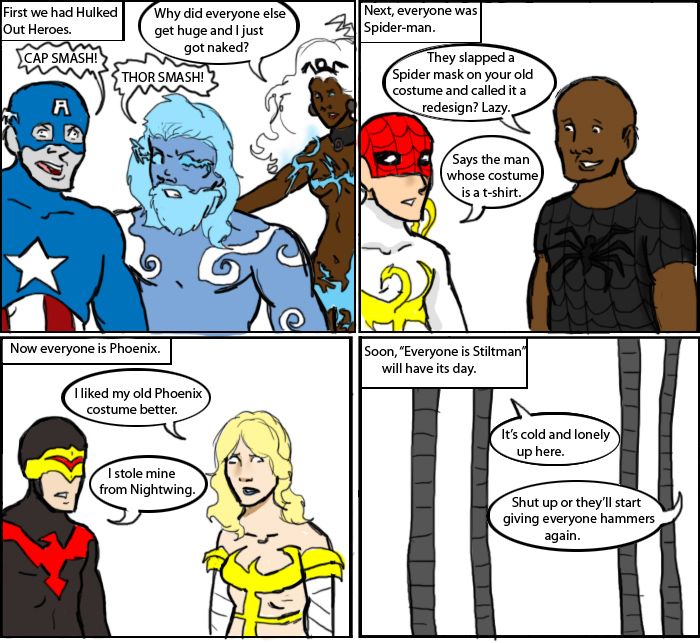 Everyone gets hammers, Spider-powers, Hulk powers, Phoenix powers, zombie powers...
I'm just saying, everyone being Stilt Man is fairly inevitable. I know I'm waiting for it.
Original Stilt Man joke here: http://www.kyru.net/gallery/d/43-1/every
oneisstiltman.png
For more of my stuff: http://magickmaker.deviantart.com/
Whelp, hope you enjoyed that. See you next time.