lbd_nytetrayn posting in

scans_daily
So, here's a little something which might have passed you by: Garfield has joined the ranks of the Comic Book Club!
...and he's not willing to share! Are we surprised yet?
Now, I know
Garfield
isn't quite what it used to be, particularly in terms of the comic strips. But the good news? In my opinion, this comic book
is
what
Garfield
used to be;
Garfield and Friends
, in particular, though you'll find no funny farm animals here.
This is in large part due to the fact that the writer for this series is none other than Mark Evanier, who wrote a good number of episodes from the cartoon show. He's always been good at taking Garfield and the other characters to that step beyond what they can do in the newspaper, and he continues that here. He talks about the shift in an interview
here
.
The comic is published by Boom! Studios, who you might remember had the Disney license and was creating new material with
DuckTales
,
Darkwing Duck
, and
Chip 'n Dale: Rescue Rangers
until recently. And while the storytelling style isn't the same, the quality is very much what I would expect from them based on those efforts.
For a review of the first two issues, I invite you to click
here
. But first up, just a few choice scans from the
two
previews
at Comic Book Resources.
To kick things off, the book pays tribute to this new medium the flabby tabby has found himself in: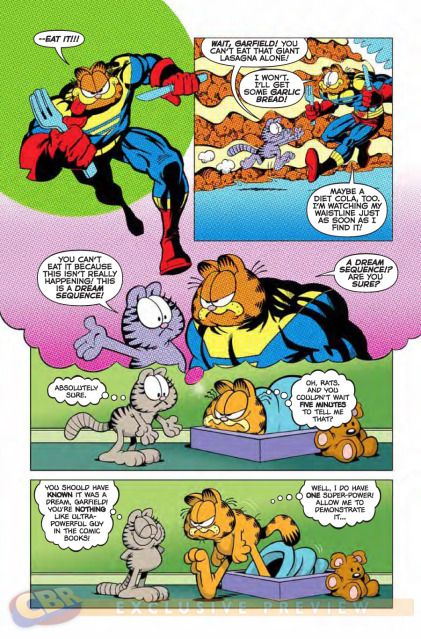 This scene exhibits a little bit of Evanier's experience from the cartoons, complete with the whole feline fantasy described as a "dream sequence."
Skipping ahead to issue #2, we have a common bit of interaction between Garfield and Odie which will soon lead to adventure: Odie wants Garfield to throw his stick, and Garfield doesn't want to.
Again, the pacing and interaction is much more in tune with what they did in the cartoon show, something which just wouldn't work in a three-panel strip.
In addition, the book seems to let artist Gary Barker, who does the newspaper strip, flex his artistic muscle a little bit. Most of the backgrounds in the strip tend to be blank and sterile, often with the same perspective, but as we can see here, he's getting to work more with backgrounds and perspective.
And going back to issue #1, here's one last panel which features a nice bit of detail for
Garfield
as Nermal has been sent on his way: