needagasmask posting in

scans_daily
I'm not too familiar with DC before New 52, so bear with me.
Earth 2's relaunch came out with its third issue today, and I have to say that the storyline has me hooked thus far. In the past 2 issues, we've learned that all of Earth's previous champions (Batman, Wonder Woman, Superman, Supergirl, Robin) have died defending Earth from a terrible extraterrestrial threat. We find ourselves a year after the incident, where Mercury has bestowed upon Jay Garrick the Speed Force before dying.
Our other main focus thus far in the story, Alan Scott, was on a vacation trip with his lover Sam and had just proposed to him before tragedy struck the bullet train they were taking to their destination. This is where our story comes back in.
Alan is burned, broken, and blind in one eye, yet has survived the train wreck that's managed to kill a vast amount of other people. We eventually find out this is no coincidence, as a green flame rises from the earth.
We find out that this flame calls itself the Green, and is the manifestation of the energy (Sorry, not life force. My mistake) of Earth itself. When major threats occur, it empowers a person with its energy, making them the champion of Earth. The reason that Alan didn't die in the crash was because this power is what saved him, hoping to make Alan its new conduit before a new and disastrous enemy came to destroy the world. When Alan asks why this is the first time it came to him, the Green basically shrugs and says "Supes was handling it pretty well, but he's dead now. Tough nuts."
Anyway, back to Jay Garrick, after playing around with his powers and testing them to their upper limits, he ends up in Poland, where he meets this universe's incarnation of Hawkgirl. After a superpowered pissing contest, Hawkgirl tests his fighting ability, and she easily kicks his ass.
After a brief discussion over why Hawkgirl was waiting for him in Poland (mystical half-explained mumbo jumbo), the true threat begins to show itself across the globe.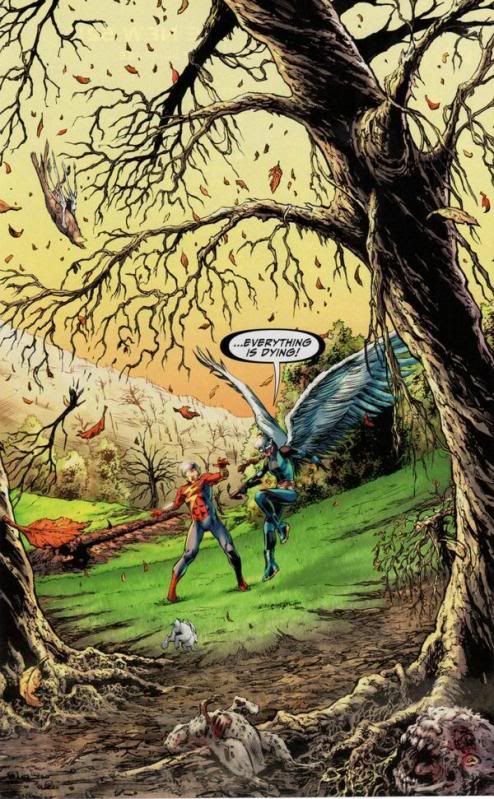 Back to Alan, the Green starts telling him of this new threat, and how it was responsible for the train wreck, and as we learn, Sam's death. This causes Alan to accept this new role in life, and the Green empowers him like promised, along with snazzy new outfit!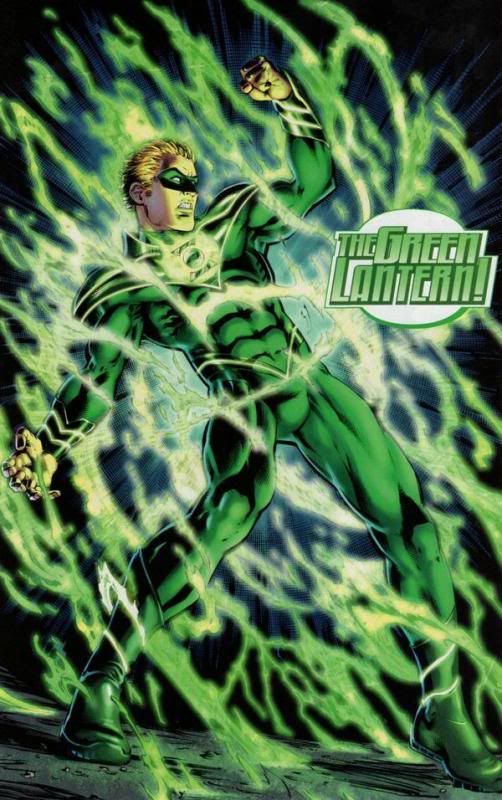 Meanwhile, the death seems to keep seeping across the planet, killing off large amounts of small creatures and poor trees. It turns out that the awakening and empowering of Alan Scott as the Green Lantern is what spurred this occurrence into existence, an abstract entity that calls itself the Grey, the opposite of the Green.
As it gathers its own power, it finds a suitable host, one of great strength and the ultimate symbol of the dead. So who better than the one, the only...