perletwo posting in

scans_daily
4 pages from Legion Lost #0. Timber Wolf's secret origin.
We open on teen Wolf hacking and slashing his way through lowlives to get to a Lord Vykor. Vykor Must Die!!!!!! He knows this with every fiber of his being!!!!
.... well, except that
one
with the creeping little doubts.
Cue flashback to Wee Brin and Mommy coming home to the Science Lab from a lovely day at the zoo visiting the timber wolves, his favorite! But that's the last lovely day any of them will be having for a while, as the Londos' Science Sponsor is on his way over for a visit. Cue a tour of Papa Wolf's tumor-ridden lab rats (eeewww).
The big idea is to give Papa a chance to use the serum to save Mama, but she dies before he can. Vykor gives him a month to perfect a viable serum for human use. Papa Wolf, a wee bit cracked in the head, injects himself and Brin with the serum the day Vykor is due back to collect.
Papa Wolf takes point, but is outnumbered.
Cue the Training Montage page of Brin growing up and honing his powers on the mean streets of Zuun's Lowtown district - and finding himself strangely drawn to protecting the innocent.
Two Science Police officers track Brin down and ask him to come in, work with them and stop his vigilante ways, end the cycle of violence. Yeah, right.
Brin tracks down Vykor, who's used the last of the magic serum on himself and his son. "Kill him, Tor! But try to keep his body intact. Perhaps our scientists can reverse-engineer the serum when they study his corpse!"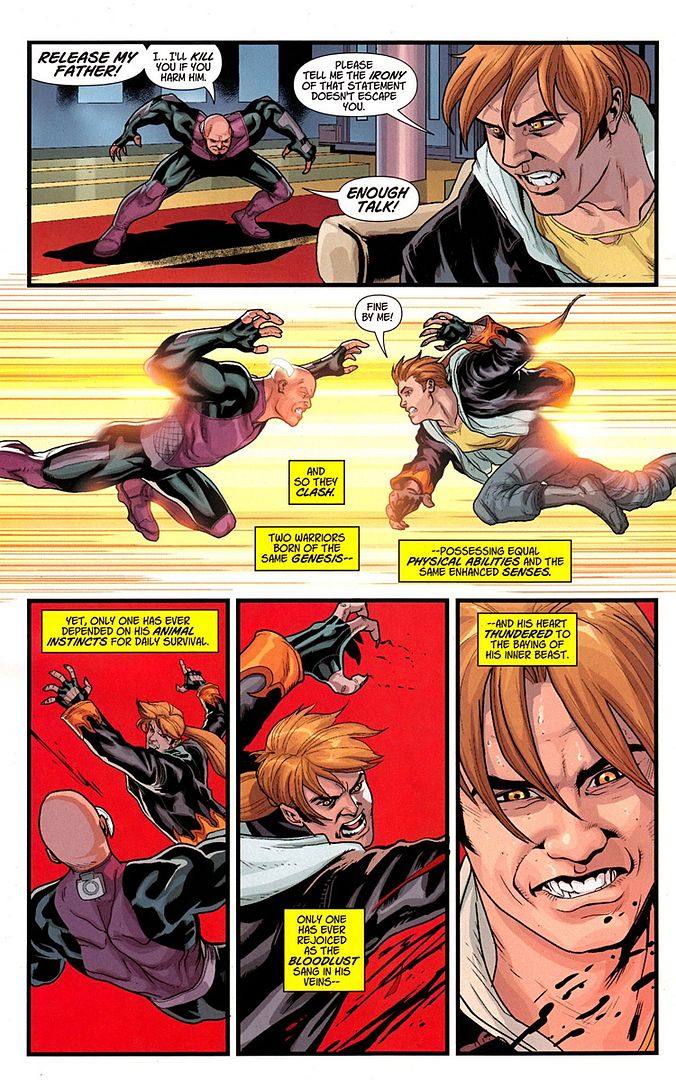 Vykor begs Brin to take him and spare his son, an innocent. Gee, a life or death decision. However will this play out?
BTW, the lady cop, Lt. Whyte, earlier addressed her partner Capt. Adym there as "Nate."
Oh boy. A new cosmic threat
and
the return of Harvest? However will I stand the wai-
zzzzzz