majingojira posting in

scans_daily
Damnit, it just won't leave my brain. Maybe it's because my intro-to-comics-team is under threat? Maybe I care too much?
Maybe it's because I thought of pitches with these characters that were similar (more "Hatchet"/Survivor Man-based, less emotional manipulation, more organic deaths) and have been beaten to it. I don't know, but to deal with my indigestion, I have to air it out. Here are the covers and some speculation I've been tossing around.
#1 Cover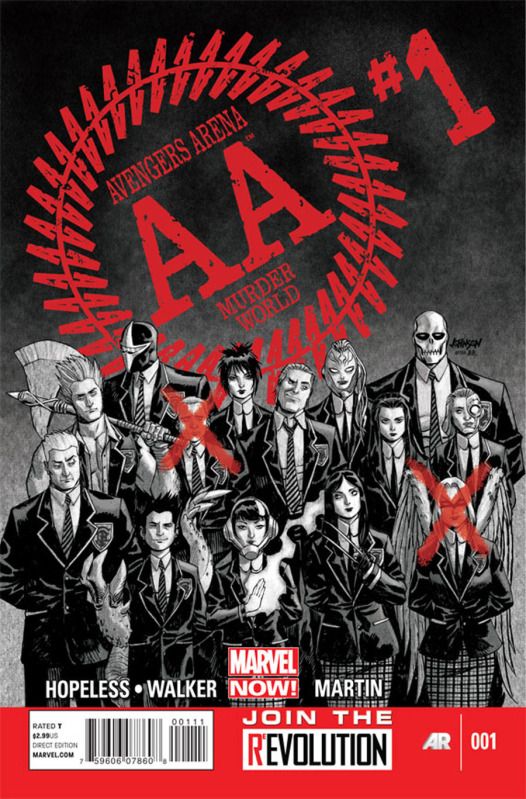 Variant @1, which got all sorts of reactions.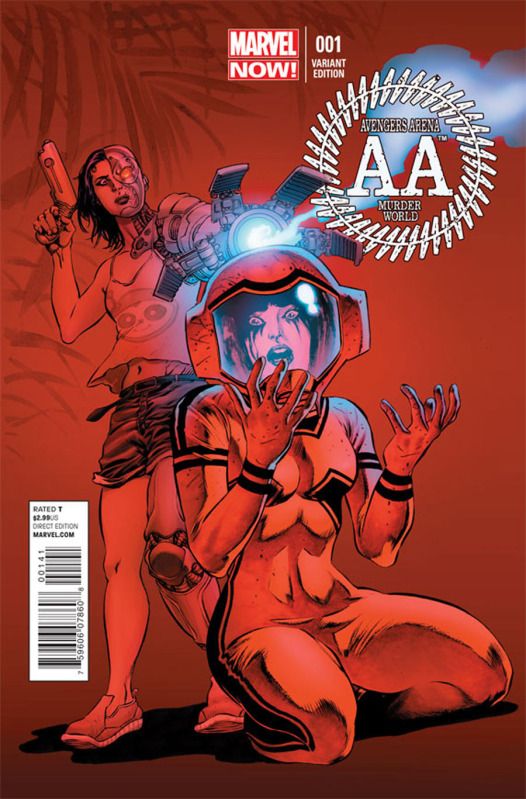 #2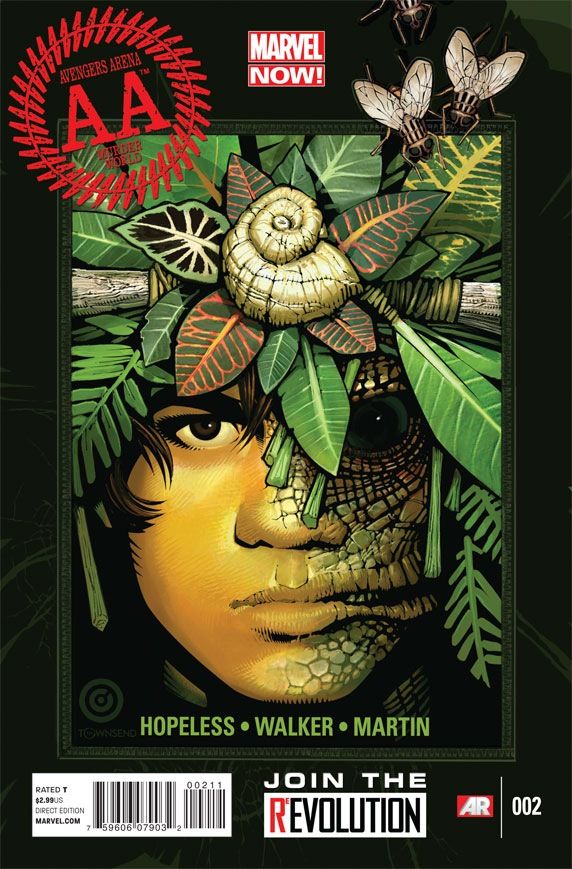 #2 Variant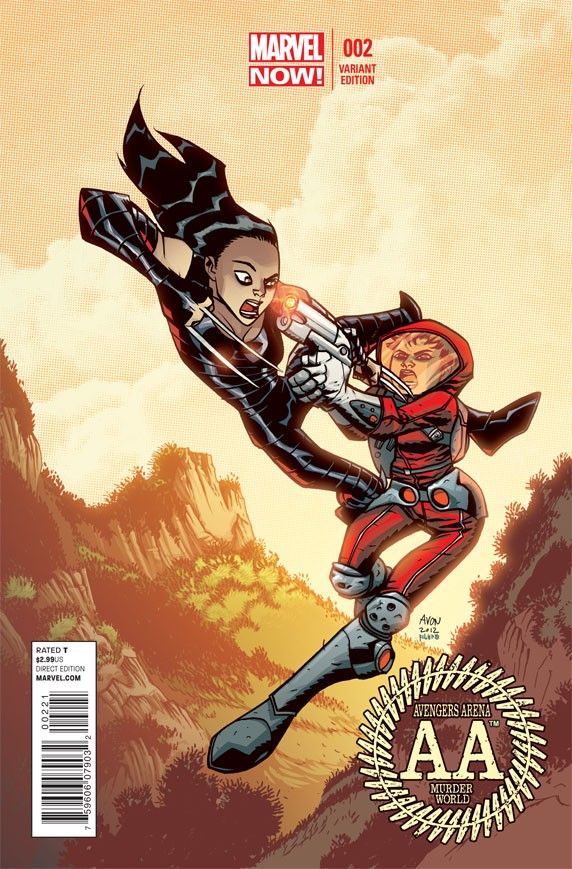 #3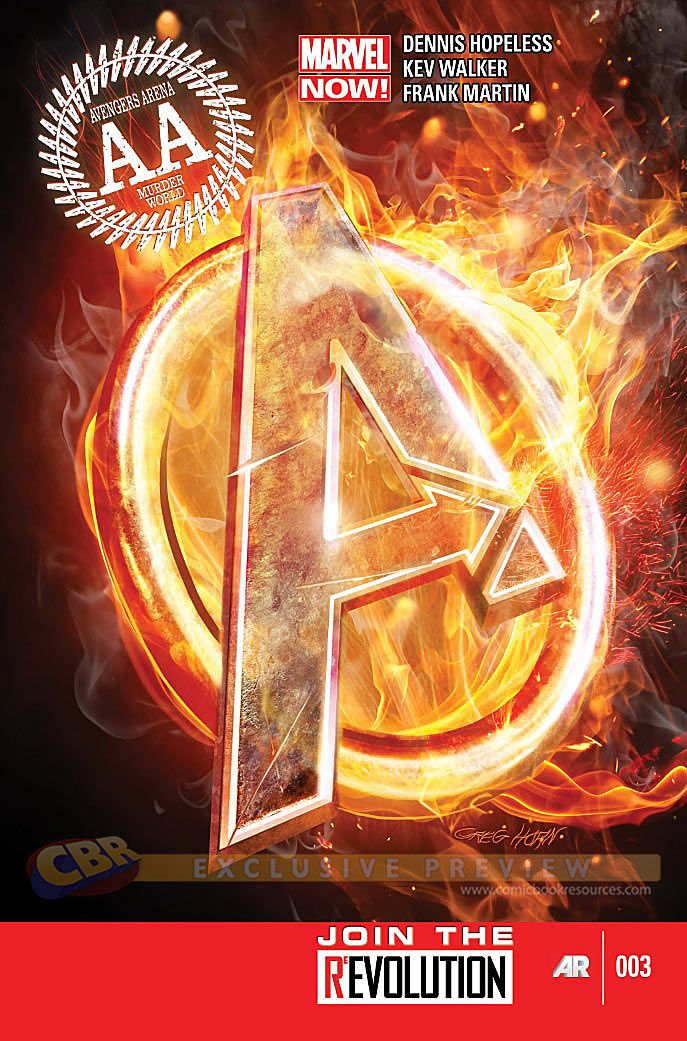 I think we all saw a version of this one coming.
#3 Variant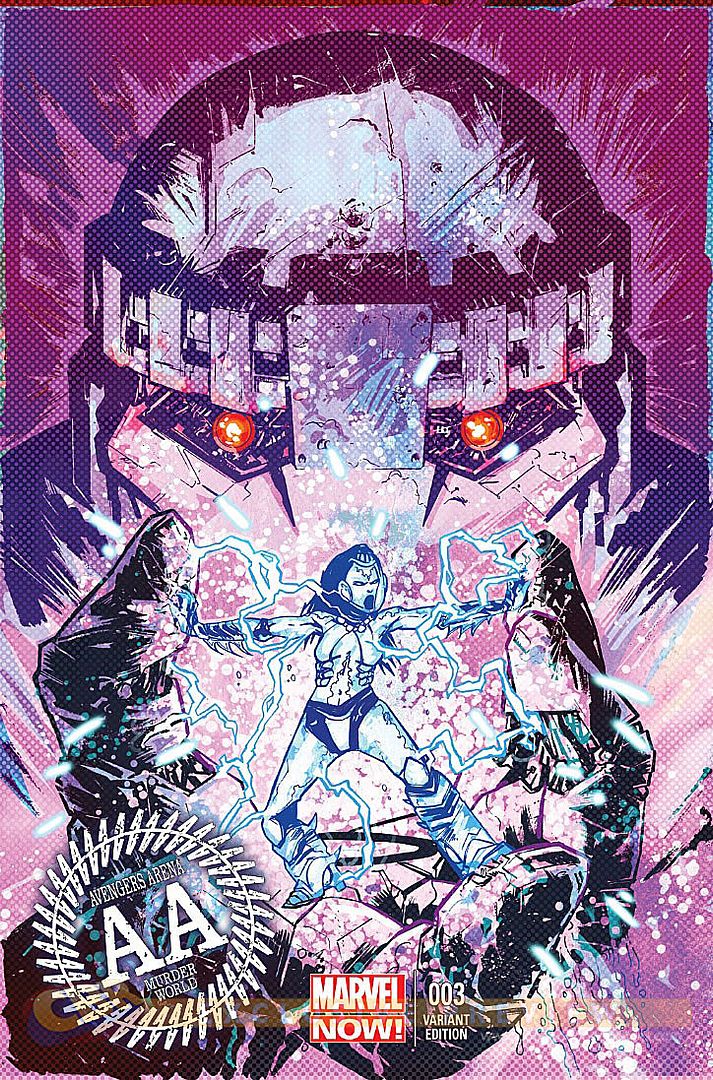 Between the solicits and the interviews (Like the
one at Newsarama
and
the new one at CBR
) speak of character focus and "Lost" style flashbacks that give me hope for more character driven stuff, extending the story (and putting off most of the deaths) until the writers earns them for himself rather than cashing the check of another writer's narrative. It also looks like he's done his research into the background of these characters. So at least their is that. He also says he doesn't want it to be a meat grinder either, so it looks like he's listening in to the complaints.
The new interview actually does link the Braddock Academy to Captain Britain, so that answer questions.
These quotes I especially hope hold true:
"I wanted to do it because it's a teenager story with stakes and guts. The first challenge of any story is to make the reader care. Care about the characters. Care about the themes. Care what happens in the end. I took the job because I want to make readers care about these kids and what they've been through."
"Arcade doesn't make anyone do anything. That's not his game here. And within that, we're going out of our way to make sure the characters have justifiable reasons for all of their actions. This is a story about what a person is willing to do to survive. It's about how far they'll go to keep themselves and their friends safe."
(This one especially, because that's how I'd run it, just more survival stress oriented)

"Laura isn't a mindless killing machine anymore. In fact, she goes out of her way to avoid killing. Being tossed into Murder World won't change who Laura is. "

"Obviously the characters who survive longer will get more of the spotlight, but none of them are cannon fodder. They all matter to the story in a real way."

It could be good , but it could VERY easily fall to crap. Issue #2, the first death, will be the ultimate test. If it fails, it will fail hard. If it succeeds, then it might just last long enough to tell its story. The solicit is thus:
AVENGERS ARENA #2
DENNIS HOPELESS (W) • KEV WALKER (A)
Cover by CHRIS BACHALO
Variant cover by MIKE OEMING
• ANNIHILATION's Cammi vs. Deathlocket!
• AVENGER ACADEMY's Hazmat vs. Deathlocket!
• Who the heck is Deathlocket? And who dies in this issue?
• Plus: Who are the students of the Braddock Academy?
32 PGS./Rated T …$2.99
Honestly, that solicit says to me that the new one, Deathlocket, will bite it. For the narrative, it's the best way to go and the ultiamte test. If he can make us care about Deathlocket before, during or even just after she is killed, then there will be Hope. If not, it will be Hopeless (PUN! I couldn't resist)
The series teeters on the edge of a knife,. Hoping for the best, preparing for the worst.

And now, with the current information, some speculation on 'survivability'. (or "What I'd do if I was assigned this to write"), which may ensure that the opposite happens, but screw it! This is how I'd do it and how it "should" happen! So says me!

From Space:
Darkhawk
: As the most experienced, I doubt he'll want to play by Arcade's rules and try and organize an escape attempt. But there's two problems that could be played well here. One, he was last seen inured in the "Nova" series, with the gem imbedded in his chest. Second, in the Loners series, it manifested a second armor for someone fighting him. That might tip the balances of power in a clash. He might fail in his escape attempt and thus dishearten the others from trying, resigning them to their fate or to a new plan. If he does die, the amulet would likely be passed on to someone else with either little/no physical power like Juston, Chase or Cammi. He'd leave behind the "Raptor" arc for Cosmic Marvel, the Loners and his girlfriend, Miki Musashi (Turbo). If he passes on the mantel to someone else, these plot threads can partially survive. My take: I'd probably kill him.
Cammi
: I believe we have a catalyst to get to killin' . It's my speculation, based on the solicit, that Hazmat will be saved by Cami who snipes/blindside's Dethlocket before threatening to do the same to Hazmat at issues end. Reading her origin and her story, this girl is not mentally stable and I can easily see her wracking up a body count of at least 2, maybe more. Because of this, she is unlikely to survive the event herself. My take: Dead Villain Walking, but she'll have to earn it first. I'd also have her finale be her getting the Darkhawk armor before being purged of it and killed.
From the Streets:
Nico Minoru
: Leader of the Runaways and vastly powerful (if people remember that she's able to not tap into the spell limiting options of the Staff of One anymore after the upgrade her Grandmother gave her). Hopeless' assessment is pretty good, but when push comes to shove, she'll defend herself lethally. And woe betide anyone who angers her. The girl can be creative with her punishments. However, if she goes down, the Runaways themselves will fall apart. This make some want to see her survive this ordeal. It will leave her even more jaded than before, but I want her to live damnit! The Staff of One might be able to cheat her death now that she's much more tightly connected to the staff. Instant healing, time stop recovery, teleport to saftey--something. If she is injured and her staff taken, that may lead to her first kill this thing. As the last time it happened, the staff got pissy and summoned a draconic horror to devour the offender--who was a practiced sorcerer. I doubt any of the kids would be that well prepared. My Take: her death would come at too high a cost. Let her live, damnit!
Chase Stein
: He claims to have killed before, but the veracity is nebulous at best. He certainly can be at least apparently ruthless enough, and has good instincts to survive. However, he just got back Old Lace, so killing him immediately would be rather odd and off putting. He may have Old Lace with him, but that hasn't been confirmed. He may have his fistigons 2.0, he may have his X-ray specs, we don't know. even without these, he can be formidable (if goofy). His tech expertise might be useful if they're willing to scrap the sentinel a bit (doubtful). Still, his death would not lose much, and I can think of several heroic sacrifice scenarios that would do him in well. My Take: Probably gonna die, but unlikely to occur early on.
From the Avengers
X-23
: Yeah, she's a bit too high profile to die without it being a blatant "SEE! NO ONE IS SAFE!" especially if it happens early on. given the strength of her healing factor, even then, she would be easily "killed' and then come back later on. There's also the Trigger scent thing to worry about if Arcade does decide to 'ramp it up' as it were. She'll defend her friends, but will not kill unless she has to. My Take: Lives.
Reptil
: Another one with TV exposure, and a hero at heart. His priority will be on escape over fighting others. With the gem now full accepting him, his death is unlikely. Even if it does occur, he may disappear afterwards like Crusader (remember him?) or appear to die only for the gem to revive him. He's the chosen one of a dinosaur dimension, who has a fated death. Even if he dies here, he will likely come back. At least, I'd have him die and then come back a short while later. He'd leave behind a girlfriend and that dimension. My Take: He'd live in the end, but he'd have a very close call or 5.
Hazmat and Mettle: These two either live together or die together. Their romance was one of the best things in Academy. Honestly, I fear that would put them on the chopping block for many writers. It's an easy way to do it. Both would be driven into homicidal rages if it was done. Hell, Hazmat's body, if it were left around, could kill people vicariously. Mettle is physically the strongest one there, next to the Sentinel, and his inability to feel/taste/smell could work to his detriment (tracking devices, proximity grenades snuck on his back, etc). Hazmat might go nuclear again and kill several at once. Both are powerful, that is a mark against them, sadly. My Take: I'd want to keep them alive, but continual peril would be the name of the game. No matter what, they're in it together.

Juston and the Sentinel: Juston's is the least well known of these, but his appearances in Academy got me interested in him and his own series was actually rather fun. He'd leave behind a "Missing Mom" plot and a girlfriend (as well as Dad and younger brother). He has a pretty big bulls-eye on him. He's a nice guy who screwed up once in an effort to get back at bullies, and regretted it ever since. I doubt he'd be able to order the Sentinel to kill, but it might have other ideas. My Take: Justin dies, but then is revived as the Sentinel fuses with him with the words: "Primary Directive: Unit will not abandon Justin. Not Ever. No Matter What." He becomes an Omega Sentinel. He might die again later, but that scene is just too juicy not to use.
The Others:
Dethlocket
: Honestly, the best way to take her would be to introduce us to her, make us care in issue #2, then off her . That's how I'd do it as the first death of the series. Anyone else would be cashing in the check of another writer.
"Axbro": As dubbed by 4chan, nothing else can be said about him, but one rumor is that he's one of Colossus' kids from the Savage land. I can't speculate any further than that, but that may be enough of a connection to lt him live. It depends on how far he goes to survive if that is true. That could do him in.
"Not-Hazmat": Presence of a second character in a containment suit does not bode well for Hazmat (and thus, not for Mettle). Given I have a stronger attachment to the older characters, I have a bias to keeping them alive over this new one. But the presence of overlap is a sign that one of them is going to die.

The Braddock Acdemy:
We know nothing of them beyond it being basically a privileged private version of AA in Britain. This may make some of them more ruthless than the others. There's 3 remaining slots and we don't know who they are or what their alignment will be. But honestly, I'd kill all but one or two of them if I had to. I'd make people care, then kill them. That's the real trick. It's the best bed to put any villainous character who will try and survive according to Arcade's rules. Given their probable privilege, layers of disbelief about what's happening are definitely coming.

Arcade:
Simply put, he cannot be allowed to live long after this. At best, I'd kill him either in the finale (or pre-final issue) or, to buck trends, have Arcade be the first death. The heroes manage to find Arcade almost immediately, but not where the kids are. Leaving everything the kids do completely on them. That would be a twist and half. But either way, he's gotta die. And it has to be from one of the survivors for it to mean anything. If Wolveirne, Tigra or Hank Pym tracks him down and does him in, it just won't work. Even the other Runaways wouldn't have the same oomph emotionally. It's gotta be them. And he's gotta die.
Man, all this talk about death just gets me thinking of an "Ideon: Be Invoked" AMV. I even hear some of its theme music when looking at the covers and reading about it. Now that was a Kill'em'all done well. (Note: This video is NOT for the faint of heart! You have been warned!).

Though I do hope we avoid LolTomino style deaths. IE: "Sudden character depth added, then BLARGH I AM DEAD!"
I hope there's a reset button for this series. Keep the emotional trauma and their lives. To live is to suffer, and it's suffering (witht he attempts to overcome that suffering), not death, that really sells. Death being only a spark for the suffering of others. Its why the "Women in Refrigerators" thing is used and why it's seen as poor form. It's an overpriced way to get what is wanted.
Those are most of my thoughts on it. I needed to air it out. Part of me wants to like this series, but the other part wars "Remember how you held out for Beechen's Cassandra Cain?" Let's hope things turn out better. But I'm bracing for the worst.