neuhallidae.insanejournal.com posting in

scans_daily
I had a little mental debate whether to post this or not, because
God
, I hate the art of the second issue something fierce. But after doing that Marvel Adventures post with Stalker!Josten flinging a Quinjet at Jan's head, it might be an interesting contrast to see how Stalker!Cannon does things.
Scans from Marvel Feature #6, and Avengers vol 3, #71.
A little backstory: David "Whirlwind" Cannon is an old-school Avengers villain, who primarily focuses his attacks on Hank and Jan. This isn't particularly noteworthy, except, IIRC, he became the first character to ever
hit
Jan.
Where he becomes relevant to this post is in the later Marvel Features. Taking on the identity of Charles Matthews, he becomes Jan's chauffeur with the intent of stealing her money, which later expands to the desire to steal Jan herself. Meanwhile, a tangle with a villain has left Hank stuck at tiny size, and he finally makes his way home to find Jan unconscious and about to be killed by a falling skylight. Opening a reinforced umbrella to protect her and taking cover himself, he gets to be an observer to a scene he doesn't like much.
After getting Jan's attention to prove he isn't dead, Hank enlists her as his hands to come up with an antidote, but they keep getting interrupted.
Later, Jan insists on testing the first antidote attempt herself, only for it to prove a massive failure and leave her trapped at tiny size as well. As they're attempting to figure out what to do next, guess who should show up again?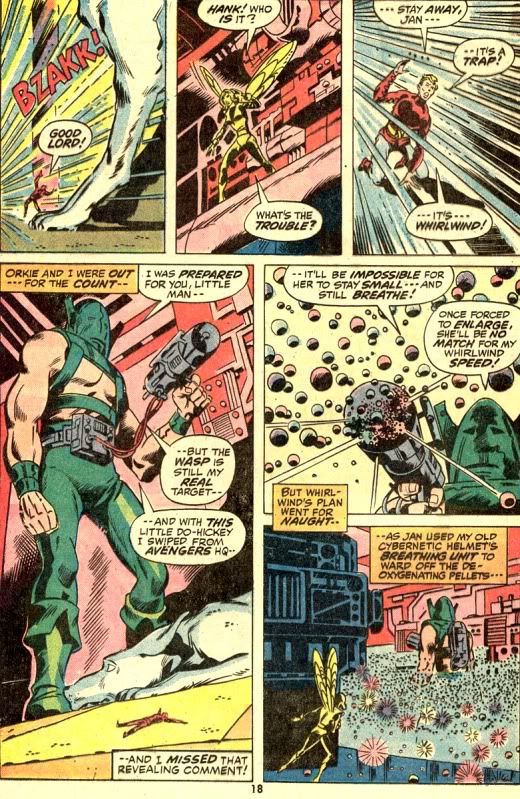 Unable to find Jan, he assumes she's not in the house and sets the lab on fire with the intent to kill Hank. Both escape, but are assumed to be dead by everyone except Bill Foster. Meanwhile, Jan's lawyer and "Charles" are conspiring to split her fortune, as she has no heirs, but the plot is foiled when Jan and Hank turn out not to be dead. "Charles" is later fired for embezzling, but no one finds out that he's actually Whirlwind until well into Hank's mental breakdown as Yellowjacket.
He has a few more combat encounters with the Avengers, but nothing particularly pertaining to his infatuation with Jan, until Geoff Johns takes up the story in the Vegas issue (yes,
that
one). Hank and Jan have decided to take their first vacation in ever, for talking over old wounds and... other things. Meanwhile, Cannon is in Vegas as well, and it appears time hasn't been kind to his sanity when it comes to Jan.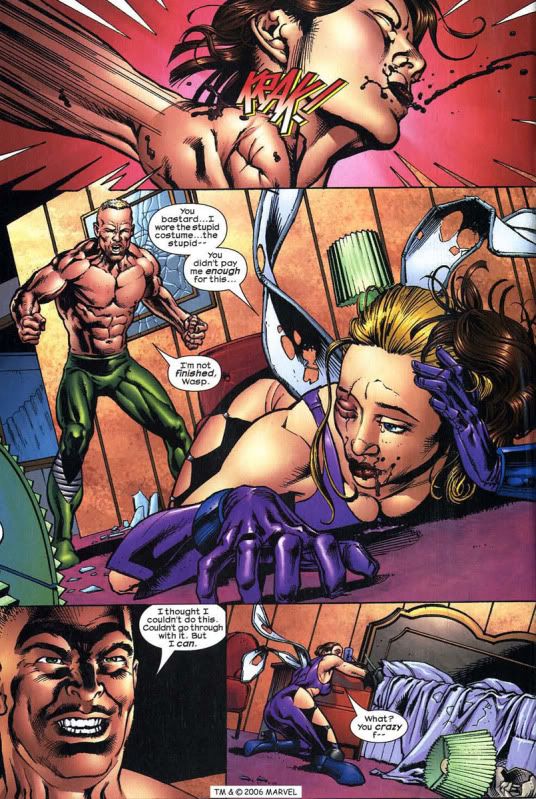 Unaware that Cannon's in the city, Hank and Jan are enjoying themselves, when Hank makes an attempt at proposal. Jan tries to let him down gently, and they begin working out more of their issues. Everything's shiny, right?
Not really.
He hits Hank with a gut shot to knock him out (which is pretty much what the art is doing to
me
by this point, augh, augh, augh), and Jan goes after him.
The voice offpanel would be Hank, having woken up and gone giant-sized (and WTF? Jan apparently just materialized her uniform underneath that tiny tube dress, but Hank somehow doesn't have his at all?). He provides a pretty good distraction by scaring the hell out of Cannon until Jan wakes up and knocks him out. Then, as Cannon's arrested, Hank and Jan decide that while maybe getting married again would be a really bad idea, they still like being a couple and maybe they can make it work.
And thus, we see the last of David Cannon's obsession. At last count, he was working for Osborn, but unless I just somehow blanked it out, he hasn't been seen since Jan was killed at the end of Secret Invasion.
So the running tally on Universes in which Jan's had some psycho after her:
616 = David Cannon
Marvel Adventures = Erik Josten
Ultimates = Pym himself.