perletwo posting in

scans_daily
Things are still building slowly in this weeks LOSH #14, but they are building. Four pages.
We open with an update on Cosmic Boy, who got whupped by three Braalian pirates
last issue.
Dr. Gym'll! I love that little grump, and feared he'd turn down further Legion business after
his nephew's death.
But here he is, grumping away and doing superior work for the Legion. That last line of his is...interesting, no?
Meanwhile, Element Lad and Chemical Kid have built a tracker as per Brainy's instructions and are hot on the pirates' trail. Back at HQ, Brainiac 5 continues to pick Comet Queen's brain in hopes of finding out why
she betrayed them.
Back in pirate space, Element Lad and Chem Kid face down the three Braalians, and Jan gets knocked out. Hadru hauls him off into hiding, sends a distress call to HQ, and has a momentary crisis of confidence, which he overcomes.
Still elsewhere, Sun Boy's away team is at a high-security weapons locker where the Fatal Five's weapons have been kept since the Legion last broke the gang. The warden explains the extensive security precautions there, and Phantom Girl once again schools Dirk on why it's pointless to cop a feel off a Bgtzlian girl. Oh, and this happens.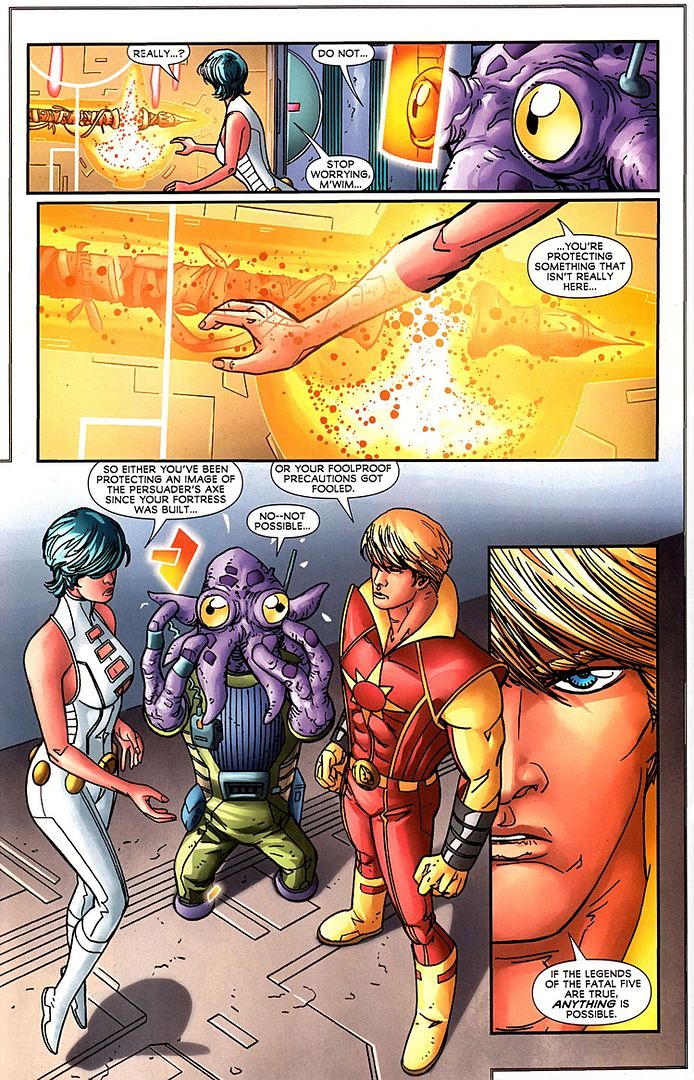 Back in Strategic Retreat Country, Hadru wakes Element Lad by speeding up his body's chemical processes. They once again practice efficacious teamwork (see the textline on my cut tag above) and take down the three Braalians. A day late and a dollar short, help arrives...
Why, hi there, ladies, long time no see! Night Girl and Shadow Lass are, of course, two Legionnaires who also often use their complementary powers together to great effect. I include this page instead of a Jan-Hadru fight page because of Ayla's little speech at the end. This concept of "uniques" appears to be a thing that's going to be thematically important at some point - Brainy also uses the term "became a unique" when studying Comet Queen's brain scans.
Love that teaser for next ish, because "Witch in a Time Storm" means either Glorith or Mysa will be turning up. Either would be dandy by me!