perletwo posting in

scans_daily
with a bang *and* a whimper.
You'll recall that we left our merry band on the ropes during the
rumble in the tumble(weeds)
with Superboy, the Ravagers, Harvest and his lackeys, and Capt. Adym and Agent Lure of Echo all tussling with Daggor and the worldkiller he's building. Adym and Harvest, over the objections of all the other factions, planned to use Adym's time bubble to go back an hour before Daggor's forcefield went up and blow everything to Hell - killing billions, but saving quintillions, by their rather loose math.
We rejoin our battle already in progress, as Harvest sends Adym off in the bubble.
Tyroc helps Yera find her feet, and she tries to apologize for her secret ties to Echo, but Ty waves that off. When the chips were down she showed her true colors, he says, and they are Legion; it's been an honor serving with her. Yera decries his fatalism and rallies the troops for a fresh assault, while Tellus updates the crew on Adym's suicide run.
Harvest's crew promptly begins fighting against their erstwhile allies, and Leash gets Harvest through the forcefield, where he plucks loose a piece of metal - the same one he sent along with Adym. Why send Adym at all if he knew Leash's power could get them in? "A good question, Leash. I can only say that we have walked this path before and are destined to walk it again - and never can we vary our steps!" They return to their Mongolian HQ, where Harvest says their lives are about to get much more interesting - because for the first time, he no longer knows what fate has in store for them.
Gates, sure he's facing immanent death, goes on walkabout and in classic walkabout form, meets up with himself back on the battlefield.
One of him is killed by Daggor, but they get go on with the job anyway.
An hour earlier -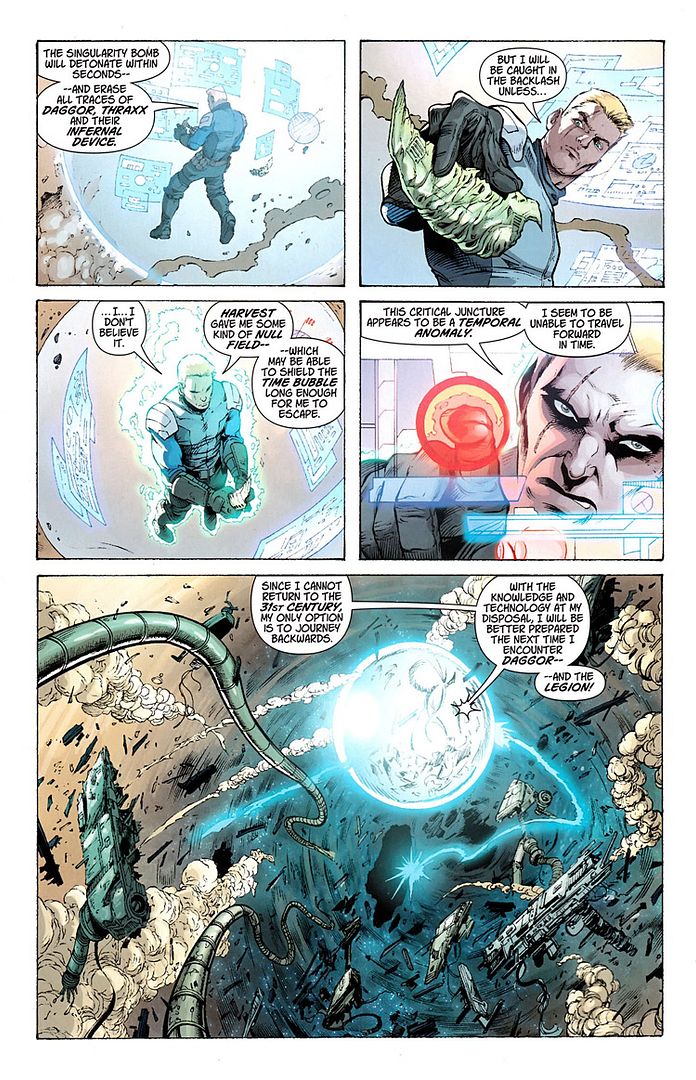 I'm not quite sure, but I think the implication here is that Adym becomes Harvest. Best guess, anyway. There's the aforementioned big bang, and an hour later, Tellus notes that something has happened within the forcefield. Daggor, Thraxx, the worldkiller and Adym's bomb have all been zapped into the heart of a distant sun. Gates saved them all! But Tellus senses him...no more....
Superboy, ever the self-absorbed teen, ignores the collapse of the forcefield for a moment of existential despair, realizing he'll forever be Harvest's puppet and his whole life (again) is a lie.
Meanwhile, Dawnstar takes off after Psykill and Leash with blood in her eye, looking for revenge for Wildfire. Harvest anticipated that (natch) and gave Psykill a little something just for her...
They hug the stuffing out of each other in a lovely splash page before rejoining the team.
...but to communicate! "Doesn't matter whoever or whatever was at the far end of Daggor's call. They'll find
us
waiting!" Gates is right, T-Wolf cheers, and they go out with a rousing "LONG LIVE THE LEGION!"
And we close out with the tagline, NEVER THE END!
So since they're still stuck in the 21st century,
now
can we start integrating them with the rest of the DCnU? I still miss Oz and the Orchid Clinic doc, who's still got hypertaxis virus mutation sufferers/fatalities all over the place. Wherever this team turns up next, I'd like to see some of that kind of supporting cast relationship-building happen, since they never took the time in their own title's 2-year run to do it properly.
...I know I sound like I don't like this title, but honestly I do. I nitpick because I love. I just got the trade of the first six issues and reading it like a book, I can see so many missed opportunities and so much potential here. It may not have suited my vision of a 21st-century Legion book, but I'm awfully sorry to see it go.