perletwo posting in

scans_daily
3 pages from LOSH #16, a filler issue in which we hang out, elect a new Legion leader, and move the last pieces into place for the return of the Fatal Five.
But I won't keep you in suspense about the
popularity contest
leadership election!
Levitz did a nice job of obeying Chekov's Law ("If you introduce a gun in the first act, somebody had better get shot in act 3") - the issue opens with Jo and Tinya landing at HQ, and Jo musing that Tinya should be leader - "You're smart!" Her response? "Nobody notices me, Jo, and that's just how I like it!"
As for Mon-El, I dunno; if the best your team's founder can say is, 'congrats on the not actually dying there,' doesn't it suggest something went pretty wrong?
Mon's also the standard bearer for the ancient tradition of Men Failing At Emotional Comprehension in this issue.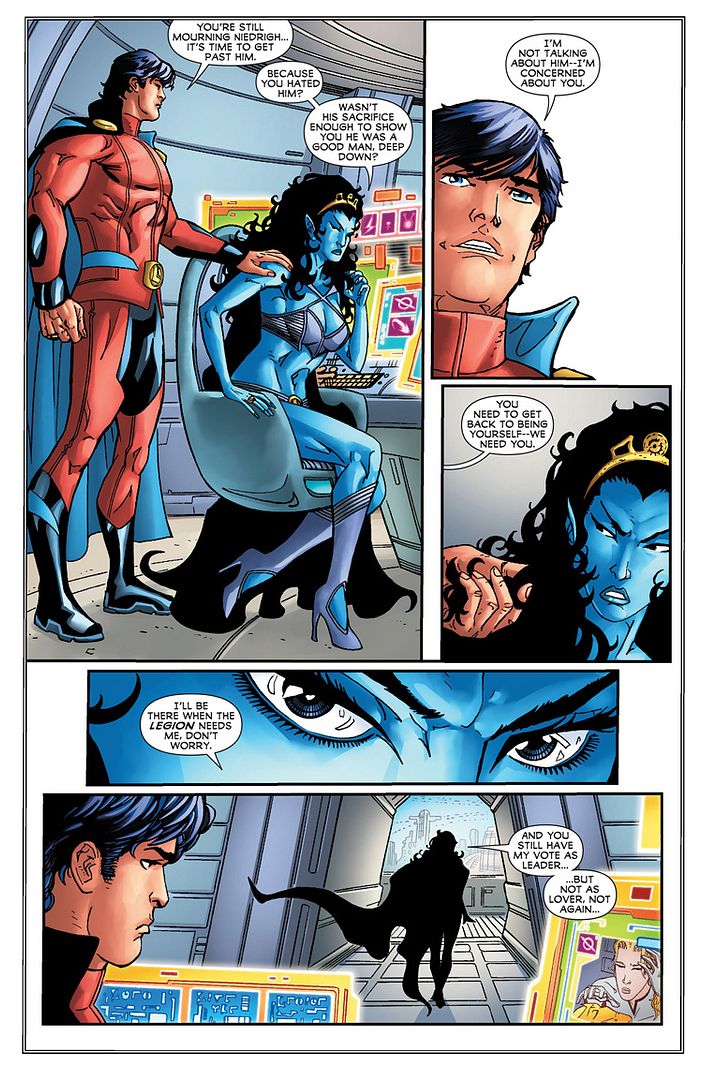 Congrats on not actually getting punched in the nose there, Mon. I begin to wonder if her grief for Earth-Man might not lead Shady into anti-hero country...?
He also admits he previously checked out Validus' inertron prison, and declared it intact. Ever suspicious, Cham has taken Ayla and Vi to Takron-Galtos to check it out for themselves, with Cham and Vi going subatomic to enter the unbreakable cell.
Remember how a couple issues ago, it turned out the Persuader Axe in its unbreakable vault
wasn't really a Persuader Axe
?
...eeeeyeaaahhhhh. On the upside, it turns out the SP turning the key on Validus' cell right now is Gravity Kid, another graduate from the same Academy class as the new kids - you'll recall his reaction to another classmate's death was to take a spousal posting with the SP's to be with his mate, Academy alum Power Boy - and it's lovely to see him again.
In other news, Brainy continues to dick around with Glorith's powerset in the time lab, and Glorith continues to look as though pulling a Comet Queen is becoming more and more appealing. If you've been fretting over Grava, note the bottom panel of the Mon/Shady page up there; appears they've got Saturn Girl working over her gray matter. Also, Star Boy is back on his feet and on the active duty roster.
And last page, far away, a complex quark relay station quietly goes about its business...until suddenly it doesn't. "And the universe may never be the same." Yeah. I got nothin' there.
Next issue: Things Fall Apart.