q99 posting in

scans_daily
Shounen fight manga is a genre not know for giving female characters good roles. In most series, they're either barely there, on the sidelines, or playing second fiddle to the male lead whenever a major fight rolls around.
Fairy Tail is not one of those series!
Where our story begins, the magic guild Fairy Tail has hit rough times. Most of it's most powerful members went missing for 7 years, including our main characters, Erza Scarlet, 'Titania' Erza, who's magic power 'the Knight' allows her to magically swap a variety of magical weapons and armor, and the other leads.
Upon their return, they decide they need to restore the guild's reputation for those who stayed behind, and joined the Grand Magic Games, where magic users compete.
Erza gets selected for an event called Pandemonium, where the contestants would take turns fighting groups of Monster-Golems of a variety of powers, started with oversized stone-crushing lizard-wolves and moving upwards in there into the
truly
scary stuff.
(Read panels right-to-left)
As Jura, the bald guy, is one of said Wizard Saints, and a character we've seen be extremely badass working alongside our heroes before, not something to take lightly! (and that's Erza's two teammates, including the male lead, reacting with worry on the sidelines)
The contestants discuss strategy- Everyone calls out the number of monsters they fight each turn. They discuss how you want to pick multiple, since whether strong or weak they're worth the same number of points, but you don't want to get too many strong ones at once and since they come out randomly in the different strengths, it's risky. Everyone'll go around in a cycle, picking the number they want, until either everyone's eliminated or all 100 monsters are gone.
So, they draw lots to see who goes first!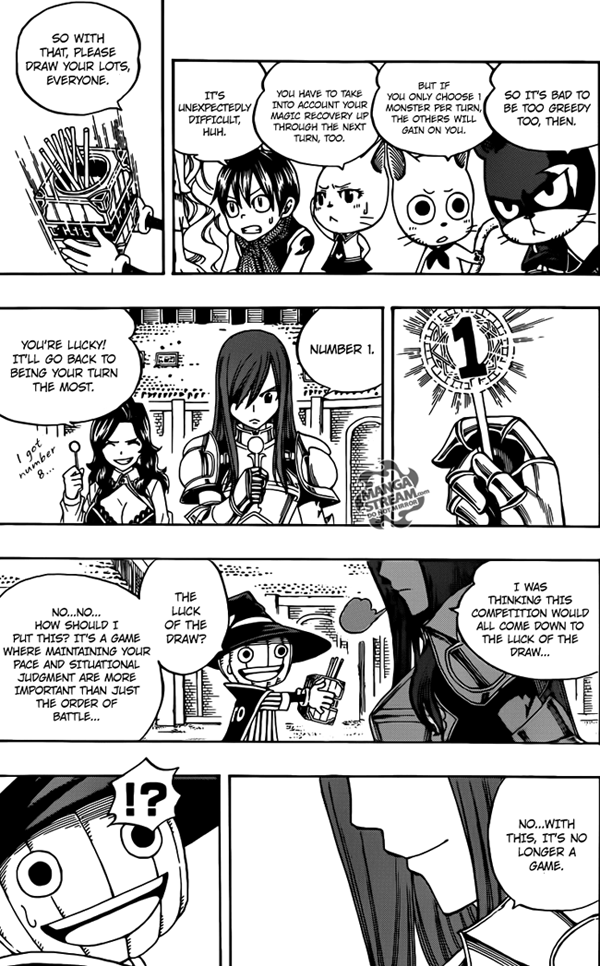 Hrm? What are you talking about, Erza? Sure, it's lucky you got first, but...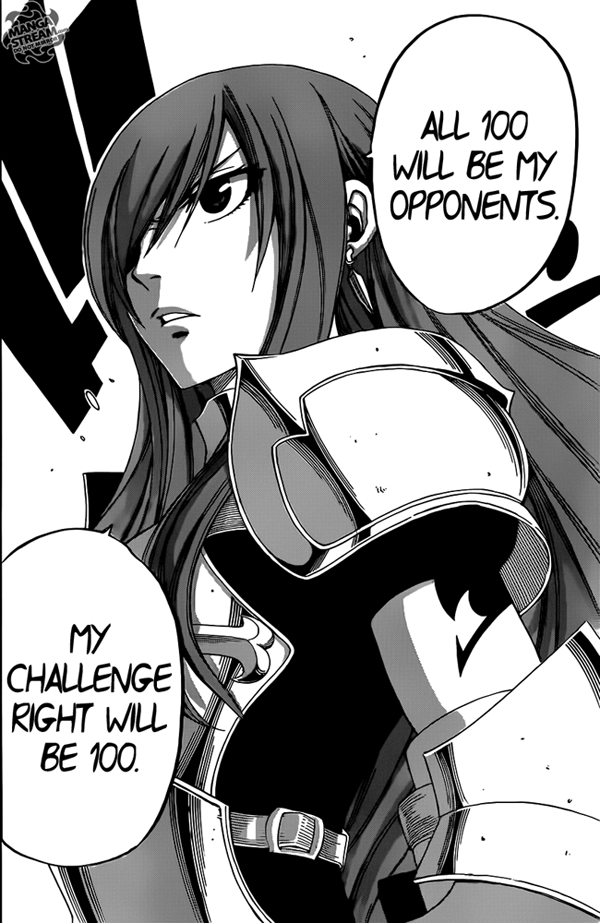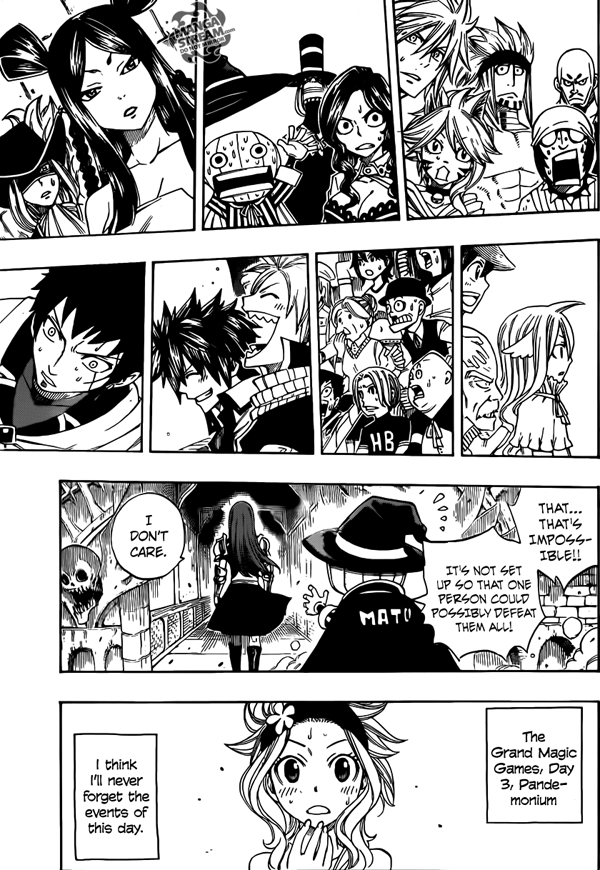 Dude, Erza, we're not even
set up
for that level of badass, and we came expecting the Wizard Saint!
You can't possibly....!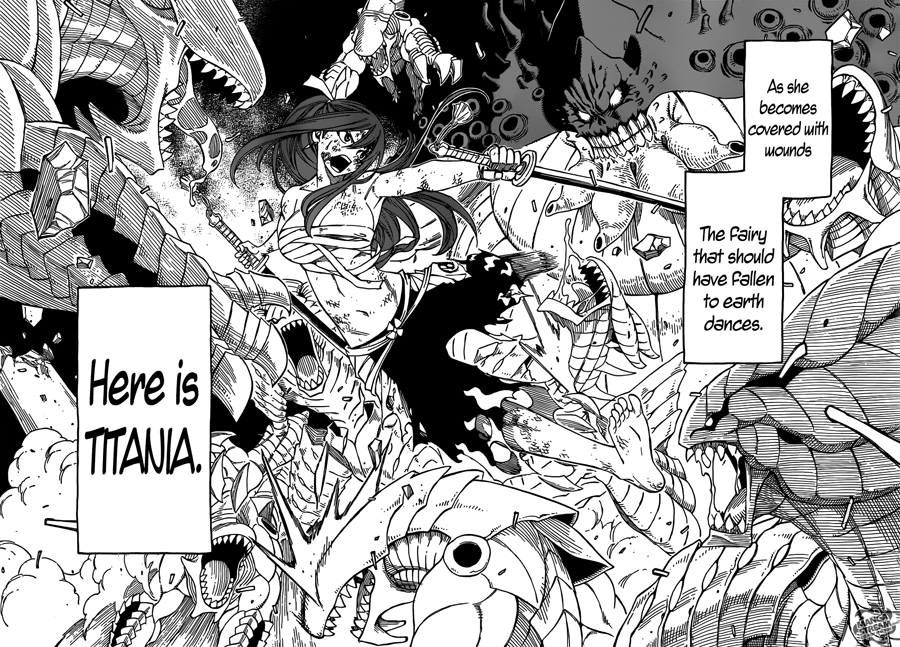 (When Erza's armor is damaged, she is known to simply go into this mode and focus all of her magical energy into her swords for maximum power)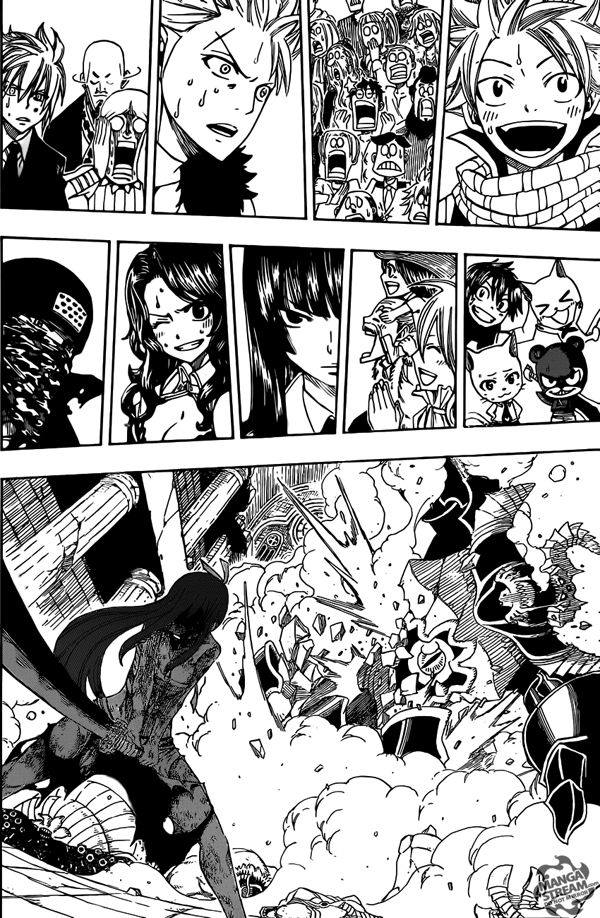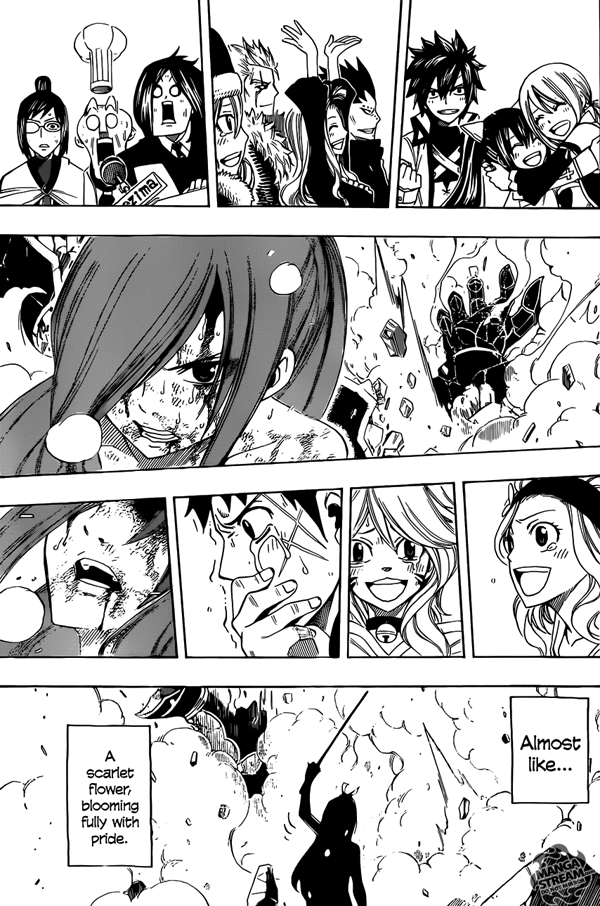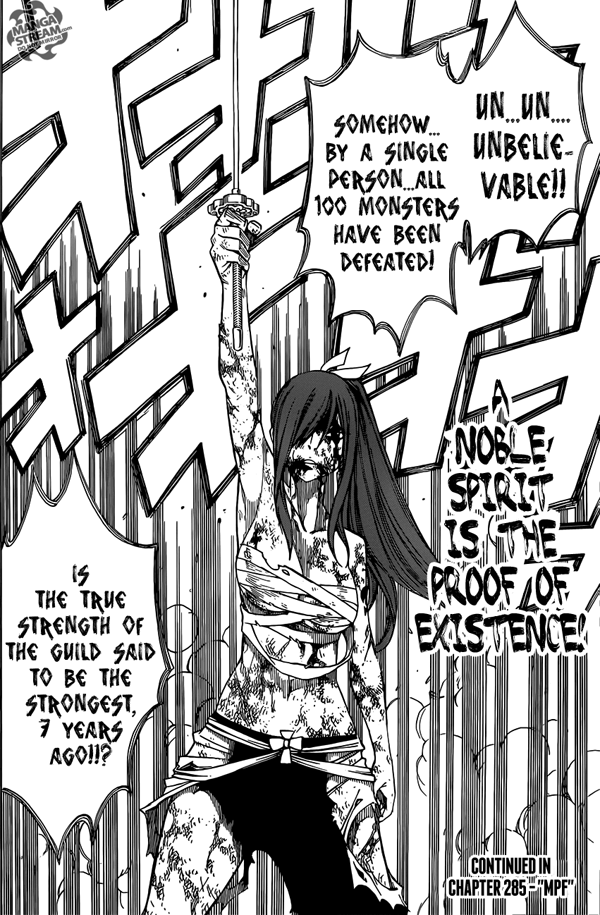 Everyone reacts with shock. Officials drop their jaws, enemies are stunned, teammates laugh, friends cry.
This is Erza Scarlet!
.... then they have to come up with another, lamer last-minute event to figure out who's 2nd-through-eighth this round, because there are no more monster to fight!
8 pages from the manga Fairy Tail by Hiro Mashima