perletwo posting in

scans_daily
Four pages from Teen Titans #18 here, in which as with
last issue
we still have lots of plot threads, but they're moving closer to converging.
We open with Tim in a suit, headed into the Batcave where he has a conversation with Damian's ghost and then one with Alfred, who encourages him to confide in the Teen Titans and place friendship above secrets.
Aboard the S.S. Titans, the gang is on deck being inconspicuous when Superboy very conspicuously flies in and hovers above the boat in full costume. They chide him for the dramatics and remind him that some of them have families and therefore need to do the secret identity thing. He apologizes, gives them a brief summary of his involvement in H'el on Earth and that he's now out of his apartment; if they've gotten over the whole "you tried to kill us" thing, could he bunk down with them for a while?
Tim pulls rank as owner of the boat and agrees to let him stay. He also summons them to the War Room in their working clothes. Among other things, he has a new mission statement for the Titans: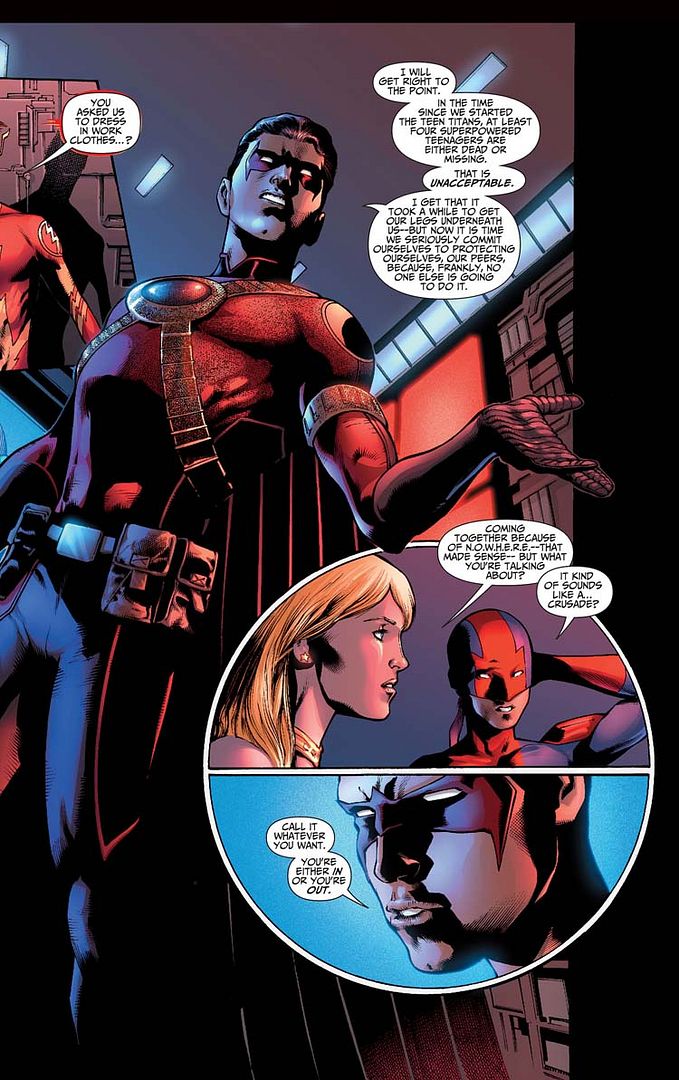 - Oh, and he's already set the boat moving on autopilot during the briefing before they even agree to the job. Not all the kids appreciate the high-handedness of this gesture. The job as described is rescuing a teen metahuman from three covert government agencies duking it out over weaponizing rights to her powers.
Shifting away, we learn a little more about the mysterious dark-haired professor with a keen interest in metas with light powers. What I thought last issue was one man in two timelines is actually two men, brothers - the handsome dark-haired professor and the wasting-away guy in the back room. While Handsome Doctor quizzes a rep of the Indian government at the U.N., Wasting-Away digs through the files and finds the poop sheet on Kiran Singh. "Once I have supped upon you - a meta being made completely of light - the whole world will bow down before
the light
and
the way
!"
Oh, did Tim mention there's one little catch to rescuing Tabatha Hatch?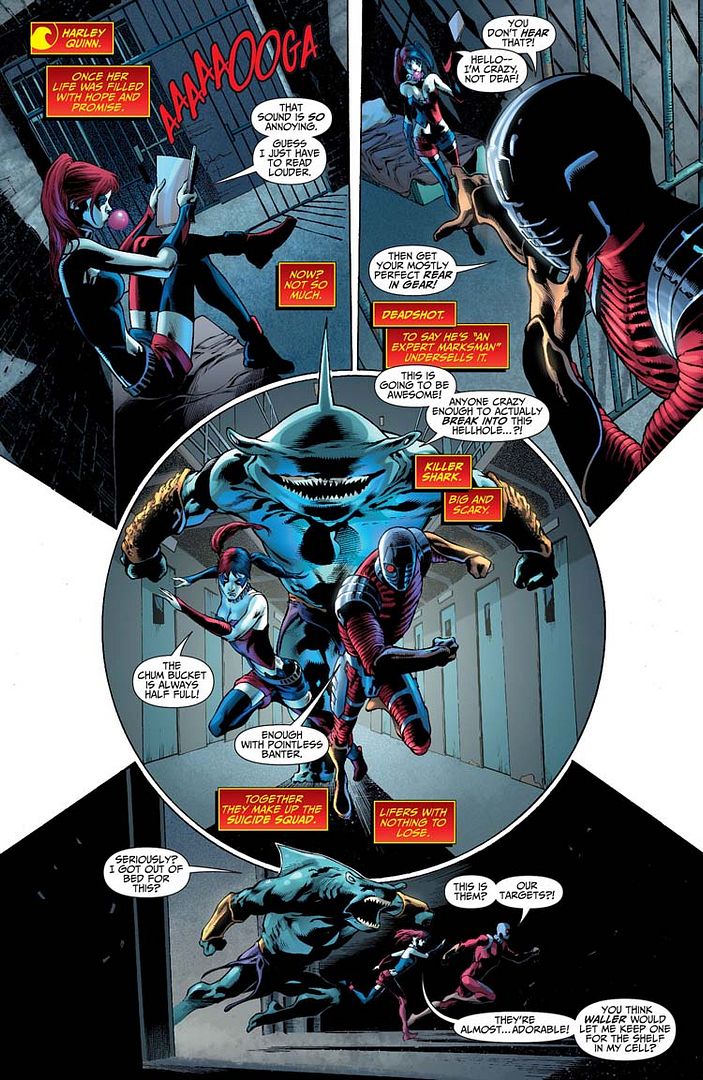 While the Titans engage the Suicide Squad, Tim goes for the brains of the operation.
Deal done, Waller and Tim step outside, call their respective teams to a halt and announce their new alliance. Tim explains there never was a metateen at Belle Reve in need of rescuing, which explains Harley's confusion when Cassie mentioned it, and he'll fill them in on his plan on the way home. Ee
yeaaahhhh
, that's gonna go down real well, Timmy.
Back in New York, the blond metateen who casually slaughtered an entire coffee shop for annoying him last ish is still wandering Times Square and still blasting anyone who gets in his way. A bystander shrieks and he almost panics, thinking they've spotted his latest kill. But! Up in the sky! It's a bird! It's a plane! It's -
...uh oh.
BTW, it's a little hard to count pages on this thing since they're still double-page spread happy and the pages aren't labeled, but it's Eddy Barrows and Eber Ferreira on art pages 1-16 and Rodney Buchemi on pages 17-20. By my count that's the last two pages of the Two Teams Fight scenes and the two Times Square pages.