shadowpsykie posting in

scans_daily
Hey Guys,
I know i have been lurking for a while, havent posted anything in a long time between work and school and the ocassional fun bouts of depression RL and the like just got in the way, but quite frankly i needed adistraction, and i saw this article and these images over at Newsarama. Thought they pertained to us so i thought you'd like to see it.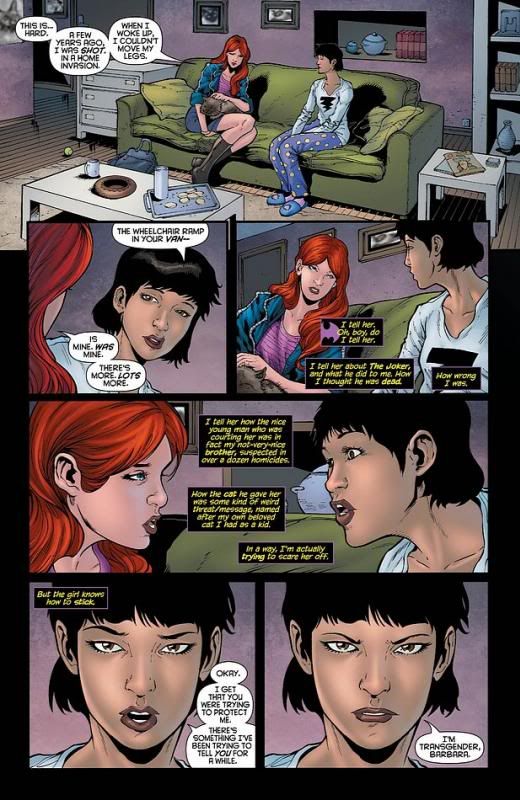 I think a lot of us suspected something like this since Gail has a) always had a LGBTQ character in her comics a lot of us figured it would be Alisa. From the way she also talked about always wanting to introduce a transgendered character into comics (or at least her comics) i think a number of us suspected something like this. So what did you guys think?
http://www.newsarama.com/comics/batgirl-19-reveals-transgender-character.html
the article also brings up an interesting fact i have never thought about. While Alisa is not the first gender fluid or transgender character in comics, i think she IS the first who is not transgender as a result of "fantasy elements" such as magic or brain swapping or future science. what do you guys think of this?
Edit: Then i remembered Shining Knight, and though i lost track around issue 10... i don't think magic was involved in her case (even though magic is a big part of that book...) also. i also did feel that she left that a little open ended.... unless i missed further clarification....
also to the mods, of knowledgeable users, do we have an LGBTQ Topic tag?