perletwo posting in

scans_daily
Four pages from Legion #19, out today. Except for a brief check-in with the crash-landed team, almost the entire issue is Mon-El going toe-to-toe with the Emerald Empress on Weber's World.
Using this page strictly for a good look at the new Empress' design; she appears to be taking fashion tips from Marvel's Hela. For an even better look at the redesign, check out the - whatchamacallit, double-fold? - the bigass cover image
here
in the issue preview at Comic Book Resources. Warning: there's a fairly graphic drawing of Mon-El being injured on that cover, gorier than any in the interior art.
Anyhoo. Emerald Empress is ravaging Weber's World, the UP's entirely manmade administration planet. A large team of Legionnaires was
already en route last issue,
figuring WW was more vulnerable to the technopocalypse than all the other worlds combined.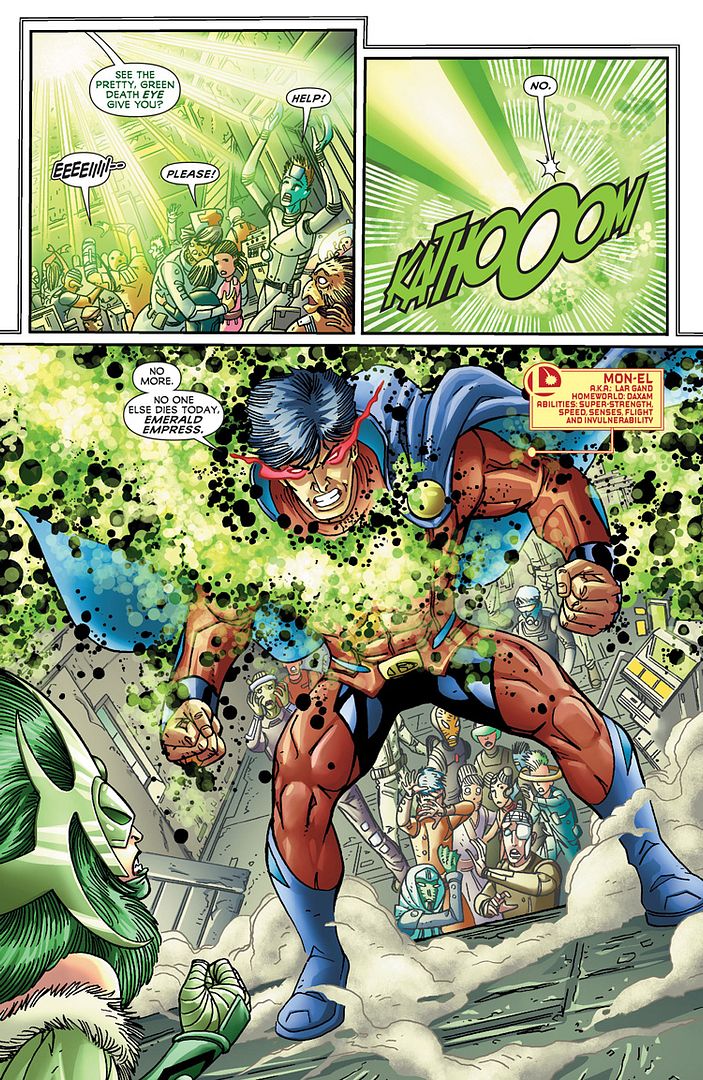 They take it to the black, and Empress has Mon-El on the ropes, but what she thinks is a killing blow is blocked by Brainiac 5 and the Legion refugees from Earth in their makeshift transpo; Brainy transferred the force shield holding the ship together to Mon just long enough to deflect the Eye-beam.
They can't get the shield over to Mon in time to block that one and well, it's bad. Not fatal - this is Mon-El, after all - but bad. Bad enough for the Legionnaires to encase the Empress in a quick inertron shell, haul Mon into the ship and hope like hell they can patch him back together.
As I say, we have a brief interlude checking in on Phantom Girl and her crashed team on the Promethean Giant, which as we saw last issue is trying to scratch them off. Not much new comes out of that, except that PG decides she really kinda sucks as Legion leader. We also check in briefly with Fatal Five leader Tharok, who sends Persuader to Earth for...something. Still clocking in as the Fatal Four as of this issue, no word on the fifth.
On the last page, we check in briefly with our third team. You'll recall that Glorith used a spell to transport herself, Ultra Boy and Chameleon Boy from Rimbor to the Sorceror's World.
....oops?
Mods, there's no tag yet for the second artist on this ish, Jeff Johnson, can we get one or are we totally maxed out now? He did about half the ish (as you see from the credits on the first posted page) and I hate to just ignore him.