perletwo posting in

scans_daily
No, really, that's what it's called. Approximately 3 pages (2 whole, 2 halves) from the new issue.
You'll recall that when we left the Titans last issue, Red Robin had whisked the Titans off to Belle Reve prison to square off against the Suicide Squad on
a rescue mission that turned out not to be a rescue mission at all.
None of the other Titans are happy about this, and as we rejoin our merry band Cassie is simultaneously demanding an explanation and, as Bunker points out, trying to crush Tim's trachea. Cooler heads (Bart! Bart is the cooler head here!) prevail, and Tim defends himself thusly: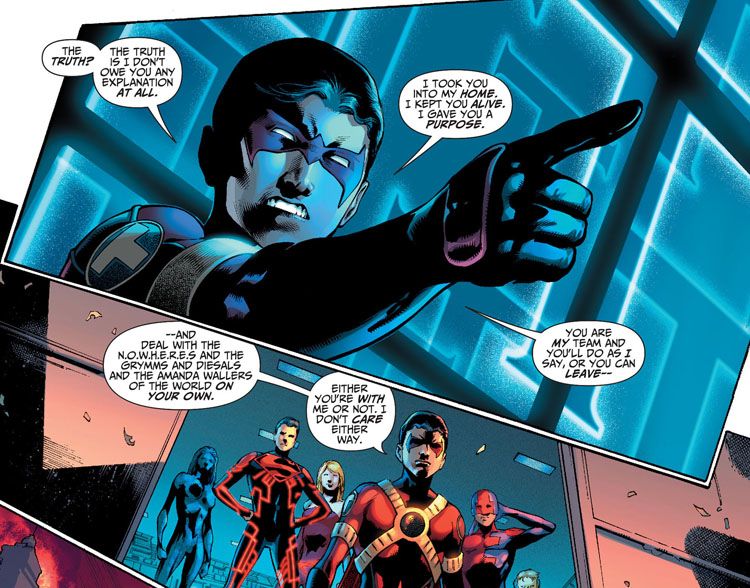 He storms off to elsewhere on the ship, and the Titans dither over his strange demeanor a minute or two until they notice the sky's gone wonky and Cassie doubles over in pain. Her armor apparently has a connection to Trigon; she goes full Amazon Battle Dress and flies off, the Titans in pursuit.
In Times Square, Trigon and his three-headed horse are wreaking havoc. He notices the meta-kid from the coffee shop massacre and is impressed. Cassie engages Trigon, who makes sneering references to her parentage that Cassie does not understand. The rest of the Titans join the fray and succeed in getting him to drop Cassie. Tim requests Cassie give him an intel report. "...Name's Trigon...Elder God type...Might just need the whole Justice League to back us up here..." she slurs. "Madre de Dios!" "...Could use her help too..."
In Los Angeles, Beast Boy lies unconscious in the rubble from the battle with Deathstroke in Ravagers #12. "And it would seem that the Angel of Death is upon him," the text box exposits.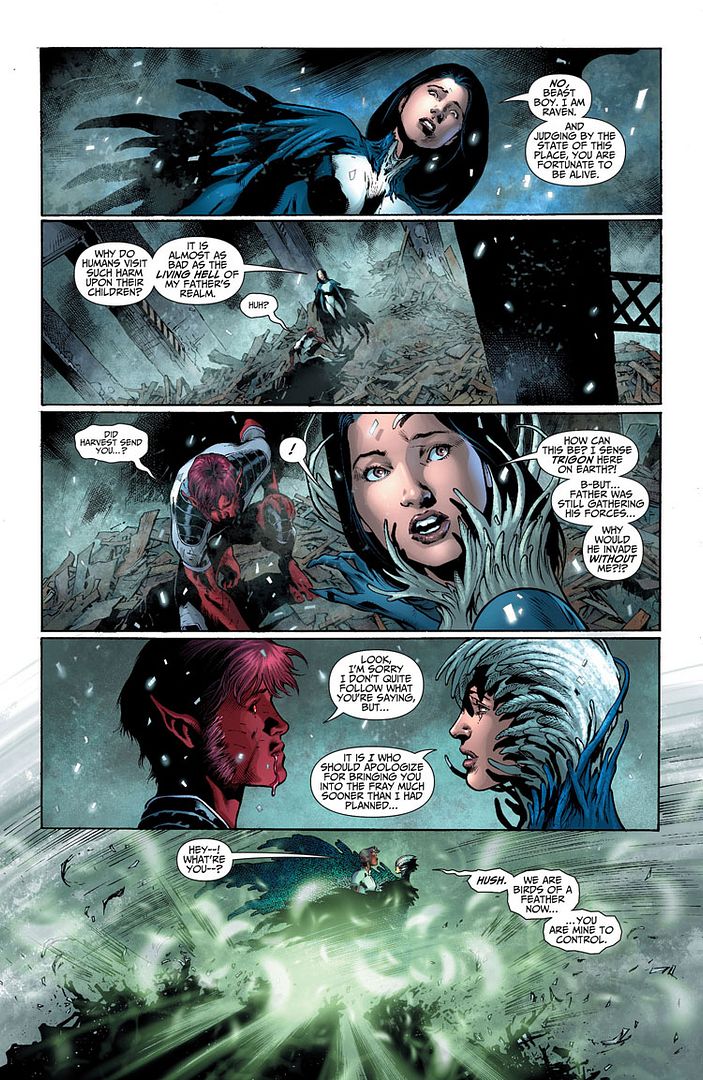 AAAGGGHHHH THE MASK REALLY IS EATING HER HEAD!!!! *gasp*choke*wheeze*
OK, I'm calmer now. At least she doesn't have 3 sets of eyes or demon horns or something under there as I'd feared.
Back in NY, Trigon is peeved that the best he gets in the way of opposition is children. Bunker, Cassie and Kiran keep up the fight while Tim hangs back, strokes his chin (literally) and muses, "Fascinating." Trigon clearly can turn them into grease spots on the ground with a thought, so why's he drawing it out? Bart: "Great. You stand here and do the math - I'll try to keep our friends from dying!" Trigon retorts, "I think not, time-child," and induces another of Bart's flashbacks, this time to being sentenced for crimes against humanity, which disorients him enough to keep him out of action.
Raven arrives and sets Beast Boy to "STOP these children from laying hands upon my father!" Meanwhile, Kiran offers the meta-boy help, but Trigon has apparently amped up his evil factor somehow. Then a platoon of soldiers arrives and opens fire on all and sundry, injuring Kiran and Beast Boy.
So THAT's who that is. Psimon on Old Earth was a Dr. Simon Jones, leader of the Fearsome Five, and looked more like
this.
Sorry about misleading you about the nature of his powers; it sure looked like light power to me. But Beast Boy, appalled, stammers out "You KILLED those people?! With your MIND?!" "And you're next - you FREAK!" "Let's see how your powers work after I've GROUND your BONES to DUST!"
Yes, let's. That would be a cool thing to see, wouldn't it? But instead we go directly from that to this:
I'm trying to figure out how Tim knows Raven's name. She never announces herself by name, though she does call Beast Boy by his codename, nor does she interact before this with any of the Titans that we see. But there are a lot of little dialogue oddnesses in this issue like that, a consequence of the breakneck pace maybe?
BTW, is anyone else getting the "Image has been moved or deleted" placeholder on part of the s_d header?