perletwo posting in

scans_daily
- or, "The One In Which Nothing Happens." No, really. Nothing happens. Certainly this "Red Robin Reborn!" stuff from the cover: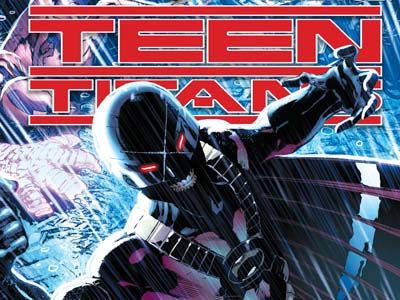 doesn't happen.
We do learn that earth-time and azarath-time move differently, and in earth-time it's only been a few weeks since
Phantom Stranger sold Rachel Roth out to Trigon,
but it's been a much longer time, possibly years, for Raven on Azarath. This may help explain why in earth-time scenes only about five minutes have passed
since the very messy end of last issue,
while Trigon takes his sweet time explaining the family history to his sons back home.
We open with the Titans horrified by Psimon's murder of a couple dozen soldiers. In a double-page spread they bicker with Psimon, with each other, and with Raven, then we cut to Azarath, where Trigon is multitasking: torturing one of his sons for no apparent reason while watching Raven and the Titans in a pool of blood. Why, the three sons whine, is he so fixated on "his cur of a daughter" when they have served him loyally for eons?
Because she is - always has been - the key to the Seventh Kingdom, and he cannot rule Earth without her, he tells them. He describes his early millennia, conquering raping pillaging etc., but getting bored with the tedious "ruling" part that comes after. Starting to experiment with subtler forms of torture, such as engendering worship and seduction. Sons he got lots of, but only one daughter, and unlike the rest he let her mother live. He wanted her to learn love, and to know not only of destruction but also creation, so she could someday re-create the seven under-realms in her own image. But her mother made off with her to the one vile place he'd never think to look: Azarath, an entire dimension dedicated to the spreading of peace.
Raven studied, well, ravenously, learning everything she could whether her mentors wanted her to or not, and fled to earth when she realized her presence put everyone she knew and loved on Azarath in danger. "I am almost proud to say her teachings allowed her to elude me for awhile," Trigon says, "but when your life is measured in centuries, years have little meaning." That brings us up to the Phantom Stranger's betrayal. "But I've been doing this a lot longer than the Phantom Stranger has been roaming the earth in search of redemption. Raven is my black heart. She is my every wicked thought made real. I did not need to control her...I only needed to liberate her."
Trigon gave her that realm to rule, and she tried, but it was all a show for his benefit, he realized.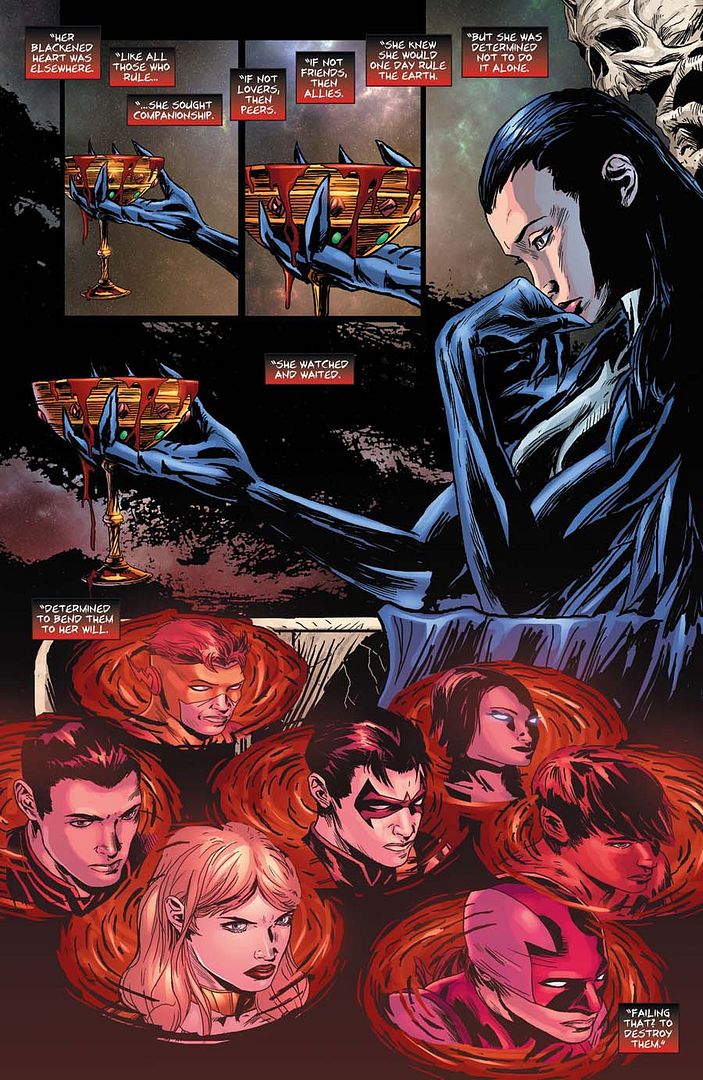 Which brings us back to Earth in the present. We get a double-page spread of the Titans trying to regroup, Beast Boy coming back to himself, Cassie giving Raven the rough edge of her tongue, Tim trying to keep the peace and Raven mystically hiding them from a news'copter (Channel 52?). Then this:
- "Maybe it has something to do with THOSE GUYS?????"
Yep. Trigon's sent His Three Sons to get Raven back, in a final splash page. Hooboy.
And looking at that splash, can I just say, I think Trigon prefers Raven 'cause she's the only one of his kids that's
pretty
?
"Next Issue: The Teen Titans Battle The Brothers Trigon - With The Fate of NYC In The Balance!"