lego_joker posting in

scans_daily
... let's have a look at the day that Dick Grayson graduated from high school
after being held back for thirty years
. And the historical implications for the Bat-comics surrounding it as a whole.
For different heroes (and their respective supporting casts) in the DC Universe, the exact moment of transition from "Golden Age" to "Silver Age" varied from "clear as day" - such as in the case of the Flash and Green Lantern, who had entirely new people take over the titles - to "muddled, vague, endlessly-debated mess" - as was the case with Superman and Batman.
The transition from "Silver Age" to "Bronze Age" was just as messy for many heroes, if not moreso. After all, unlike the jump from Golden to Silver, the jump from Silver to Bronze saw no retcon saying "Oh, all the comics published during [insert time period here] took place on this Earth, while the ones you're reading right now take place on
this
Earth!". A portion of comics fans and/or scholars today even deny the very existence of a "Bronze Age", choosing to lump all of the output from the 1970s to the mid-1980s (a rough approximation, mind you) into the Silver Age.
Still, there were definite changes in tone, art style, and story elements in most of DC's publications once the 1970s rolled around. Clark Kent, for one, became a TV News Anchor, while Oliver Queen picked up his (in)famous rough-edged personality and left-wing ideals (as well as his fabulous goatee).
For me, though, the clearest line in the sand - at least where DC's major heroes were concerned - was the one drawn in the Batman books.
(Note: 7 pages - and a cover - from
Batman
#217.)
1969's final issues of
Batman
and
Detective Comics
featured a shakeup of unprecedented size in the Bat-status quo. For one thing, these two comics formed a single, joined storyline - the first-ever crossover between Batman and Detective, if I'm not mistaken, and quite possibly the first multi-issue Batman storyline since Two-Face's introductory story back in 1944.
This may be the most consequential Pandora's Box that this story opened - at least, for those of us sick of massive collect-em-all crossovers and "decompressed", multi-issue storytelling - but it was by no means the only one, or even the first one. Arguably, the shakeups begin with the front cover to the first part of the story: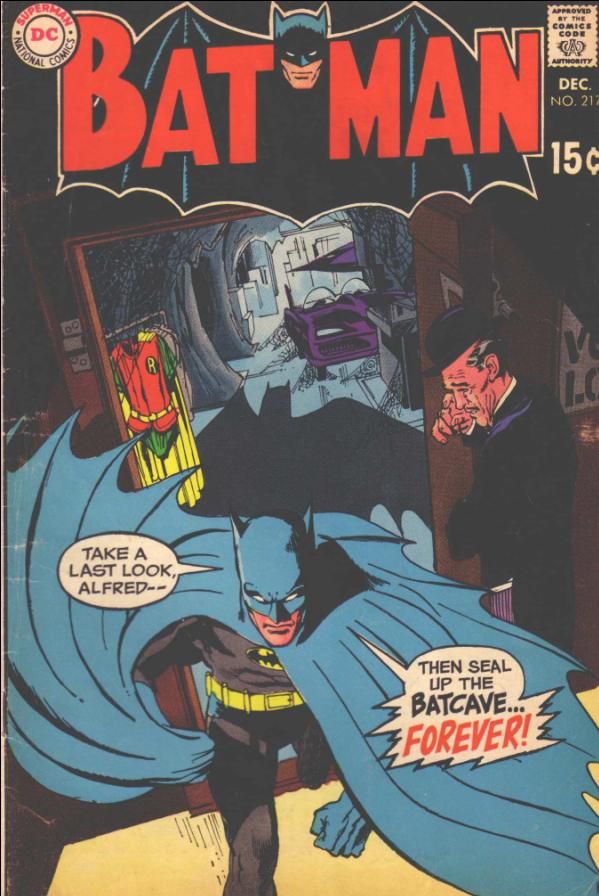 Looks like a classic Silver Age grab-your-attention-at-all-costs cover, doesn't it? Surely this is all some misunderstanding, or Imaginary Story, or convoluted gambit by Batman to flush out a criminal! Surely Batman can't really be telling Alfred to lock up the Batcave in anticipation of his retirement from crimefighting!
Nope. Not this time. Admittedly, this cover is slightly misleading - the "seal up the Batcave" part is accurate enough, but the implication that Batman's going to quit being Batman is 100% false.
You can put the champagne away now, Penguin.
We begin at Stately Wayne Manor, home to millionaire Bruce Wayne and his youthful ward, Dick Grayson...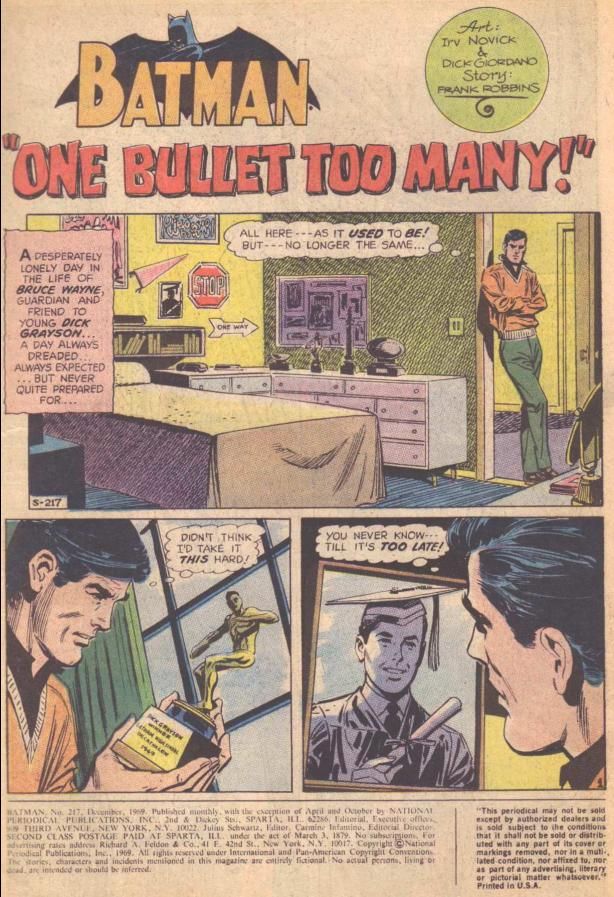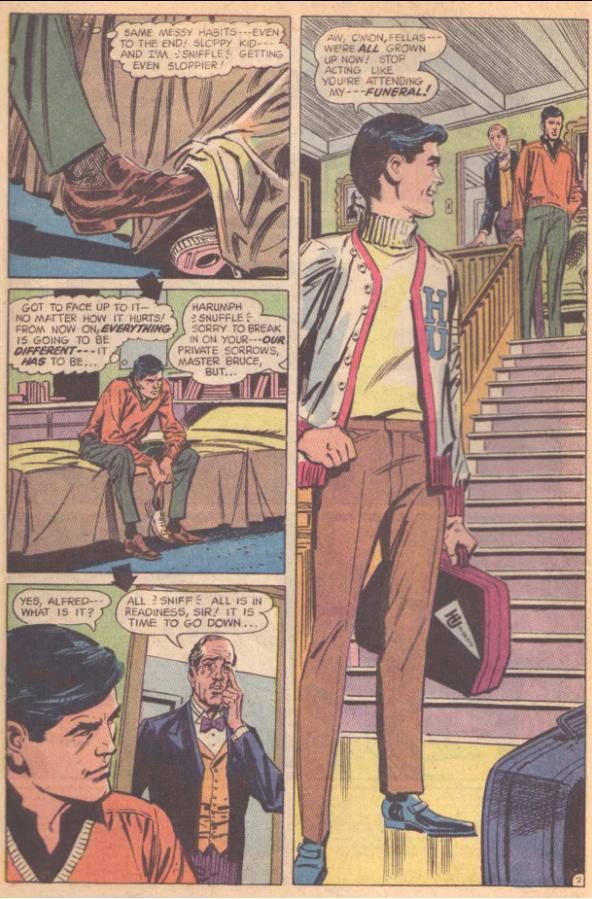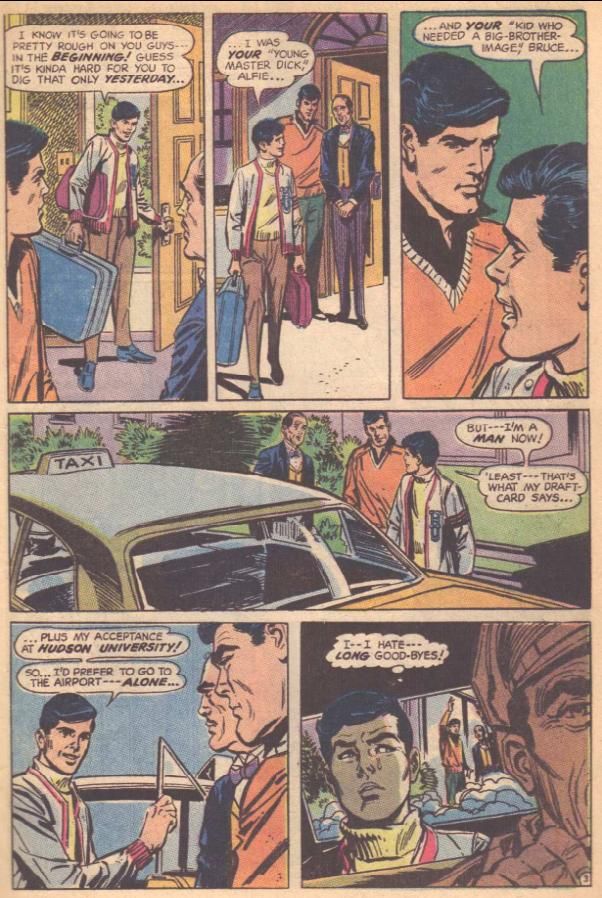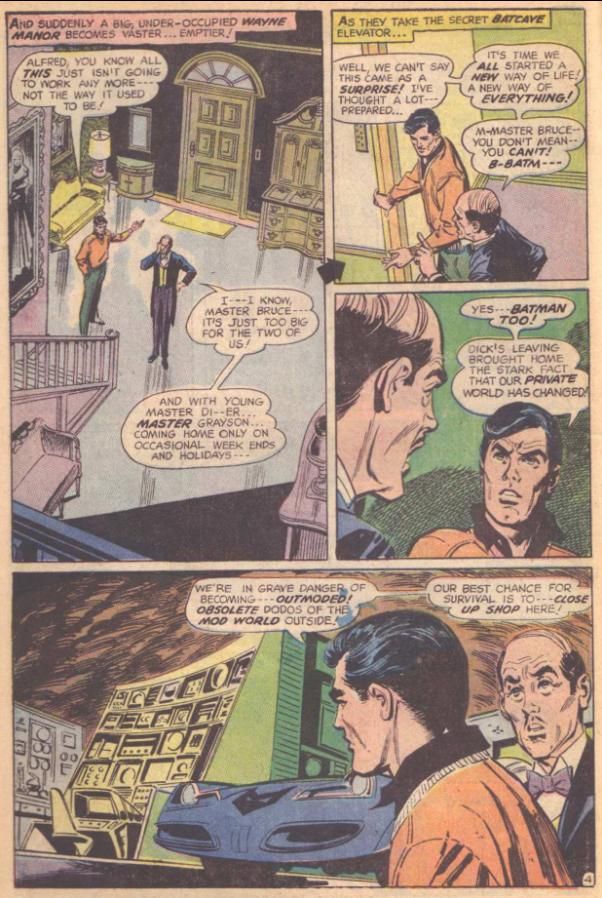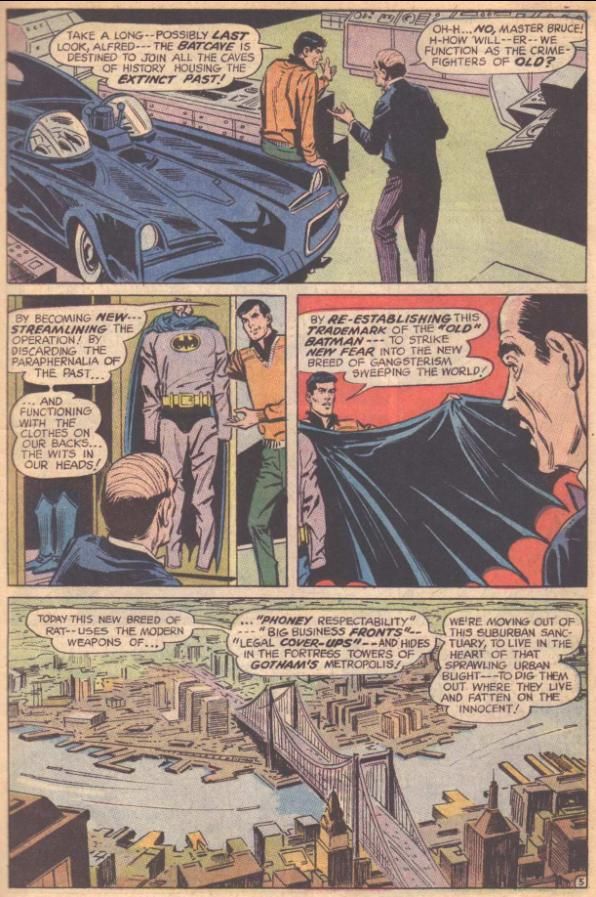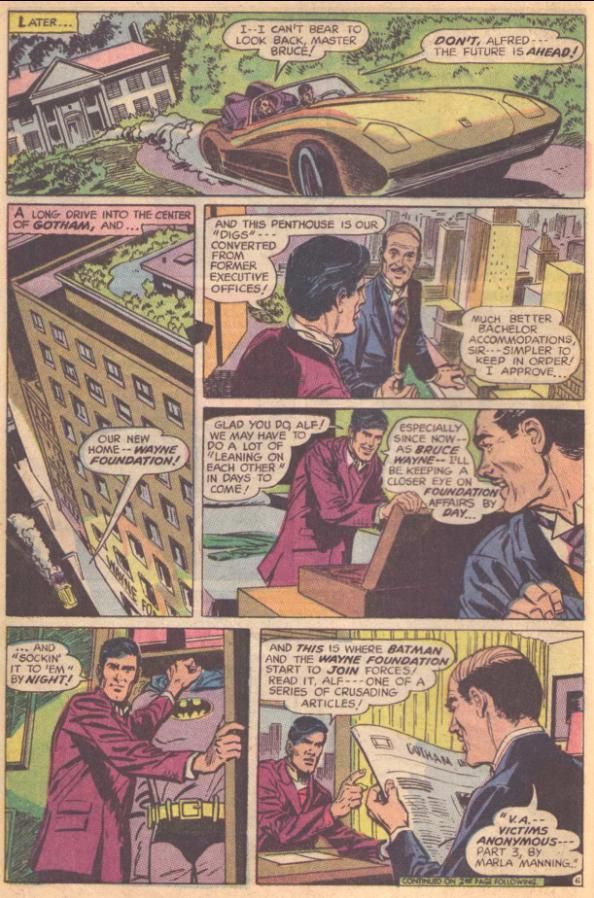 You know... for all the silliness and outdated dialogue in this story, the first panel on this particular page just hits me in the gut every time I look at it. "The future is ahead!" Bruce says with such unshakable optimism.
Had they any idea what kind of future they were headed for? A future with villains that killed people, and could only be temporarily constrained in an asylum whose very walls seemed to be crafted out of madness? A future of "Boss" Thornes, Hugo Stranges, Silver St. Clouds, and Joker fish? A future of Jason Todds? A future of (semi-)reformed Catwomen? A future of worlds that lived, worlds that died, where nothing would ever be the same again? A future of crippled Batgirls? A future of dead Robins? A future of back-breaking juggernauts in Luchador masks?
And if they did not... would it have made a difference if they had?
Okay, enough psuedo-philosophical bullshit from me. One last page finishing up Bruce's description of what he intends to do with his new HQ in the heart of Gotham:
Yeah... in many ways, this development was something of a reaction to the most (in)famous decisions of the Warren Court era, which many a conservative grumbled seemed to be bent on coddling criminals. If nothing else, though, it did mark Batman's return to his original mission of scaring the crap out of criminals and going where the law couldn't (a marked contrast from the Silver Age version, who was a fully-deputized cop and everything!).
I've reached my scans limit, but that's quite alright - the rest of the story, IMO, is a rather ho-hum mystery about a woman whose husband was shot, which is wrapped up in this issue. The issue ends with a cliffhanger where Bruce is held at gunpoint by a Native American, which segues into the second half of the story over in the December 1969 issue of
Detective
.
As the Batman books entered the year 1970, the January issue of
Batman
collected the greatest Bat-hits of the last three decades, so fans could give them one more look. But over in the January issue of
Detective
, greater trails still were being blazed, in the form of a story done by two relatively unknown little upstarts by the names of Denny O'Neil and Neal Adams...
... but that, as they say, is a tale for another time.