perletwo posting in

scans_daily
Four pages from LOSH #21, "Endings: Part One," or, the battle of Metropolis.
I won't keep you in suspense: As of this issue, the Fatal Five are still the Fatal Four (three if you don't count Validus,
who's floating in orbit where the Sorcerors' World used to be
). This had better be the reveal to end all reveals after this buildup.
Moving on, however...
On the makeshift cruiser, the quark relays suddenly come back up, and seeing massive casualties at Legion HQ, the cruiser quickly makes for Metropolis, where Persuader has defeated (possibly killed) at least three Duplicate Damsels by my count and is wiping the floor with Chameleon Boy, who with Ultra Boy was sent to HQ when Sorcerors' World disappeared last issue. Ultra Boy jumps in to help Cham, but is completely unmanned by grief when Persuader tells him Phantom Girl has returned to her home dimension. Persuader's about to finish him off when the cruiser arrives with reinforcements.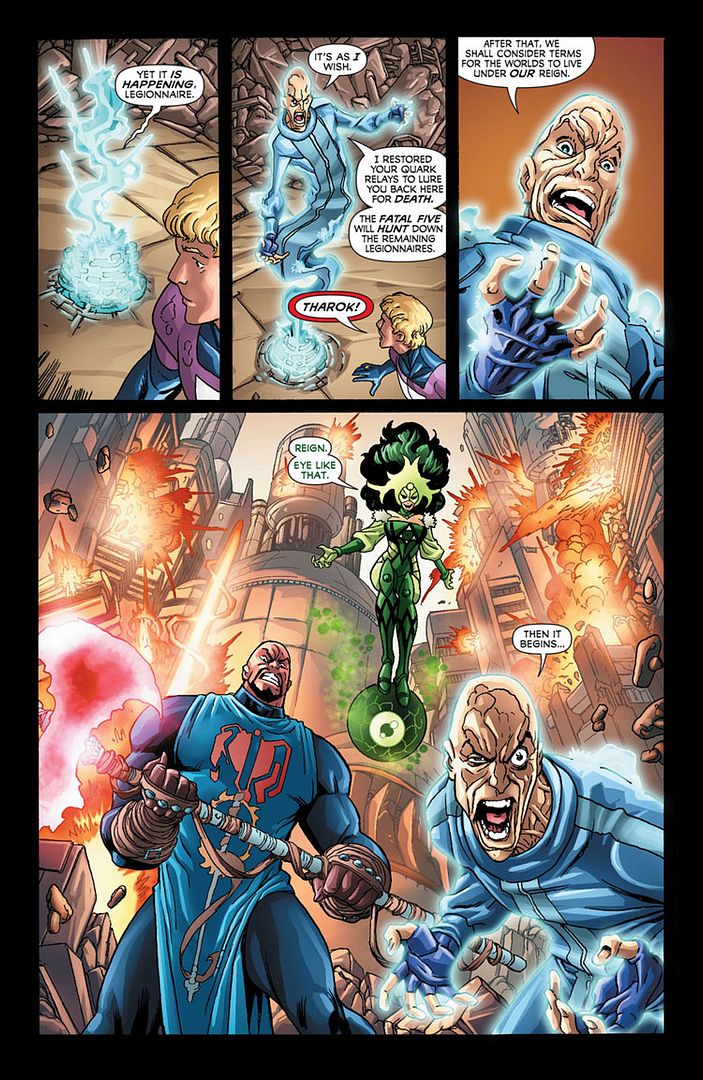 Side notes: on the cruiser, Shady is attempting to Will Mon-El to live after
getting whomped on by Emerald Empress two issues ago,
Chemical Kid comes along with a list of chemical reactions Brainy gave him to help Mon, and Dream Girl says she's afraid to look into the future right now. In the misty Elsewhere, Invisible Kid and Polar Boy are having chats with
dead Legionnaires,
who tell them life won't protect them and that they can go back home, but it may be only to join them there among the dead. Yeah, they got that memo a real long time ago, guys.
Back in Metropolis, Tharok is pwning the competition.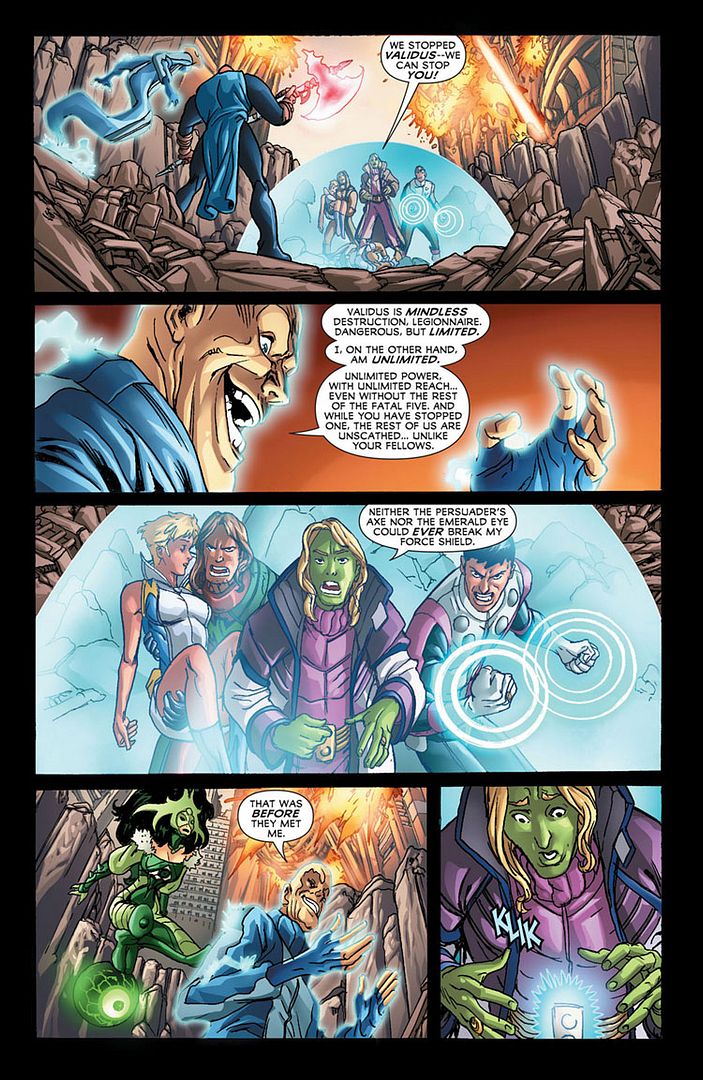 Guess they haven't heard the news about Sun Boy, then.
So! How about we play a little guessing game with the fifth Fatal to while away the time til next ish? Here's some theories of mine:
1. Cosmic Boy Gone Insane. They hinted his obsession with the Losties was making him unstable earlier in this book's run.
2. Brainiac 5 Gone Insane. Hey, it's iconic!
3. Harmonia. Just because I don't quite trust her.
4. Tyroc. In Legion Lost they said he was the embodiment of a prophecy about a man who died before he was born who would bring about the end of the world. (Maybe he invents the quark relay system?)
5. Wildfire Gone Insane. Still alive in his energy form and gone mad after existing a thousand or so years without Dawnstar.
6. R.J. Brande, Back From the Dead. Because that Levitz interview says this all calls the Legion's very existence into question.
7. Agent Smith. As above, maybe the entire Legion future only exists in the Matrix? There's a lot of talk about Tharok controlling 'digispace' in this ish. I dunno...
Art on this issue is by Jeff Johnson, who I don't believe has a tag.