stillanerd posting in
scans_daily
Part of the reason for X-Men's popularity is that, in between the typical characters in colorful costumes fighting one another, is that there was also a lot of soap opera going between the characters, some of which have become legendary. Most are familiar with the triangle between Cyclops, Jean Grey, and Wolverine; the turbulent romance between Storm and Forge; the on-again, off-again relationship between Colossus and Kitty Pryde; and even Rogue turmoil over which bad boy she wants more: Gambit or Magneto?
But one of the lesser known, but still familiar with long-time X-Men fans, is the relationship with Allison Blaire, aka Dazzler, the one-time pop singer who can create energy beams out of sound, and Longshot, the artificially-created ex-slave from the Mojoverse who could manipulate probability with acrobatic skills that rival Spider-Man.
Anyway, when Longshot escaped to our world and joined the X-Men, he and Dazzler became lovers. Eventually the two of them were both teleported to Mojoworld where they lived together, eventually overthrowing the despotic Mojo with the help of the X-Men, as seen in X-Men #10-11, vol. 2. And in the aftermath of the battle, we get this revelation:
And what were the possible name that Longshot suggested for his and Dazzler's unborn child?
Yep,
this
Shatterstar...
...the same guy from Rob Liefeld's run on
X-Force
and who is currently on the roster and in a relationship with Rictor in Peter David's
X-Factor
.
Or so readers thought.
Because sometime later, Dazzler ended up returning to Earth to join Excalibur during the
New Excalibur
relaunch in 2005. However, not only was she separated from Longshot and, due to some unexplained memory loss, believed that he and the other freedom fighters on Mojoworld had been killed. Furthermore, there was no mention whatsoever that she had ever been pregnant; the only hint fans ever got was an implication from
X-Men
#47, vol. 2 that she
might
have miscarried.
Well leave it to Peter David to
finally
clear this matter up once and for all in this weeks
X-Factor
#259. (
Note:
I will summarize this as best I can due to the "Peter David rule.")
See, during X-Factor's recent run-in with Mephisto, it was assumed that both Rictor and Shatterstar were erased from existence. But what really happened was that both Rictor and Shatterstar were sent to the Mojoverse, where they both wound up being captured. Rictor is then forced to fight a brainwashed Shatterstar to the death in one of Mojo's gladiatorial-like arenas that are televised throughout the Mojoverse, However, they're both rescued by a group of rebels, including Longshot, who apparently doesn't recognize Rictor or Shatterstar at all, even though he should. Back at the rebel base camp, Rictor then meets Arzie who, in his words, is the creator of "everything and everyone." Everyone that is,
except
Shatterstar.
You see, Longshot is actually
Shatterstar's clone
. Or to be more precise, a clone with some "modifications and improvements" that are enough to make Longshot not be an exact genetic duplicate. That's right...Mephisto not only sent Rictor and Shatterstar to the Mojoverse but also back in time
just long enough to allow for Shatterstar to become Longshot's "father."
But if you thought your brain just exploded now, just wait. When Mojo and his forces storm the rebel hideout, Rictor and Shatterstar then travel forward in time to get back to the present day and to Earth. However, they quickly realize they're not only still in the Mojoverse but also still in the past. Because they soon stumble upon Dazzler, who also happens to be very,
very
pregnant.
And she's about to give birth...
to Shatterstar.
Which means that Shatterstar, just like Fry from
Futurama
,
is his own grandpa!
And aside from being more than a little odd, I guess it's also proof that Mephisto has incredible double-standards, especially considering how he supposedly prevented a certain child from being born due to manipulating time: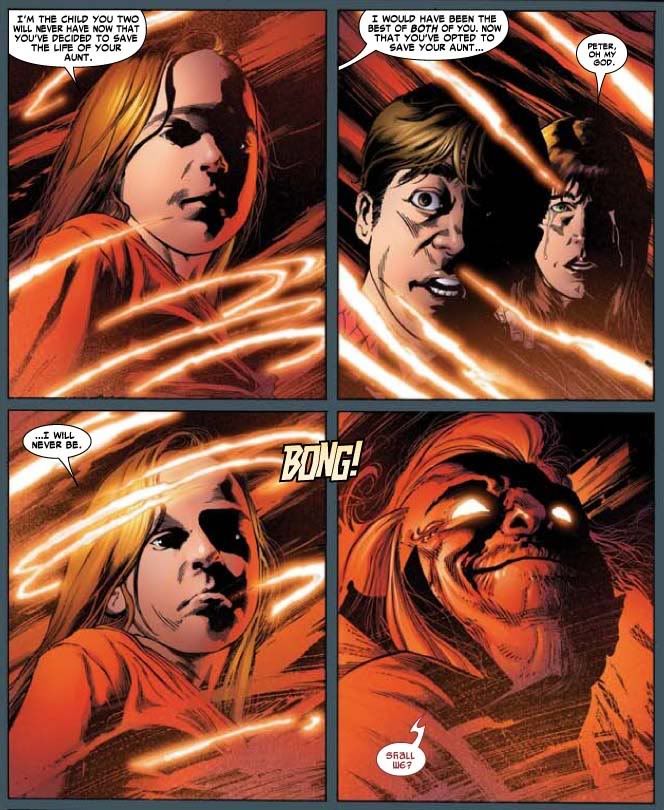 Of course, who's going to tell Rob Liefeld about what Peter David has done to Shatterstar NOW considering how "well" Liefeld took what happened last time?
(Oh, and in case you're wondering, Shatterstar tells Rictor they'll alter both Dazzler and Longshot's memories to make them forget Dzaller was ever pregnant and then travel 100 years into the future to drop off the infant Shatterstar to the people who raised him.)