perletwo posting in

scans_daily
Well, this is a difficult posting task - once again Lobdell, Barrows and Merino have committed rampant Double-Page Splash Abuse in crafting their fight scene. So I'm giving you a summary of the fight and three post-fight pages.
You'll recall that last issue ended
with Trigon returning and possessing Kon, Kiran, Miguel, Bart and Cassie.
That leaves Tim, Gar and Raven with the free will to battle them. We learn that Raven can split her soul-self into several avatars of herself, but it takes a lot out of her. We get another hint about Bart's future/past - whatever it is he did, he did it to protect his family.
Tim jabs his inertrite wing spikes through Trigon's eyes, and Trigon says he was right to attack Tim first, as he is "the heart of the Titans." And just like that, Trigon gives up, abandons his control over the Titans and goes home. A panicky Raven wants to root around in the kids' souls for lingering traces of Trigon, but Tim stops her, assuring her it's over, "I can feel it." She flings herself into Tim's arms. Meanwhile, Gar sets about waking up and greeting the remaining Titans with his usual charm and flair, and Miguel wonders how they're going to clean all this up.
Suddenly a wild team of Men/Women In Black appears! Led by a young black woman with short hair who I first mistook for Waller, they are from "a transpatial initiative, and we've been tasked with making this particular nightmare...disappear." Which they do with a psi-scrub of the bystanders, and by taking custody of Psimon. But what about
all those soldiers Psimon killed?
Turns out they never existed - the MIBs can find no record of any soldiers being deployed to the battle site from anywhere. Raven explains her father is a master of deception and discord, and likely created the illusion to undermine the Titans' position as heroes. Miguel notes the lead WIB looks familiar, but she denies having met him.
Later! Aboard the Titans Cruise Line. The Titans make a formal offer of membership to Raven, who accepts.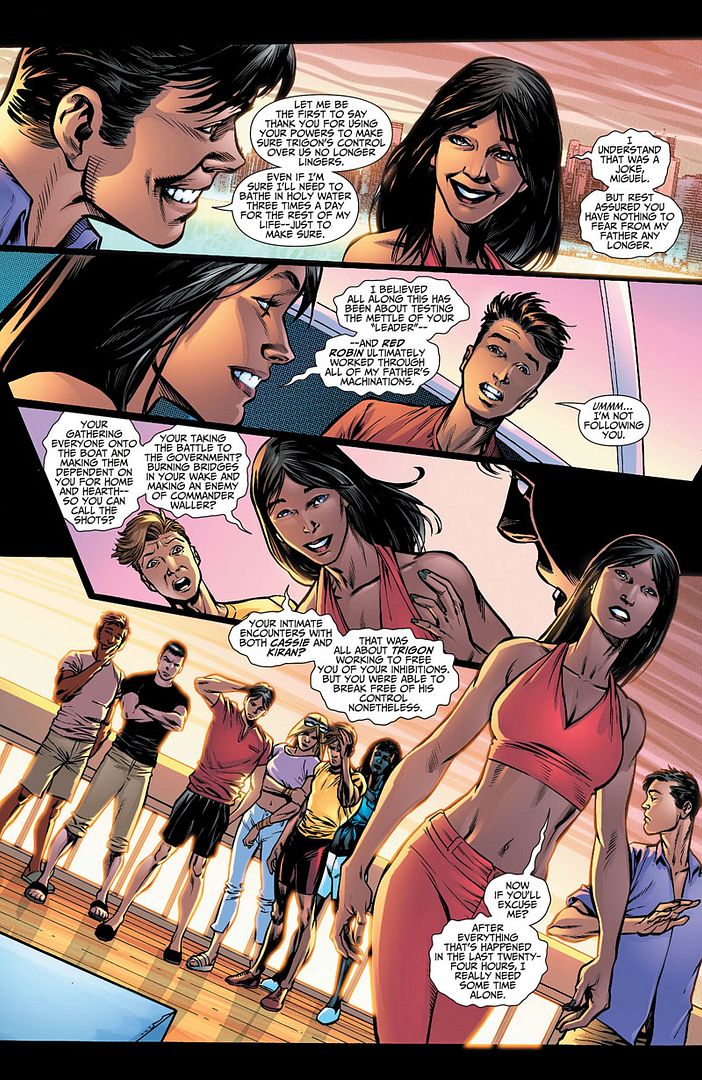 Eyeaaaaah. Way to drop some bombshells there, Rave.
Which explains why all these epic battles have been so half-assed.
Bart super-speedily beats the crap out of Tim, who admits he deserves it, and stalks off, Kiran in pursuit. But he's hearing none of it, and he's about to have bigger things on his mind anyway.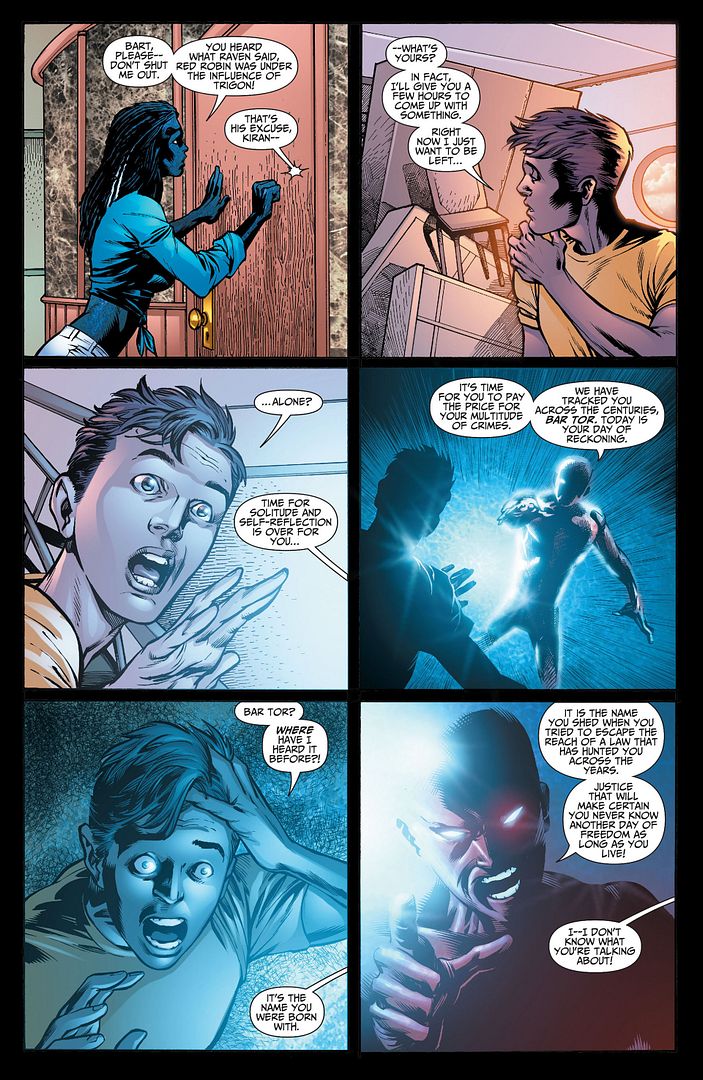 The last page is a splash panel of about a dozen red hands dragging Bart through a dimensional portal, promising to explain everything "on their way home."
Next Issue: "The End of a Titan!" (But Not the One You Think!)