perletwo posting in

scans_daily
OK gang, it's time for LOSH #23, "Aftermath," and you all know what THAT means....
On the upside, we do get lovely Kevin Maguire art for Aftermath. If you've ever wanted to see what Maguire could do with Bouncing Boy - and if not,
why not?!?
- this ish is your chance.
First off, let's console ourselves with a closer look at that lovely cover, shall we?
We open on Shanghalla, where Polar Boy and Invisible Kid are paying respects to a small monument to Sun Boy. Dream Girl joins them, and though it's not made clear 'til later, seems they're memorializing Star Boy there too. Sensor Girl, maskless and blonde - seriously, does nobody remember that Jeckie doesn't actually look like that? - summons them back to the cruiser.
In Metropolis, the Star Fleet has been called in from deep space to help with cleanup, so Colossal Boy is back and working with Ultra Boy on HQ repair; Jo doesn't wanna hear Gim's condolences on maybe-possibly losing Phantom Girl forever and insists she's alive. Somewhere.
Inside HQ, things are as batshit as only a 12th-level intelligence can make them. Don't worry guys: Brainiac 5 has a plan! a MASTER plan!!!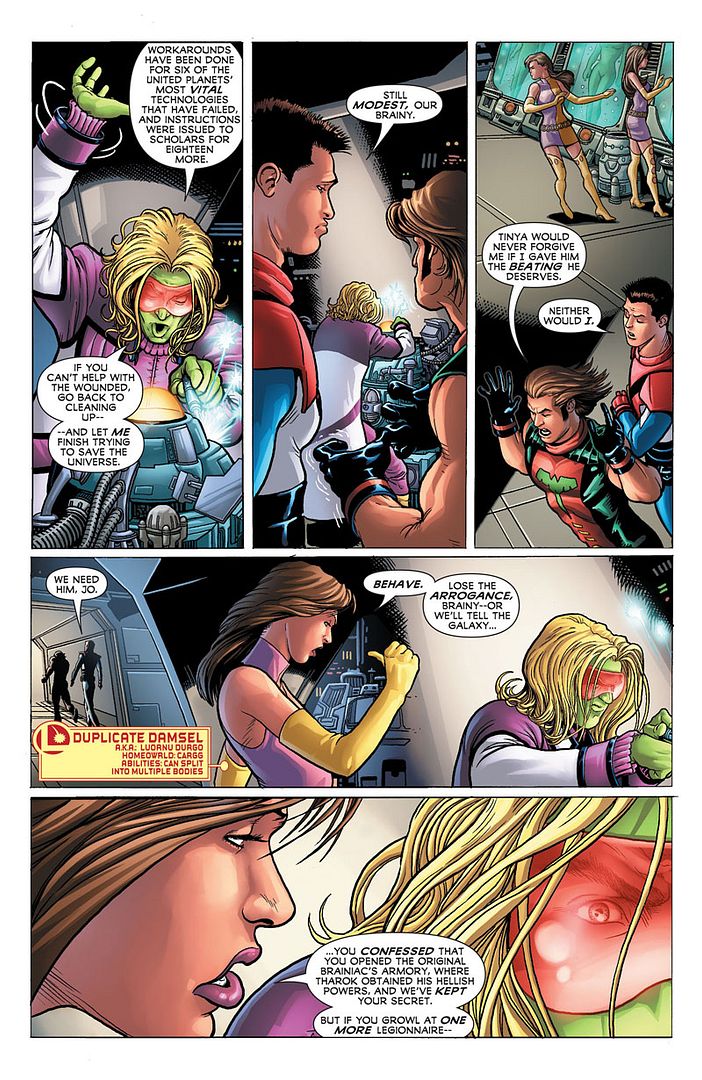 And that's how Brainy figures he's responsible for destroying the universe. "Whatever you've said and done, we
need
you," Duplicate Damsel, who's a mite testy as she grieves the deaths of several selves, has to admit. "Then would you
please
let me get back to expiating my sins?" Brainy snaps back, and exposits the relief efforts of Legion squads all over the galaxy at his direction.
"Count us OUT," snarls Shadow Lass on a dandy entrance line. She's taking Mon-El, alive but in one of those healing senso-tanks, back home to Talok VIII with her to heal up in peace. Luornu wishes them good luck as she unhooks the tank from the mainframe. "Away from
here
we won't need it," Shady tosses over her shoulder in a dandy exit line.
Element Lad for one protests Chief Cusimano's order to "return to civilian life - go HOME" with the inarguable reply that he doesn't
have
a home - the Legion has been his refuge since the destruction of his homeworld Trom. "I have a Science Police officer with plans for
you,
Jan," she replies. "The rest of you, pack it up. The Legion is OVER."
We then go into several epilogues. Dream Girl goes home to Naltor, where she muses to the High Seer that it's almost like the whole Legion part of her life was all just a dream. Bouncing Boy and Duo Damsel hold vigil at the cleaned-up Legion Plaza, which has itself been turned into a memorial site to the Legion, and consider all the universes where it all turned out very differently - . I'm including Epilogue 3 because I want a group opinion on something.
Gang? Does the speech in that last panel suggest to you that maybe Karate Kid's not really there at all? I'll have to look back to last ish, but I'm pretty sure no Legionnaire except Jeckie interacted with him in this arc. Could she have just cracked and gone wacko with her reality-warping powers like the Scarlet Witch?
Could we end up retconning this entire series run out of existence?
And in the last epilogue it ends as it has to end, as it began, with the three Founders. At the Ranzz home on Winath, Cosmic Boy, Lightning Lad and Saturn Girl consider What A Long Strange Trip It's Been, and we fade out and refusing to regret, "because our story will never end."
And that's it until some other creator decides to reopen the toybox. Long Live the Legion!