jkcarrier.insanejournal.com posting in

scans_daily
Superman #267, September 1973
Written by Elliot Maggin
Art by Curt Swan and Murphy Anderson
Our story opens with Clark and Lois spending a day at the beach, along with their douchebag co-worker, Steve Lombard: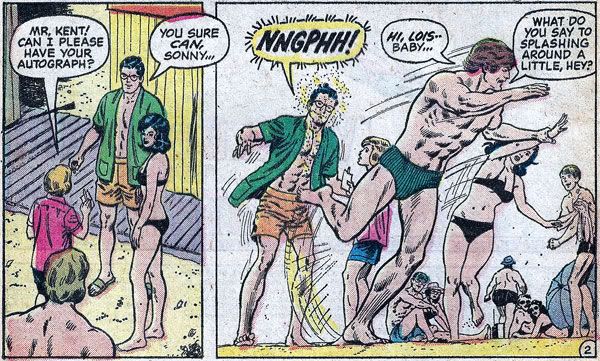 Clark ducks back into the changing room, ostensibly to get another pen, and switches to Superman: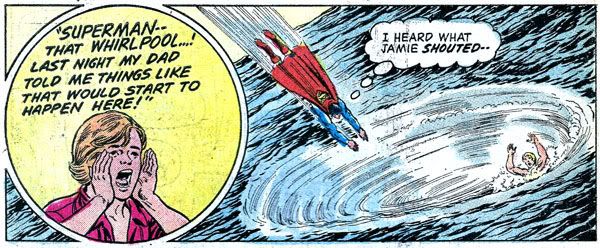 Superman saves Steve's worthless ass, but is confused by what Jamie said. Jamie's Dad is Vernon Lombard, a leading geophysicist who disappeared three weeks ago. So how could Jamie have talked to him last night? He goes to Steve's place to investigate further:
Note the irony here: Steve Lombard, who has nothing but contempt for Clark Kent, is totally sucking up to Superman.
Anyway, Superman outfits Jamie with a "Kandorian Mental Stimulator", to strengthen the mental bond between him and his Dad. And sure enough, Jamie leads him to the City of the Miros, a lost underground civilization sustained by an artificial sun: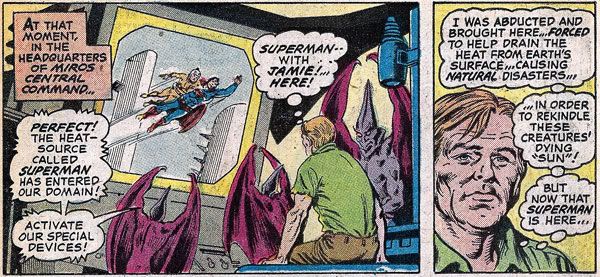 Turns out the reptilian Miros wanted Superman to come, so they could siphon off his body's heat-energy to power their sun. They send out a blob-like creature to stall Superman while they drain off the rest of his energy. But Vernon manages to tamper with the equipment and send a warning:
Jamie senses which building his Dad is in, and Superman smashes into the laboratory, just as the last bits of his body heat are being siphoned off: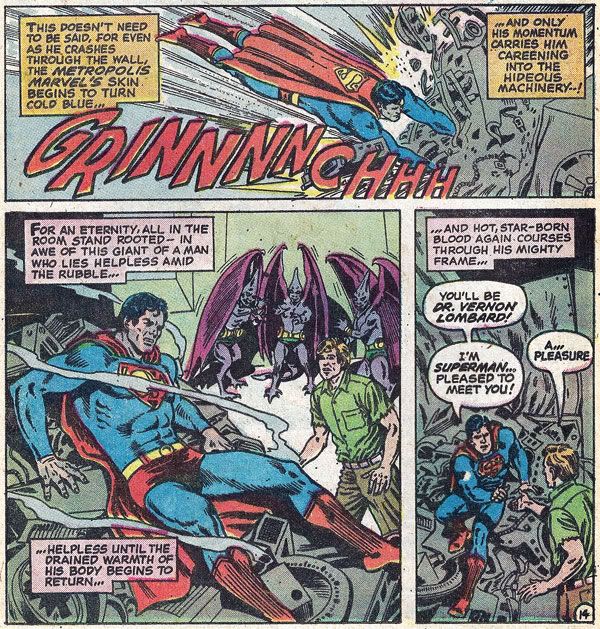 I love how nonchalant Superman is: "Yeah, I just narrowly escaped certain death. How you doin'?"
So, having destroyed the sun-powering machinery, Superman leaves the Miros to freeze to death. I mean, fuck those guys, right?
Nah, just kidding. He's the Goddamn Superman:
Man, I bet those lizard-dudes feel pretty stupid right about now.
All's well that ends well. Vernon and Jamie appear on Clark's tv news show, and Jamie finally gets that autograph: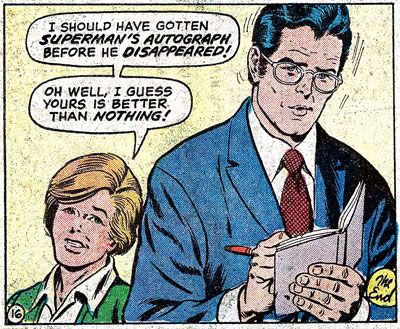 Insert trombone sound here
.
This is a pretty typical '70s Superman story. With his powers amped up to godlike levels, the outcome is never really in doubt...the fun is seeing what roadblocks the writer can come up with to delay his inevitable victory. In this case, Superman is dependent on Jamie to point him in the right direction, and in turn he has to protect the kid, which restricts him from going full-out against the bad guys.
Man, I love Curt Swan. Even with that shitty 1970s printing and cheap paper, his stuff just shines. Still the definitive Superman.