parsimonia.insanejournal.com posting in

scans_daily
Three interior pages, the DC Nation column, and spoilers under the cut.
Babs! Commish! I guess all that "I love life every day" business from Blackest Night is out the window, huh? She's not happy, she's
angry
. But hey, at least we got to see her interact with Leslie
and
her dad,
and
it shows she and Dick are in touch. (Earlier in the issue we also saw Dick and Damian watching Steph in action as Batgirl, and Dick realizing it wasn't Cass, so I think we can assume that's him calling Babs to tell her.)
Steph had another sort-of misadventure in heroing it up as Batgirl, and she keeps trying to talk herself into quitting. (She also started college, and is lying to her mom about being Batgirl.)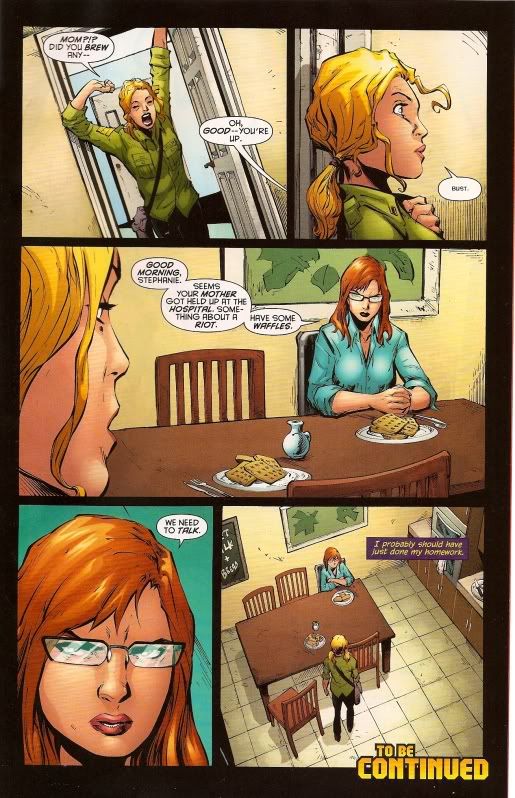 NOT THE MOMMA! I'm very bothered by the way this issue handled Cass and shoved her out the door in such a quick and uncharacteristic manner (uncharacteristic for
her
, that is: DC on the other hand...), but I have to say I loved this last page with Babs being all spooky and intimidating with waffles.
Another thing to consider is this:
Stephanie Brown has her own title.
Think about that for a second. Stephanie Brown was killed off, and a (largely female) fan-base
campaigned
for her to get some recognition at least on par with Jason Todd. Not only did she
get that trophy case
, she was also brought back, and now she has her own title.
That
is
pretty darn cool. However, it's sad and depressing to think that it had to come at the price of losing another amazing female character whom DC has repeatedly disrespected.
Also of interest (to me at least) is this week's DC Nation column:
I'm definitely going to Fan Expo, and was planning on going to the DC panels. So I have three questions:
1) What special chips are they talking about? Is it ketchup-flavoured chips that they don't have in the States?
2) Should I bring chips into order to bribe DC editorial into answering some hard-hitting questions?
3) What "hard-hitting questions" should I ask? Right now all I think I've got is "what are you going to do to Cassandra Cain??"