fungo_squiggly.insanejournal.com posting in

scans_daily
This post is dedicated to a much-beloved "family" of ghosts from Fuan no Tane who all share one very obvious feature in common.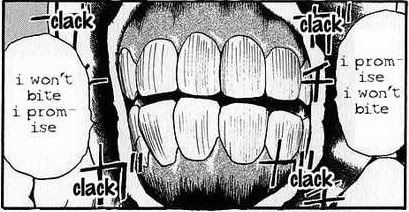 First up, this is the story of how it all began. By which I mean that this story was the very first story from the manga ever posted to scans_daily (not by me). And if it weren't for that, I would most likely have never heard of Fuan no Tane at all. I, for one, shall be forever grateful to... uh... whoever it was that posted this story the first time around.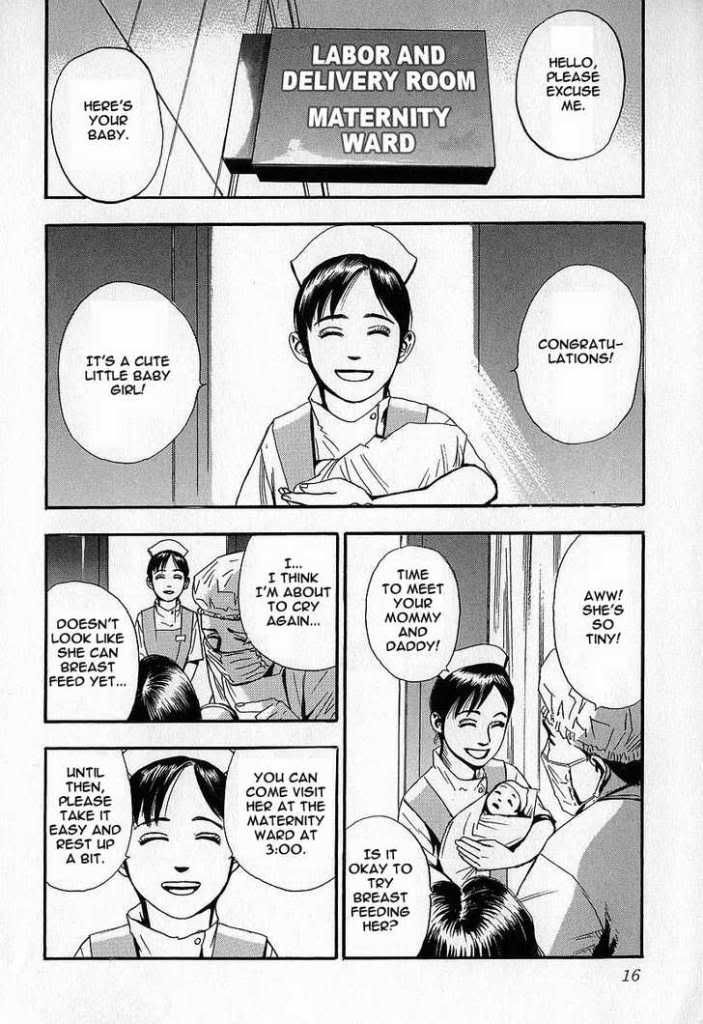 "Hello, please excuse me. Here's your baby."
"Oh, thanks. I was wondering where I put that..."
Ah, so at last the horror begins. Something is coming... and it WANTS A HUG!
You just know this is going to be terrifying.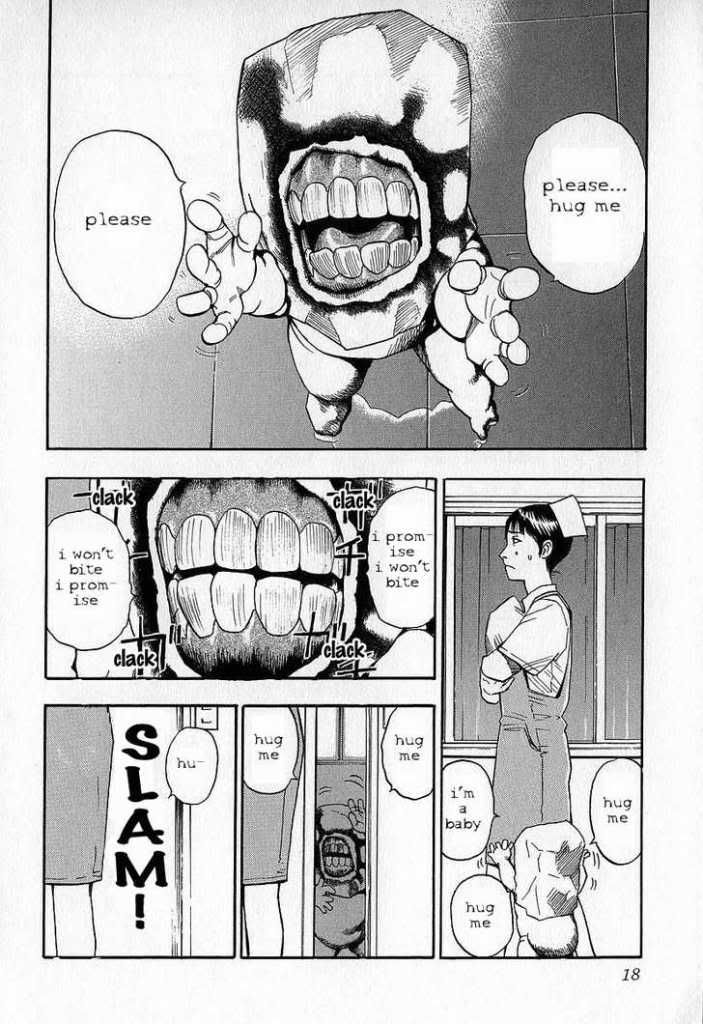 Ugh. Actually, that IS sort of terrifying.
Man, did I ever love this story. When it was first posted some people complained that it wasn't scary. But like 90% of Fuan no Tane, this story is one of the going for more of a creepy and eerie tone, and if you ask me it pulls that off in spades. It's the tale of a weird, nightmarish encounter that's only made more surreal by the fact that it's apparently so commonplace at this hospital. Observe the look of dread on the nurses' faces, and how relieved they are to talk about more mundane matters, as if they're waking up from a bad dream. You can feel the almost childish dread, the sense of "We must never speak of this, or something terrible might happen."
Also... HELLO! It's the first appearance of the famous Big-Teeth Ghost Family! Awe, I missed these guys. They're some of my favorite recurring characters in Fuan no Tane! That first was just a baby one, though. And, when you really think about it, all he really wanted was a freaking hug. Well, then... next up are a couple of Big-Teeth Ghosts of the full-grown variety. Perhaps they'll put those enormous teeth to more horrific use!
Kid in STRA- shirt: *thinking* "DAMN that reeks. What in the hell did that guy EAT?"
Man in black jacket: *thinking* "I have dishonored myself and my family by breaking wind in a public elevator."
Oh, wait. I guess that's not what the title meant by "Scent..."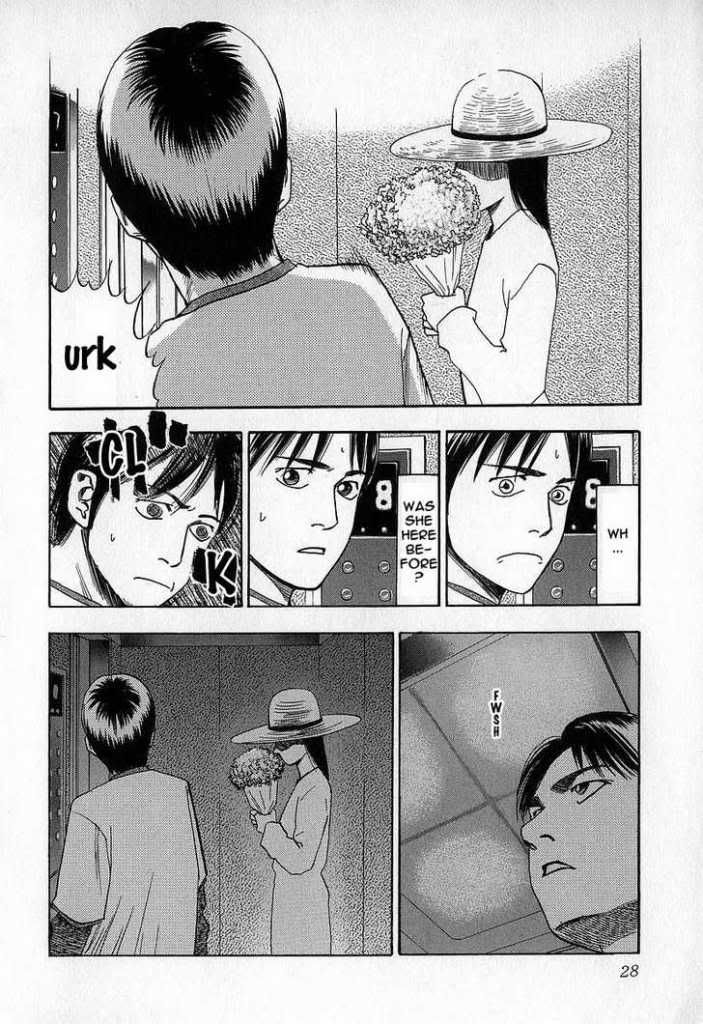 Now that there really is a genuinely spooky moment.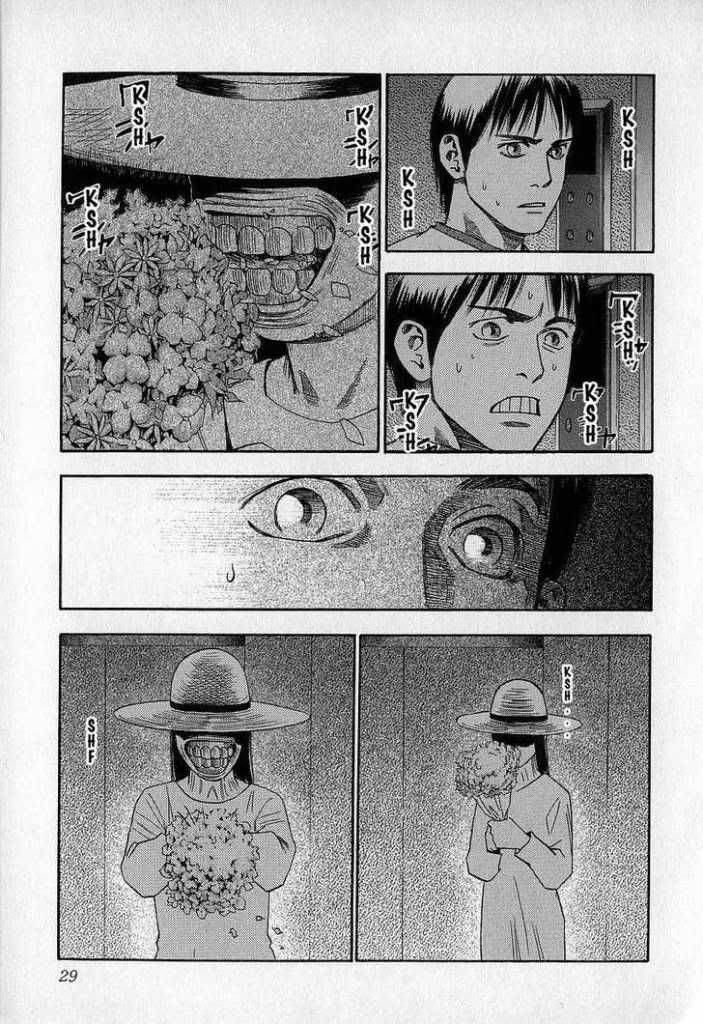 Big-Teeth Ghost Girl: "What's the matter? You want a bite of my flowers? Sure, go ahead! I've got plenty."
What, you thought this was going to be scary? HAHA, NO. Big-Teeth Ghosts are vegetarians! Or didn't you know that?
Alright, so the baby Big-Teeth Baby Ghosts just want hugs, and the Big-Teeth Ghost Women won't do anything more threatening than offer to share their sweet, sweet flowers with you. But what about the Big-Teeth Ghost MEN? I bet they're pretty mean, huh? Man, they'd probably tear out your throat with their enormous choppers as soon as look at you (which is harder for them than you'd think, because all Big-Teeth ghosts wear some kind of concealing head-covering that obscures their eyes)!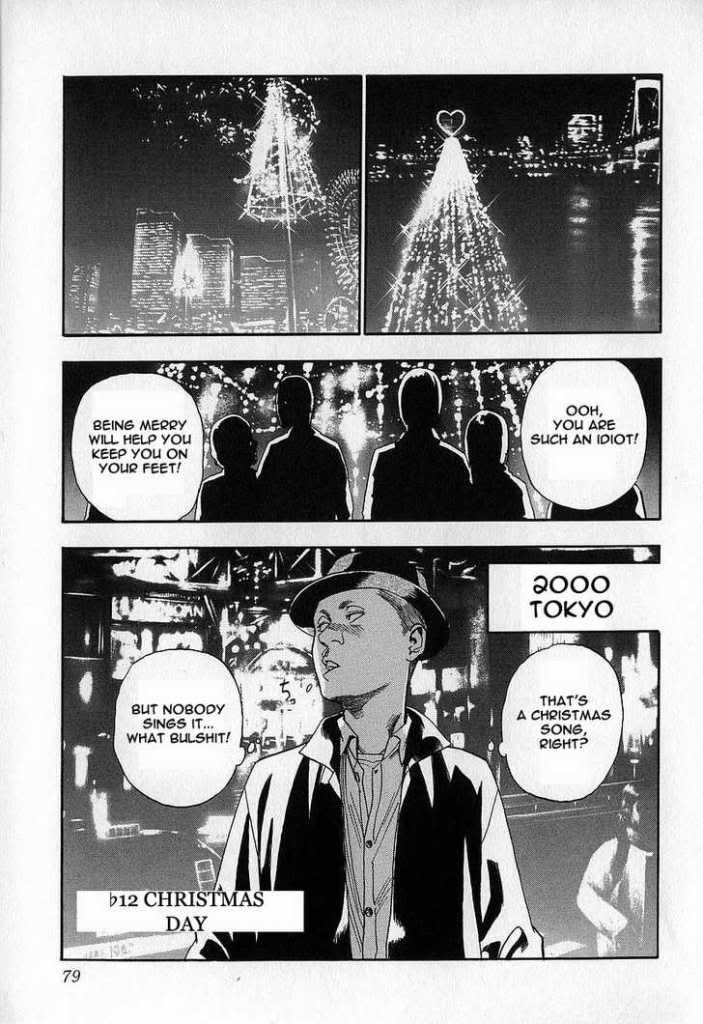 "Being merry will help you keep you on your feet?"
Whoever said that is either very drunk, or the victim of a bad translation.
Aw, lonely man is lonely. But wait... it's Santa, coming to the rescue!
Wait, no... that isn't Santa. That's a Big-Teeth Ghost
dressed up as
Santa!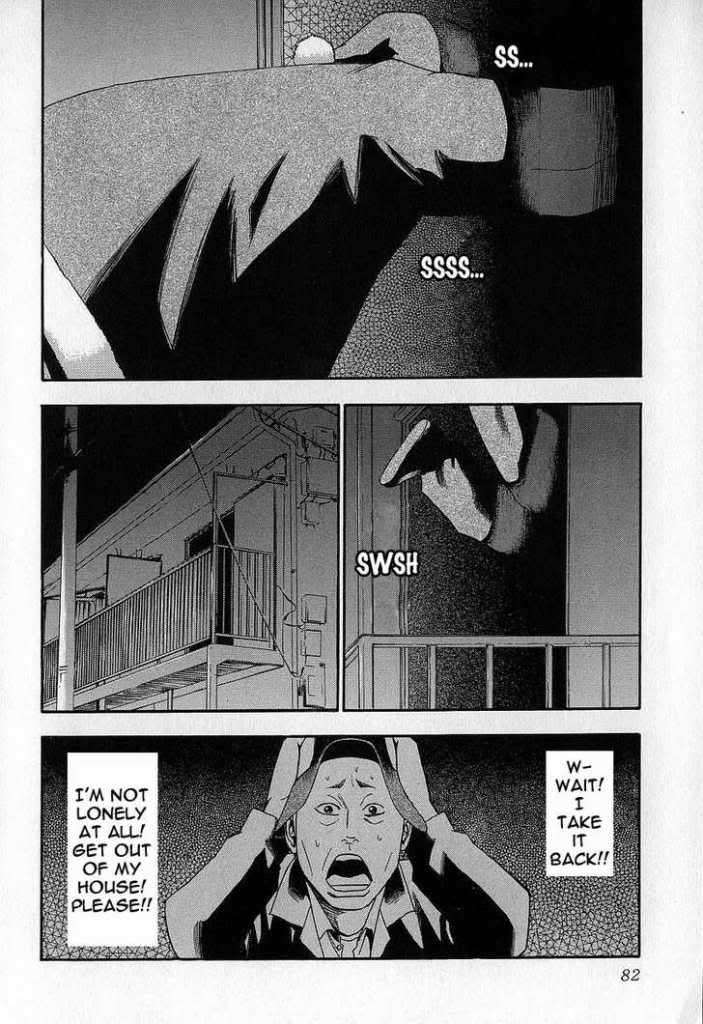 What, you're asking Big-Teeth Santa to leave already? What happened to your, ahem,
Christmas spirit?
*riotous laughter*
So, there we have it: the Big-Teeth Ghost Family! As you can see, their "haunting" routine consists mainly of asking for hugs, offering you flowers, and dressing up as Santa in order to visit lonely people at Christmas time. So I ask again, what very obvious feature does this family of ghosts have in common?
If you said "They are all friendly and completely harmless, and therefore un-scary," you're right!
And now, a very special bonus story, served to you with extra WTF? on the side. A very prestigious no-prize goes to to anyone who can explain to me what the hell is going on in this story, and why.
"Hmm, this seems pretty clear so far. I'd venture to guess it's about a haunted photograph or some such."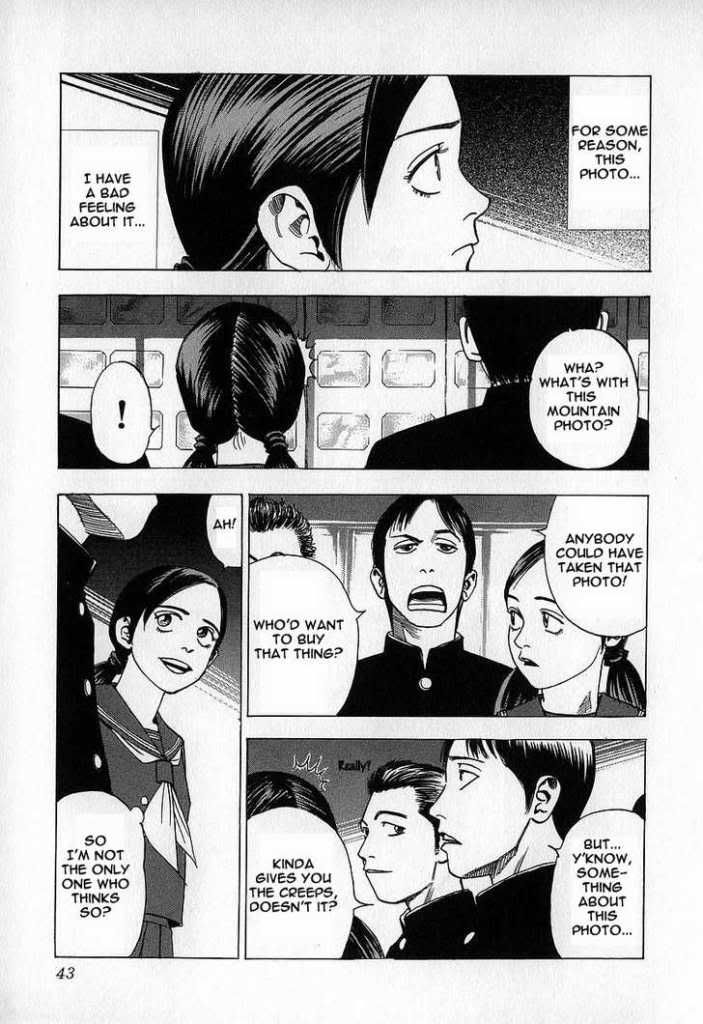 "Yes, it's definitely about a haunted photo, like in that story from Magabana perhaps. Clearly that fungo_squiggly is a drooling idiot, if he can't understand something so obvious as this."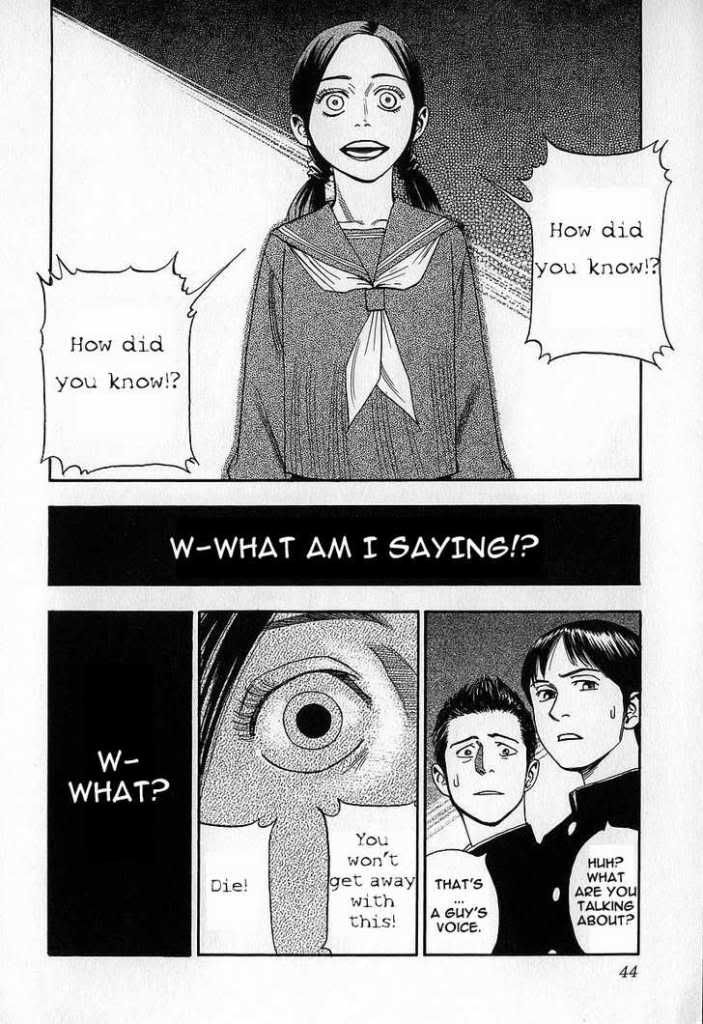 "Hum. And now... well, the spirit of the photo has possessed her, I suppose. For some reason. As to what that 'How did you know' stuff if referring to, I can only suppose... um."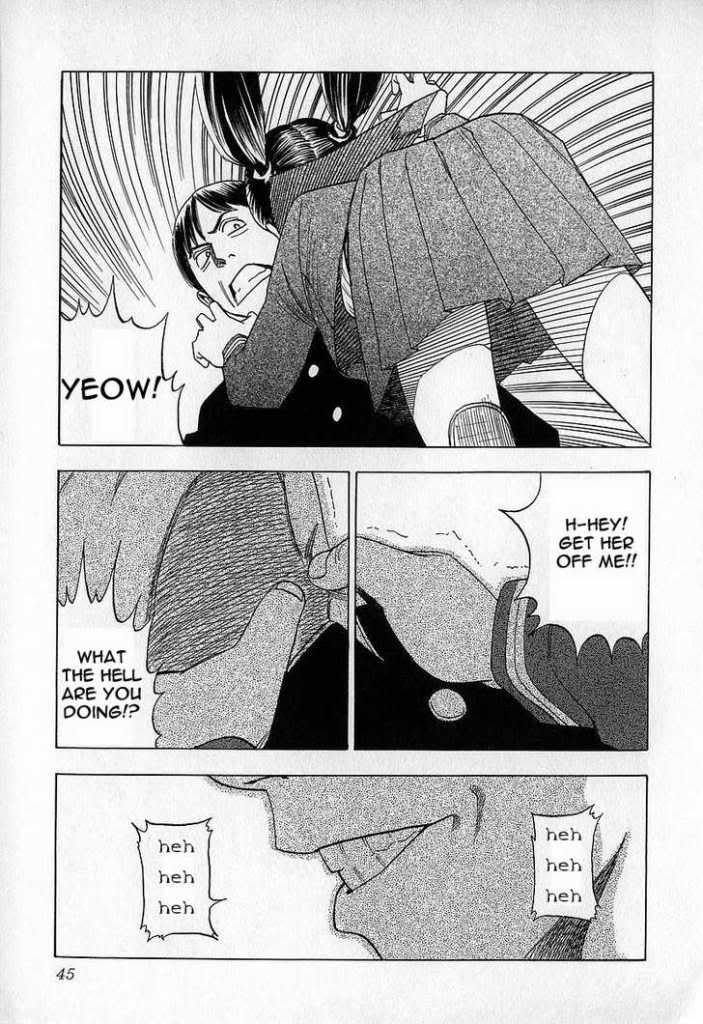 "And, uh, the ghost wanted her to attack that one loudmouthed guy who didn't like the photograph in question. Because the ghost was insulted by his criticism of the photography, perhaps. Still not sure what the mountain has to do with anything, or why the picture is haunted, or what was supposed to be scary about it before the possession occurred... but, uh, yeah."
"Wait, what? That's the end of the story? What the
hell
, Fuan no Tane!? I mean, uh..." *flees*
And that's it for now! I figure that last story will let me segue neatly into my next themed posts, because that one will be about scary eyes, and this one was about scary smiles, and Joker-Possessed Girl has both!
And as an extra-special bonus, I'll be posting the story where the disembodied spirit of the Joker possesses a Japanese schoolgirl (or something)!