ashtoreth.insanejournal.com posting in

scans_daily
After hearing that
this guy
was a character from the old Godzilla comic, I had to look him up.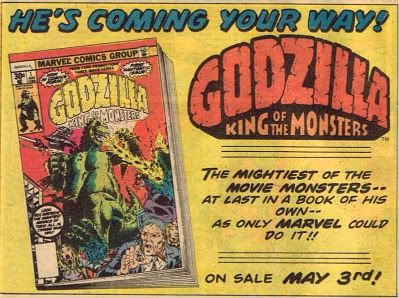 A smattering of images from the 30-page Godzilla #1, circa 1977.
KING OF THE MONSTERS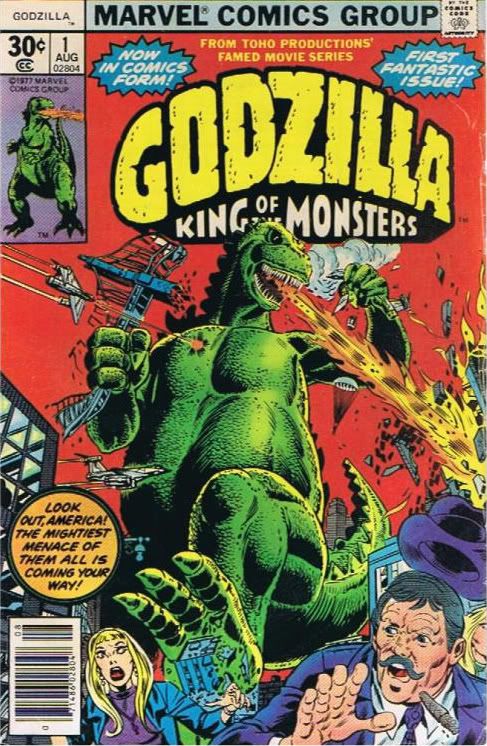 For some reason I have always preferred the look of covers in the ads more than the actual thing.
Backstory: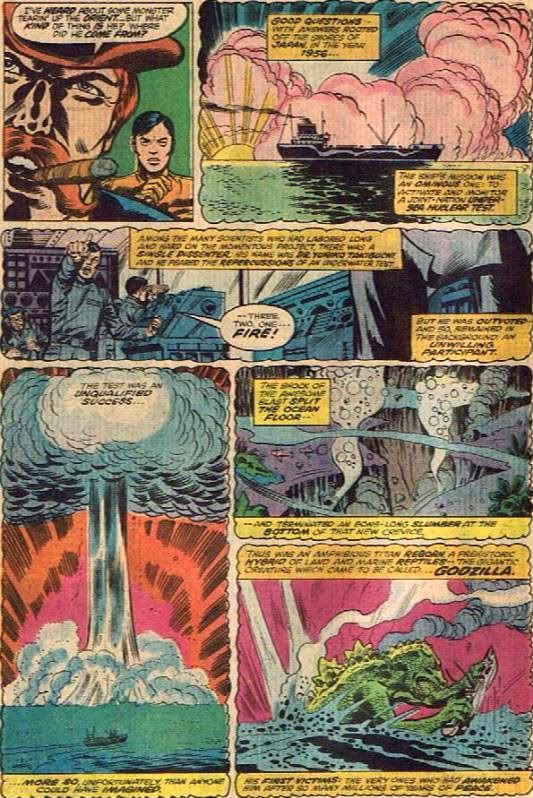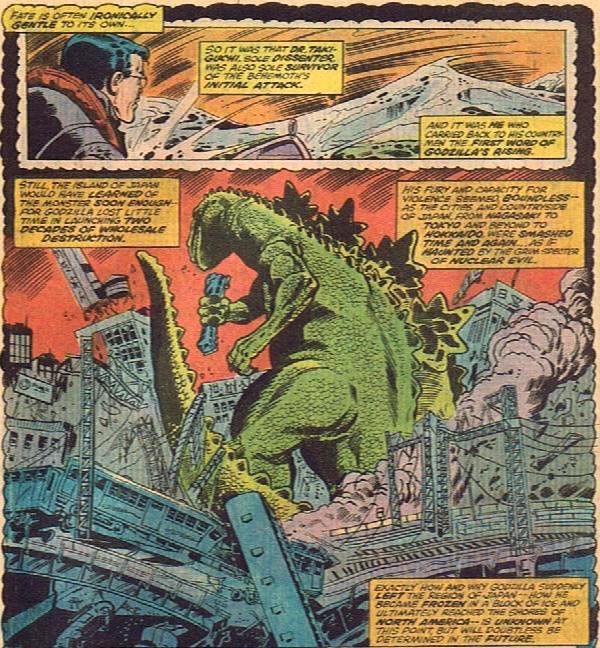 Godzilla was, for some reason, frozen in a big glacier. Off the shore of Alaska, it melted just enough for him to break free. He heads inland.
Much of the story seemed to be plotted out like a series of bouts. Godzilla versus--big truck! (Truck loses.) Here, we see Godzilla versus--Alaskan oil pipeline!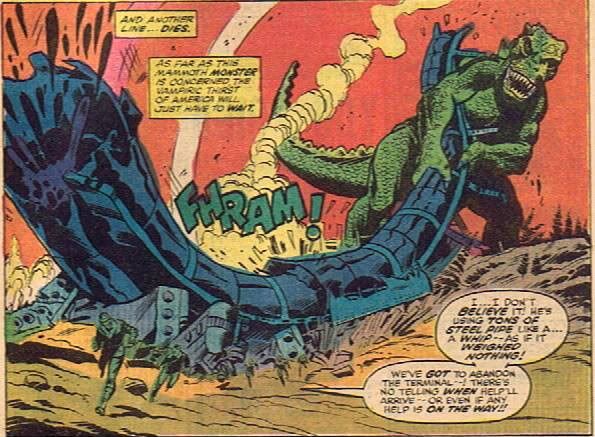 But help WAS on the way! SHIELD arrives via helicarrier and launches an army. They lose. SHIELD launches a Stark-designed giant superlaser! It makes Godzilla mad.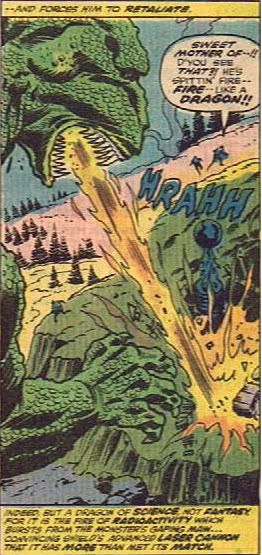 Yes, not just fire.
RADIOACTIVE
FIRE.
It's later explained that Japan didn't allow SHIELD to help with the Godzilla problem, but still..You'd think "OMG IT BREATHES FIRE" would've crossed their desks sometime.
At this point Dum Dum Dugan and his assistant, Agent Woo, realize that fighting a firebreathing monster in giant pools of spilled oil = BAD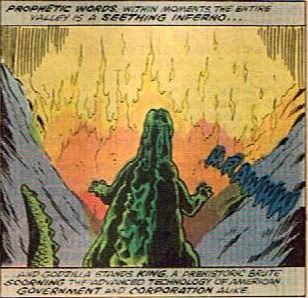 Thank goodness Agent Woo has a plan!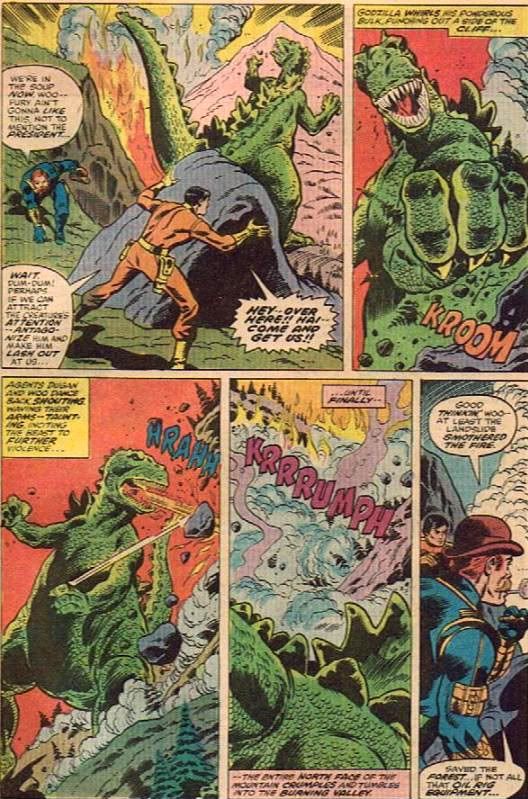 WTF, Woo.
Godzilla seems surrounded by a luck aura that affects everyone
else
. Man in truck that Godzilla defeated? Falls out ("YAAHHH!"), survives. Man in lighthouse that Godzilla crushes? Survives.
Almost too dazed to alert the authorities.
Anyone who actually dies, like the nuclear scientists and seamen on the ship that woke him, are never really shown. THEIR TINY LIVES ARE AS ANTS BEFORE HIM.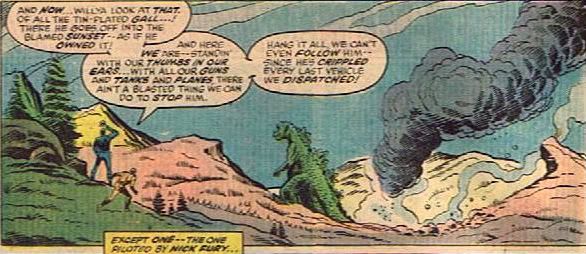 Nick Fury has picked up a Godzilla expert from Japan--and his entourage.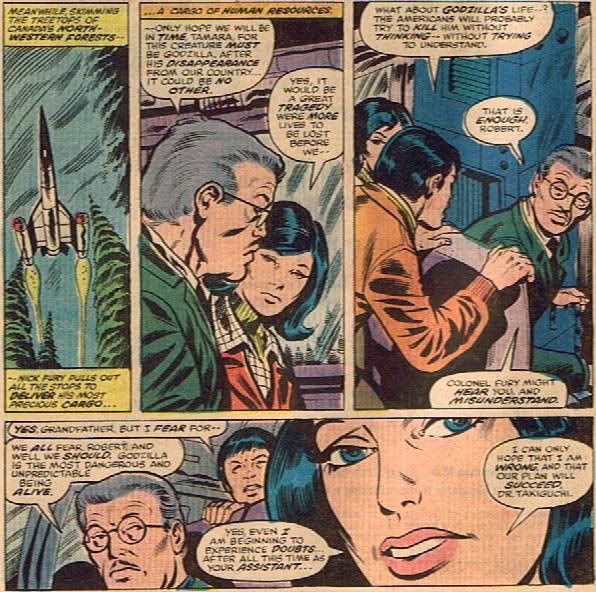 WHO'S GONNA THINK OF THE GIANT RAMPAGING RADIOACTIVE MONSTER'S FEELINGS HUNH?!
You selfish
bastards.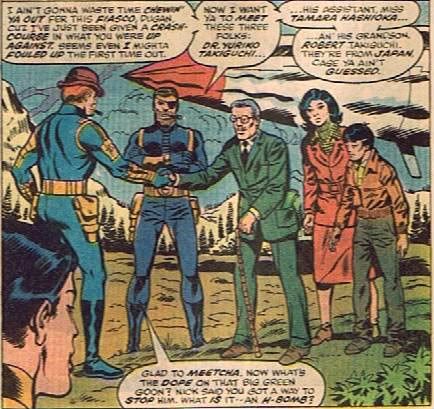 Oh, yeah, I'm sure using a nuke on a giant radioactive monster wouldn't go wrong
at all.
Oh, and plotty stuff.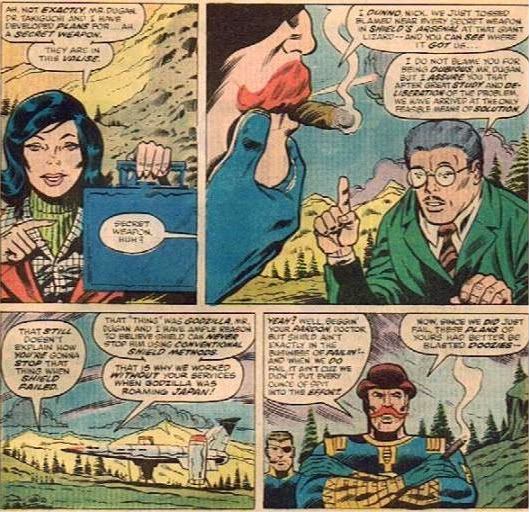 The letters page: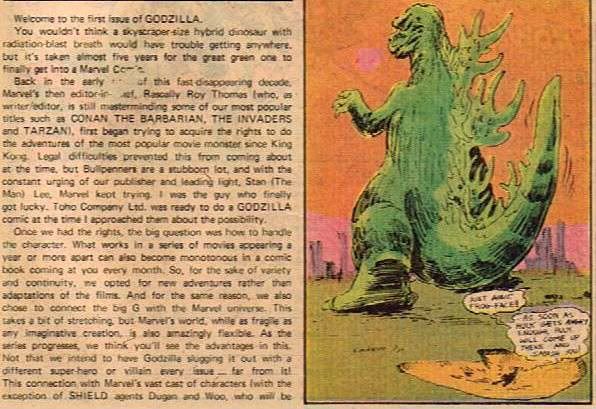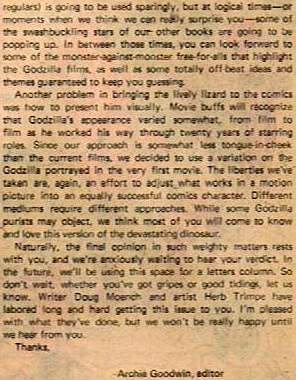 The
interweb
informs me that Toho owns Godzilla, though Marvel has reprinted this title in an Essential volume, but all the Japanese characters are original and belong to Marvel.
Suggested tags: publisher: marvel comics, creator: doug moench, creator: herb trimpe, creator: jim mooney, title: godzilla, char: godzilla/gojira, char: nick fury, char: dum dum dugan, char: jimmy woo, char: dr. yuriko takiguchi