thehefner
My favorite
Spider-Man
writer of all time is J.M. DeMatteis, and not just for the masterful
Kraven's Last Hunt
(which was posted
here
, but you really should read it as a whole if you can).
I think that I like him so much because he writes villains like broken people rather than evil monsters, essentially treating them the way
Batman: The Animated Series
treated its own villains. In fact, I dare say that DeMatteis wrote the definitive stories for not just Kraven, but also Harry Osborn. But between both characters is a lesser-known, little-loved original creation of his named Vermin, which brings us to this story.
1991's
The Child Within
is the missing link between
Kraven's Last Hunt
and Harry's death, and yet it's inexplicably never been collected and reprinted! It's a damn shame. Even besides the significance it has to both stories, and lays the foundation for Harry's final bout into Goblinville, it's a surprisingly raw and powerful look at abuse. Hopefully some of that will come across in the scans I've included here from this densely-packed epic.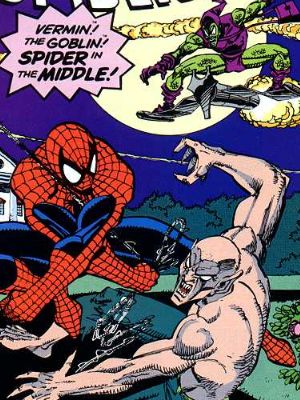 ( A tragedy of fathers and sons behind the cut )
The rest Harry's powerful story has thankfully been mostly reprinted in the
Son of the Goblin trade paperback
, but I urge you to track down DeMatteis' entire run of
Spectacular Spider-Man
from issues #178-200. It's a run that deserves more love, especially if the two
recent
posts
about DeMatteis' Vulture story--the greatest Vulture story ever written, IMO--have gotten only a handful of comments each.
Eventually, I'm going to take a look at DeMatteis'
Batman/Two-Face: Crime and Punishment
, which feels to me like a condensed version of
The Child Within
. With that in mind, I think Vermin and Harry's stories shed new light on the nature of Harvey Dent's madness, especially as told by DeMatteis.