thehefner
Previous installments:
Part 1
,
Part 2
, and
Part 3
I should have mentioned it in the last entry, but we're now in the middle of a trilogy of sorts, with today's entry being part two of a continuous storyline within the comic strip started in the
previous storyline
. But it could just as easily be argued that it's all one big story: that of Harvey Dent's rise, fall, rise again, and...?
I think it's fair to say that Harvey is the true protagonist because he's the only one who really changes, and not just in ways you'd expect from the character who becomes Two-Face. Even when he disappears and we get standalone story arcs about Robin's origin (followed by the Most Pathetic Riddler Story Ever), the final storyline still comes right back to Harvey. Obviously, that's why I love it so much.
So with that said, this storyline is the hardest for me to take. This is the point where Harvey crosses a line, and Bruce--for whatever reason--decides to not step in, but actively oppose his supposed best friend. Do the characters have justified reasons? Absolutely. Do I like it? Of course not. Does it work within the context of the story? You be the judge (pun not intended, I swear).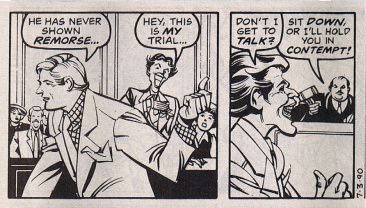 ( The people of Gotham City (ostensibly represented by Harvey Dent) versus the Joker, behind the cut... )
Coming up next... well, do I really need to say it?