janegray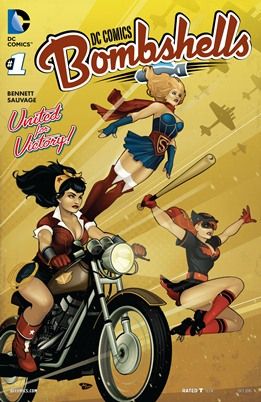 The success of Bombshells would be a Cinderella story if Cinderella wore motorcycle boots. The initial idea was to build a comic book inspired by a line of popular collectible figurines. That germ of an idea has expanded into one of the brightest and funniest comics DC has to offer. The comic sold 60,000 copies in its debut print issue in August — a massive number for a digital-first comic.
[]
Women writers and artists like Bennett often face backlash for "pushing an agenda," which is usually followed up by complaints that they're ruining comics by not having women overtly sexualized in their stories. A similar backlash is also applied to nonwhite writers and nontraditional heroes.
But 60,000 issues has a way of drowning out those voices.
"I feel like there was a lot of resistance to that at first, but now people are like, 'The books are here, you can see what they're like, they're great. Go forth and read,'" Bennett said. "I think people are starting to understand that this is not the destruction of Western civilization if you let girls in your goddamn clubhouse."
Diversity is making DC Comics great again
( The lovely folks here introduced me to the DC comics: Bombshells series, so I thought I'd complete the circle and post a few of my favourite moments :) )