thehefner
Right off the bat (hurr), I should say this: I haven't read the entire two-and-a-half-year-long run of Gerry Conway's tenure on
Detective Comics
. Which makes this post kind of a problem, because it concerns a subplot that Conway ran through
'Tec
and occasionally
Batman
too for at least a year, maybe more.
It's a storyline about political intrigue and corruption, of ghosts and paranoia, and the arc I present here is one that starts in a political rally and ends right in the Batcave itself. Even from the issues here, I can already tell this this was a sprawling tale compared to the tightness of
Englehart's Strange Apparitions
, from which it cribs extensively to the point of plagiarism at times, as you might be able to tell right away: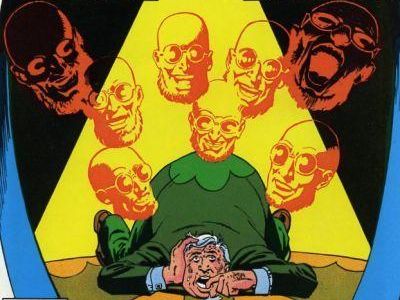 But for all that, it's still an intriguing Batman epic, one which has been lost in the shuffle of fan memory between O'Neill/Adams and Miller. If any of you have read the whole run, do chime in and let me know how it stands in your memory. And for those who haven't, let's take a look at subplot which most concerns the theme of these posts...
( The Haunting of Boss Thorne 2: The Smell of Fear, behind the cut! )