perletwo
How about a little Blue Devil v. Trickster to get this party rockin'? Say, 7 of 23 pages from Blue Devil #8, Jan. 85, with Keith Giffen on guest pencils?
So, Dan Cassidy has convinced Trickster to stand up to The Organization which has marked him for death, and he and Sharon are driving Jesse cross-country to a safe haven, when suddenly it's life as a Looney Tunes cartoon: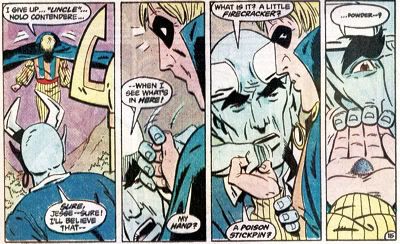 ( I'm already up to my earring in this! )
The idea of a mobile bank in transit just reminded me too much of s_d to pass up, gang.