perletwo
Well, this is a difficult posting task - once again Lobdell, Barrows and Merino have committed rampant Double-Page Splash Abuse in crafting their fight scene. So I'm giving you a summary of the fight and three post-fight pages.
( Did I miss anything, Red Robin? )
Next Issue: "The End of a Titan!" (But Not the One You Think!)

perletwo

perletwo
- or, "The One In Which Nothing Happens." No, really. Nothing happens. Certainly this "Red Robin Reborn!" stuff from the cover: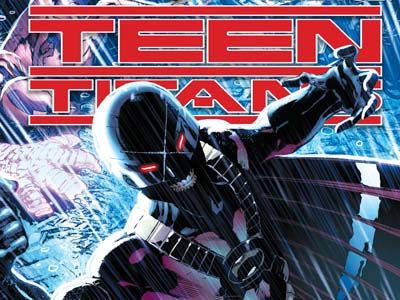 doesn't happen.
We do learn that earth-time and azarath-time move differently, and in earth-time it's only been a few weeks since
Phantom Stranger sold Rachel Roth out to Trigon,
but it's been a much longer time, possibly years, for Raven on Azarath. This may help explain why in earth-time scenes only about five minutes have passed
since the very messy end of last issue,
while Trigon takes his sweet time explaining the family history to his sons back home.
( Cease your prattle a moment and all will be made clear. )
And looking at that splash, can I just say, I think Trigon prefers Raven 'cause she's the only one of his kids that's
pretty
?
"Next Issue: The Teen Titans Battle The Brothers Trigon - With The Fate of NYC In The Balance!"

perletwo

perletwo
Four pages from Teen Titans #18 here, in which as with
last issue
we still have lots of plot threads, but they're moving closer to converging.
( We're the only ones who can save each other. )
BTW, it's a little hard to count pages on this thing since they're still double-page spread happy and the pages aren't labeled, but it's Eddy Barrows and Eber Ferreira on art pages 1-16 and Rodney Buchemi on pages 17-20. By my count that's the last two pages of the Two Teams Fight scenes and the two Times Square pages.

perletwo
- or, "Prologue to A Tale of Light and Dark," which is the Titans' next big arc, apparently. 3 whole pages and 2 partial pages for a total of 4, and man did I have a hard time cutting it down to just that. This is a bridge issue, tying up the Death of the Family crossover story and putting pieces into play for this Light and Dark thing, so there's a lot going on here.
( Can we go back to the awkward silence? )
Can't swear to it, but I think I may be looking forward to the War of Light and Dark thing.