informationgeek
Vertigo is to me what Image Comic seems to be others. While everyone gets excited over whatever Image puts out, Vertigo does that for me. It's produced some my favorite comics of all time (Fables, iZombie, Scalped, Saucer Country, and The Unwritten), but it has been falling on hard times recently. This imprint barely had any new titles at all!
...that is, until just recently...
( Read More... )

alicemacher
In honour of the (sadly) recently-cancelled NBC series
Constantine
, here's a tribute to one of my favourite
Hellblazer
supporting characters.
Trigger warning for suicide. Also, contains content that may offend religious sensibilities (this is, after all, from Ennis's run).
( If it is indeed the Lord who picks our friends for us... )
lego_joker
So posting infamously dark storylines in superhero comics seems to be the in-thing to do these couple days, and what better way than to continue the trend than with the comic that (arguably) started it all? But then I realized that everyone's probably already too bone-tired from picking
Identity Crisis
apart, so I decided to post the (relatively) funnest part from said comic instead.
(Also, I was originally going to title this "Accentuate the Negative", but then I realized there are some things too distasteful even for me.)
( Insert Mitch McConnell joke here. )

skjam
Judge Dredd has fought many strange foes over the years. Today's post is actually one of the less weird ones, more along the lines of a Batman villain.
3 1/3 pages of ten from Judge Dredd Megazine #303.
( 'In Megacity One, 'ends in a bloodbath' is fifty percent likely to happen even in stories about kittens and rainbows. )
Your thoughts and comments?
SKJAM!
martinjdekay.insanejournal.com
I'm only posting this here due to the fact it involves most if not all of you-
Marvel shuts down Livejournal users
http://www.bigshinyrobot.com/reviews/
Feel free to post any comments on the site it's self.
And hopefully this makes it legal-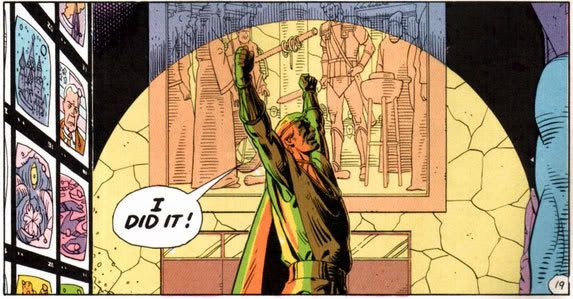 But what did he do? Knowing what Rorschach has to day about him it's probably "homosexual" in nature. Not that there's anything wrong with it!
If I've done something against the rules, I apologize as I'm really only here to have more noise made over the whole thing and hopefully resolve it, so things can go back to normal and hilarious!
Thanks.
gargoylekitty.insanejournal.com