wizardru
So a few weeks ago, I began inventorying my comic collection. Said collection, of course, stretches back to the 1970s...so it's going to take a while. As part of the effort, I'm going to continue to occasionally post stuff from the vault. Whether it amuses me for good or ill....as I've come to realize that I've got some questionable stuff in there.
It illustrates to me pretty clearly how comics were bought back in the day. Before the internet and online previews and so forth, we had the occasional magazine or house promotion to let us know about upcoming stuff. We could flick through an issue in the store before buying, perhaps...but a lot of stuff I got in the 1990s involved following a writer or artist whose work I enjoyed. Sometimes to my detriment.
Last time I brought you some pages from DC's Zero Hour, circa 1994. This time I thought I'd go a little more indie, a little more obscure. I almost did a scan of old Power Man and Iron Fist issues, but decided I'd save that for later. Instead, I decided that what we needed were gun-toting Vegas Showgirls. IN THE RETRO-FUTURE.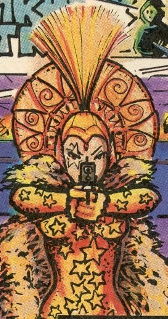 ( Fab-U-Lous! )
publisher: Eclipse, creator: john k. snyder iii