terrykun
In any incarnation of the Fantastic Four, under any writer, there will always be adventures. Always be exploring. Always some variant tale of Doom, the Negative Zone, Subterranea, Galactus, or the Skrulls.
And there will always be the underlying theme of family. After the great character cast expansions we've seen under Kirkman and Fraction, I was a little nervous about the latest reboot. What would happen to the Richards kids? To the rest of the Future Foundation? To Bentley, the Moloids, and Dragon Man?
Mister Robinson, to you I say... you had my curiosity. Now you have my attention.
( Three pages below the cut )


starwolf_oakley
Kon-El had a lot of "Awwww!" moments. One is SUPERBOY #70, when Superboy returns from Hypertime. (That was a short-lived attempt to bring back Multiple Earths in the mainstream DCU, used in SUPERBOY and THE FLASH.) While traveling alternate Earths, Kon-El found out Clark Kent was really Superman which... hurt his feelings.
( How to ask something without asking )


stolisomancer
Not a lot of people were reading the FF's book back in 2002, or if they were, they weren't talking much about it. The entire line was just coming off the doldrums of the nineties, and while there were a few good solid superhero books coming out around then - like the underrated Nicienza run on
Thunderbolts
- it was a quiet time at Marvel.
Which is a shame, because in the middle of this dead zone, you get one of the single greatest moments for Dr. Doom ever.
( five pages, after the cut )


perletwo
OK, so the work on this primer kind of got away from me,
mea culpa.
But I now have it complete up to the current "The Culling" crossover arc.
In
Part 1,
we saw how Yera was duped into impersonating Shrinking Violet for months on end, during which time "Vi" secretly married Colossal Boy. Yera was exposed, Vi was rescued, Gim and Yera decided to stay married, and all was on track for them all to live happily ever after.
But first, they gotta tell Gim's parents...
( in a story called 'Guess What's Coming to Dinner?' No, really. )
And you can tune in to Legion Lost for more Chameleon Girl, now that The Culling is wrapping up!


perletwo
Welcome, s_d, to the tale of a sweet, modest little romance that bloomed in the background of the Big Universe Saving plots of the 1980s Legion of Super-Heroes. It's the story of a new-agey crystal girl and her mineral balance.
Blok and the White Witch.
( We all change. That's what gives us life. )
So now they're both on inactive status. But maybe someday they'll rejoin the Legion, and be cute and lighthearted again. Hope springs eternal, right?


mrosa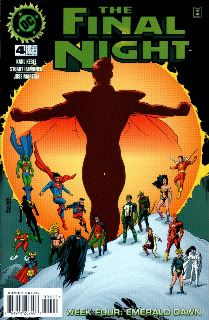 Although I hate Parallax, I've always had a soft spot for
Final Night.
I think it's one of the best crossovers DC ever had, which pitted Earth's heroes against a Sun-Eater bent on eating our sun. In the end, it was Hal Jordan, fresh from the
Zero Hour
debacle, who saved the day, by sacrificing himself. Say whatever you want about the idea to darken him, I think his sacrifice is one of the finest in all of comics. In fact, I found most of issue #4 deeply moving.
( Read more... )

glprime
Welcome once again, to the major comics crossover event that made readers say, "...Wait, What?"
We're throwing comics at the wall here to see what sticks. (why yes, I have just finished a Portal 2 binge.)
Combining (broadly) the Doom Patrol and X-Force, two misfit bands of tragic mutants led by a rather unbalanced, near-sociopathic Futurist gets us...
( Those misfits, misfits of science (ha)... )
14 1/3 pages behind the cut, 7 from
X-Patrol #1
and 7 1/3 from
Exciting X-Patrol #1
.


chocochuy
Greetings, True Believers! Corporal Chocochuy reporting for duty as well as sporting a new avatar!

So far we have seen the rebirth of the Red Skull as well as Cap and Bucky fighting a Japanese Vampire. Right now I have decided that we need to see some of the romance that has been part of the life of Captain America. I am proud to give you one of Cap's dangerous date with Betsy Ross. Enjoy!

( Cap's Dangerous Date )

lilacsigil
I don't know if this was ever posted at the old Scans Daily, but it hasn't been posted here! Parts of six pages from five issues.
Back in 1989, a mysterious new character started communicating with the Suicide Squad via computer. The Squad's computer technician (and you may all marvel at the super-modern computers) was Flo Crawley, an idealistic young woman given a job by Amanda Waller, who is apparently a friend of her mother Edna Mae.
First contact!
( Then The Wall finds out... )


starwolf_oakley
While the animated series YOUNG JUSTICE is popular, fans don't like that Superboy is so morose and troubled. YJ!Superman has the whole "That *thing* is not my son" idea going, while YJ!Superboy is desperate for a little approval and is very grouchy about not getting it.
So here's a look at what YJ!Superboy might want...
( A look at home. )

ebailey140
In current issues of Secret Six, the team is in Hell. If Harley were still on the team, she wouldn't have been able to make the trip, since she's banished from that place.
How does one get evicted from Hell? Just by being Harley...
( Read more... )


pyrotwilight
Ah Metropolis. At this time during the Reign of the Supermen we saw four Supermen appear and defend it. The Parasites have returned to face its protector(s) again. Thankfully we have...oh damn, it's that Metropolis Kid protecting us. Yeah, we're gonna need backup there.
( DC Presents Bloodlines Presents DC )

thelazyreader
Following
Emerald Twilight
, Hal Jordan became a recurring DC villain, gradually diminishing in the magnitute of threat, until he redeemed himself in the end by dying to reignite the Sun in
The Final Night
. Fans are still divided as to whether it was a fitting send-off for his character. Here are the scans:
( 'In the end his true light shone through.' )


arbre_rieur
The answer will both surprise you and be obvious in hindsight.
Remember, this was published before Geoff Johns' retcon that Kon-El is genetically related to Superman.
( One Million And Counting )