icon_uk
As some of you may have noticed (though it's been a very subtle campaign) there's a new movie out this week, that some expect to do quite well at the local kinematoraphic outlets around the world.
A whole new generation is about to be introduced to a big screen movie with noble heroes and heroines, despicalby evil villains and villainesses, hokey old magical religions, adorable robots, gorgeous looking spaceships and freaking LASER SWORDS!!!!
In light of this, it seems like a good time to remind ourselves, and a chance to show others, what we love about the Star Wars Universe, so let's announce;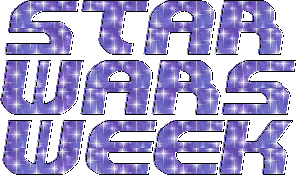 The old EU has been wiped clean by Disney, but let us revel in it a little while longer, or delve into the new universe that Disney has established.
Stories focussing on our well established characters are, of course, welcomed, but given that the s_d community is filled with glorious oddballs (and I say that as an oddball myself, though my gloriousness is more open to debate) stores focussing on new characters, perhaps the lesser lights or the seemignly throwaway characters would be brilliant.
And if anyone can find an AU story of the sort I've always wanted to read, where Luke went to Alderaan and Leia went to Tattooine that would be amazing, because who knows what might have resulted!
( Oh yeah... maybe that! )
So, in that time long ago, in that galaxy far, far away, let's see what stories it has to tell!