skjam
Hi folks!
Back in 1988, DC Comics ran a crossover event titled "Millenium." The last remaining Guardian of the Universe and his Zamaron opposite number came to Earth to jumpstart the next step in human evolution through a group called "the Chosen." The Chosen, after some losses, became a group known as the New Guardians, who got their own comic book.
The New Guardians were a valiant attempt to increase diversity in DC's superhero population, including their first heavily implied to be gay superhero, Extrano. Unfortunately, the execution was heavy-handed. and Joe Staton's art was not at its best, so it's mostly remembered today for the gloriously over the top villain Snowflame in the second issue.
Today, we'll look at issue #4, eight pages of twenty-four.
( Open Secrets )
In other news, my diploma from Rasmussen finally arrived.
Your thoughts and comments?
SKJAM!


zapbiffpow
Belated! Now, HERE's a decent Bruce post:
But seriously, for my probably last Bat-Day post, here's one of, if not the, saddest Batman scene from No Man's Land ('Tec #275):
( Read more... )


Food for Thought:
It's been months since I posted the question, but now I finally know
where Alfred was the night the Waynes were killed.


zapbiffpow


zapbiffpow
Next post, a decent Bruce one, I swear. But right now,
B&R #32
and
Robin Rises: Omega:
( Ra's Al Ghul, Head of the I Ran Out of Storage Closets )
Food for Thought:
They just released some previews for Batman Earth One: Volume Two at SDCC. Apparently Croc is in it, although no news for the Riddler.

skjam
Yet more Batman! this is from Batman '66 #13.
It's the latest issue, so only four pages.
( Crime does not pay, but... )
Your thoughts and comments?
SKJAM!
http://www.skjam.com


zechs80
It's Batman day, and I've come out from lurking to post this entry that features a special (and long missed) guest star teaming with Bruce on a case.
( Read more... )


zapbiffpow
The Name's Grayson. Dick Grayson.

( Badadah-badadah-badadah-badadah-I can't see me loving nobody but you... )
Food For Thought: I guess we know who Blondie is on that Batsgiving Poster, don't we? If so, there's only one person left on that thing who's un-ID'd.


zapbiffpow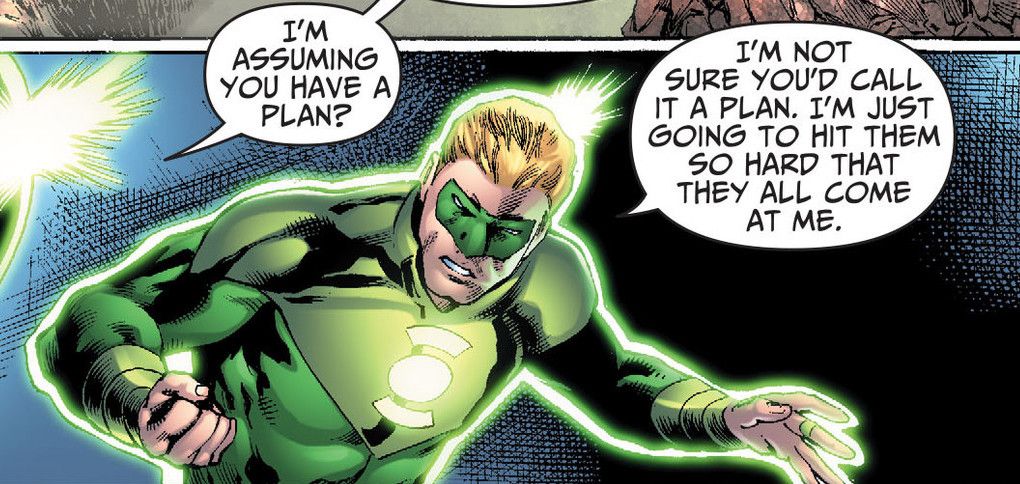 Scowly McBatface is from an actual quote from the issue, by the way.
( PHHRRAAAASSINGG )
Food for Thought:
This might be an odd time to ask this, but where was Alfred Pennyworth during the night of the Wayne murders? Not accusatory, just curious.


skemono
So
last issue
, Stargirl and Animal Man followed Adam Strange to the site of the alien abduction, where they were attacked by aliens and joined by Martian Manhunter and Green Arrow. The aliens unleash... something... and now they have to fight it.
( But they have to fight it under cover of this cut. )


zapbiffpow
I wonder if Batman ever learned this little tidbit about Gordon during their field trip to the Gods Among Us universe.

Also, look who just made a cameo! Just slap the Gotham title and the FOX logo on that panel, and bam! Series.
( Read more... )
Also, anybody see the Gods Among Us cutscenes? Someone put them together into a movie on YouTube, and it's as close to a Justice League movie as we're probably gonna get.