mr_neutron posting in

scans_daily
Batman has gotten involved with many strange women over the years. But none has been as delightfully strange as Patricia Powell, Policewoman...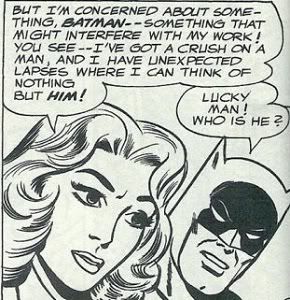 Some notes before I begin. This is my first Scans_Daily post on dreamwidth--I originally posted these scans on the first version of Scans_Daily, back when it was on livejournal (you may remember me as Senordildo, named in honor of the
Earl of Rochester
). I have rechecked the scans to make sure they fall under the 1/3 rule (various bits and pieces that add to up about 4 pages from a 13 page story, and 2.5 pages from another 13 pager). Now, on with the show!
Patricia Powell first appeared in Batman #165 (August 1964), in "The Dilemma of the Detective's Daughter!", written by Ed "France" Herron and penciled by Sheldon Moldoff, with inks by Joe Giella.
Batman is giving the graduation speech at Gotham City's Police Academy ("I want to stress the value of your physical fitness training, which I can best do by recounting one of my own cases!"). Eventually he finishes yakking...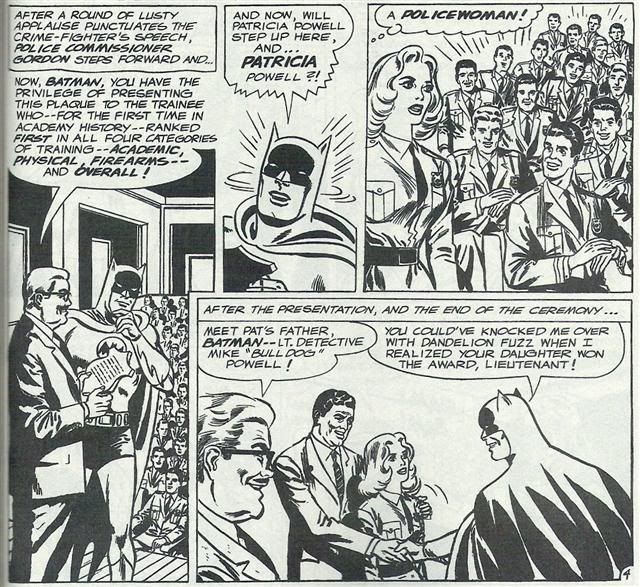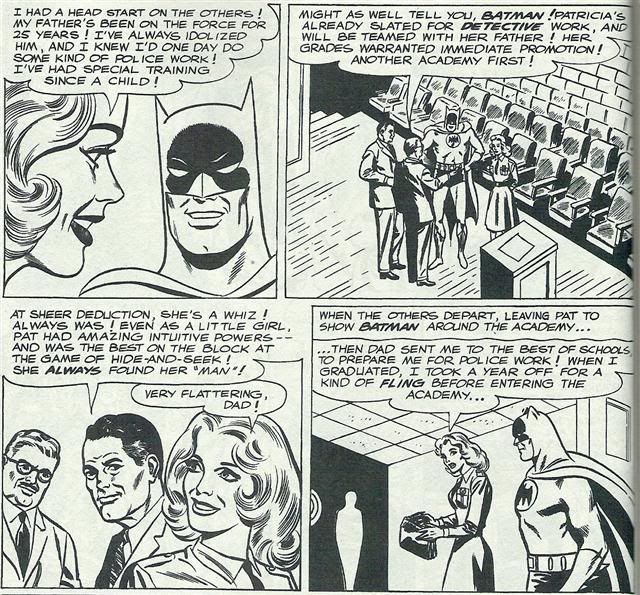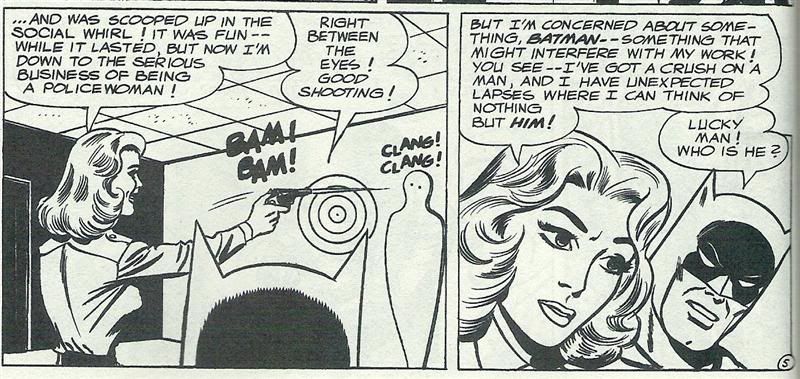 And now lots of boring plot gets in the way...too bad, since this kooky little love story is the sort of thing a surrealist might come up with on his day off. Professor Smedley, an expert in explosives, gets kidnapped by some gangsters. But have no fear, Policeman Powell is on the case, along with Batman!
"...you'll notice there's not a single ashtray or pipe in the room! Smedley obviously doesn't smoke--so why should he have a can of tobacco? Let's see what's inside," says Batman.
"That's what I get for thinking of Bruce Wayne--I overlooked the obvious!" says Pat.
Everything turns out hunky-dory, and the professor is rescued by the Bat-Pat team.
DUN DUN DUNNNNNNN!!!!
The Patricia Powell saga resumes in Batman #166, by the same team. Join us for "A Rendezvous with Robbery!"
Of course, just when Bruce and Pat are about to finally meet, someone tries to rob the ball with land-mines (ain't that always the way!):
Pat naturally gets onto the robbers' trail lickety-split: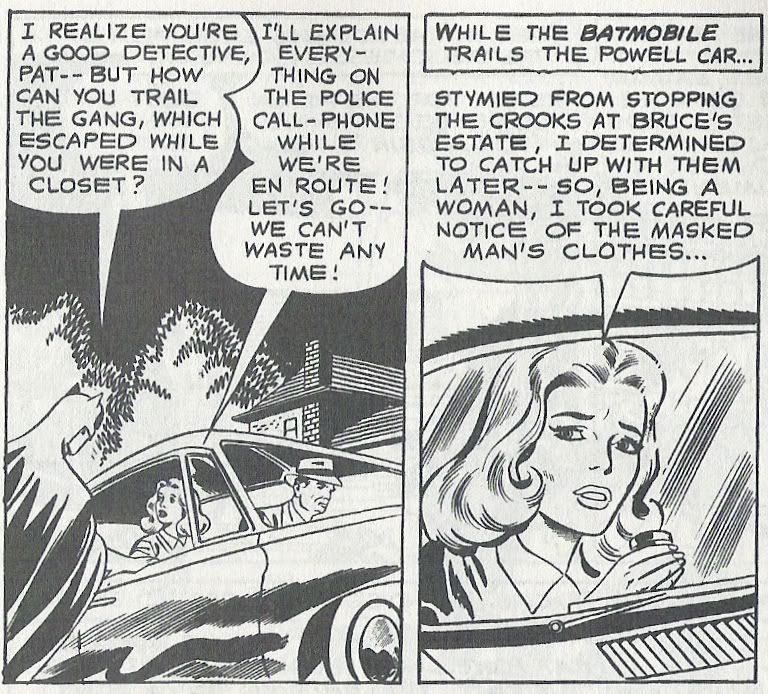 "...everything he wore was expensive, and imported and sold only at a couple of exclusive Gotham City stores!" (So she tracks him down through his tailor.)
"Terrific deduction, Pat!" says Batman. "But now the big question--how can you be following the crooks? They didn't leave a marked trail!"
"No time for that Batman," says Pat. "We're almost here!"
The robbers are swiftly foiled, and we move to the end...
So what happens next? We'll never know, because there was no follow-up story! In the best surrealist tradition of continually frustrating desire in increasingly maddening ways, Patricia Powell never appeared again!! AAAAAAARRRGGGHHHH!! Though Ed "Why the fuck was he called France?" Herron wrote a couple of later Bat-stories, he never again returned to his most tantalizing creator. So let the word go forth to a new generation of Bat-writers: bring back Patricia Powell! Don't leave us hanging for another 47 years!!! Continue the craziness!!!
Ah well. And now here's a clip from
Lipstick on Your Collar
that tells the moral of the story: