q99 posting in

scans_daily
The Last Unicorn post earlier immediately brought to mind another Unicorn comic, Legends from Darkwood. Which also has unicorn population problems.
Meet Raynd, the world's only Unicorn Hunter.
We start out with our heroine, Rose, who's playing in the fields by the woods. She loves unicorns, they're her favorite things in the world, but she's never seen one before, until...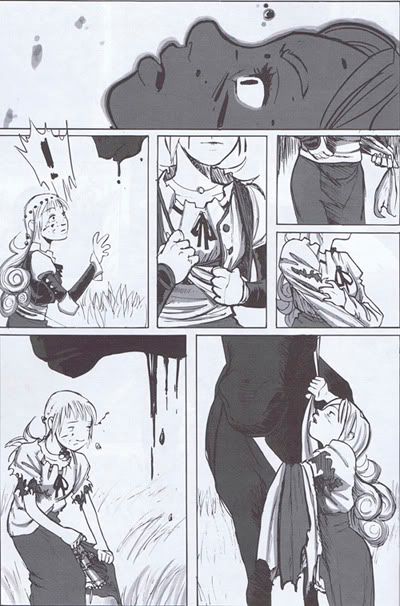 He's hurt! Rose does what she can to bandage the black unicorn.
However, unicorns don't just get wounded on their own. Someone wounds them. Someone who's back to finish the job. Enter Raynd.
Less shadowy, she takes aim.
Raynd gives her a kind word before departing with the kill.
Ouch.
Next: Infrastructure. And Rose has a plan.
5 scans + cover from Legends from Darkwood #1 (of 4), a 34 page issue.
Suggested tags:
Title: Legends from Darkwood
Publisher: Antarctic Press
Creator: Chistopher Reid
Creator: John Kantz