perletwo posting in

scans_daily
jelly_ace asked for a reprise of Package Week. I had been thinking about that ever since we saw those
peen-tastic Cry For Justice pages
the other week, and offered to repost my original Package Week entry, since I've still got it all in my photobucket - and it turns out, the text in my inbox full of old replies. :D
I know I'm late to the party, but I couldn't let Package Week go by without some Legionnaires. This is by no means comprehensive, but it's what I could get on a quick pass through my collection. None are my scans, BTW.
Let's start with a Colossal Package:
You can't tell me Perez didn't draw this panel in Crisis on Infinite Earths just to go with those lines.
It's hard for Cosmic Boy, with his ink-black costume, to show a package, but artist Ernie Colon found a way:
Not only does Element Lad have a package, occasionally it
talks
: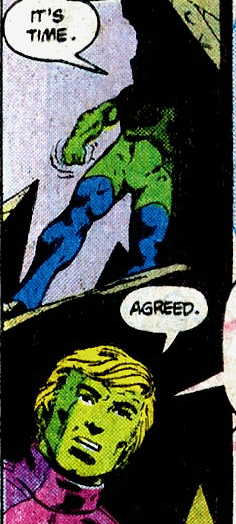 Lightning Lad's packing some heat in this Jim Sherman panel - not surprising, given what Imra's wearing:
Brainiac 5 also appears to be packing here in this panel. Giffen/Mahlstedt, I think.
The curious thing is, that's Colossal Boy's
mom's
rear he's looking at!
Tagapalooza!
char: brainiac 5/querl dox; char: colossal boy/gim allon (new tag), char: cosmic boy/rokk krinn, char: element lad/alchemist/jan arrah, char: lightning lad/livewire/garth ranzz, char: saturn girl/imra ardeen, creator: ernie colon, creator: george perez, creator: keith giffen, creator: jim sherman, creator: larry mahlstedt, group: legion of super-heroes, publisher: dc comics, series: package week (lost to the TOS), title: cosmic boy (no tag yet for his miniseries), title: crisis on infinite earths, title: legion of super-heroes, title: superboy and the legion of superh (or some better version of this, which only has 1 entry)