perletwo posting in

scans_daily
Back again with four pages from the hot off the press Legion of Super-Heroes #18, part 2 of the return of the Fatal Five. You'll recall that last issue in part 1,
things fell apart rather spectacularly.
We spent all our time with two teams of Legionnaires last issue; this time we check in with the rest, and things aren't looking any better on the home front.
We open with a splash page of the Legion's iconic nose-down rocketship HQ burning to rubble on one side, while on the other Harmonia (who is apparently deputy leader now, in a meteoric rise to power) and Dragonwing trying to calm a crowd of rabble outside.
Well, Harmonia's trying to calm them. Dragonwing's all for singing their tailfeathers with her fire breath until they go away...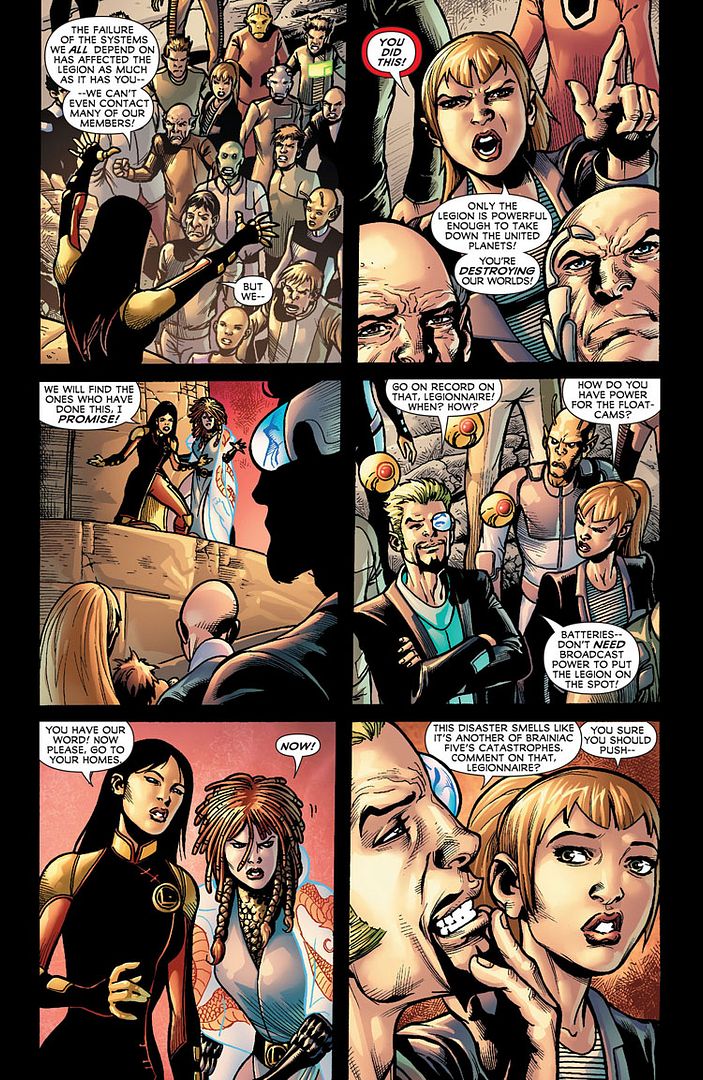 Can't help but think this would be a good Rorschack moment (
"Save us," the world will cry, and we will whisper, 'No'"
) and indeed it may be seen by a cynical public that way, as inside Brainiac 5 is frantically trying to build an escape cruiser out of spare parts cannibalized from all the obsolete, pre-quark relay tech he and the other Legionnaires can find.
But first we check in on another team, whose cruiser is dead in space. Mon-El's pulled it out of the gravity well under his own power; Cosmic Boy warns Lightning Lass her power may be needed to recharge the power cells. Shrinking Violet objects to the use of her girlfriend as a battery for a jumpstart, but Ayla is all down with doing her duty. Shadow Lass is muttering grimly about the UP reverting to the barbarism she knew growing up on Talok 8. Cos plans to take this team to to the UP's artificial administration planet Weber's World, which is the most completely dependent on quark tech. (You may recall the Emerald Empress once tried to
take over Weber's World and use it as a weapon
back in the day.)
Stranded on Rimbor, Ultra Boy and Chameleon Boy are similarly comparing notes on miserable childhood settings. Meanwhile Glorith has a limited teleportation spell that's going to get them off the rock.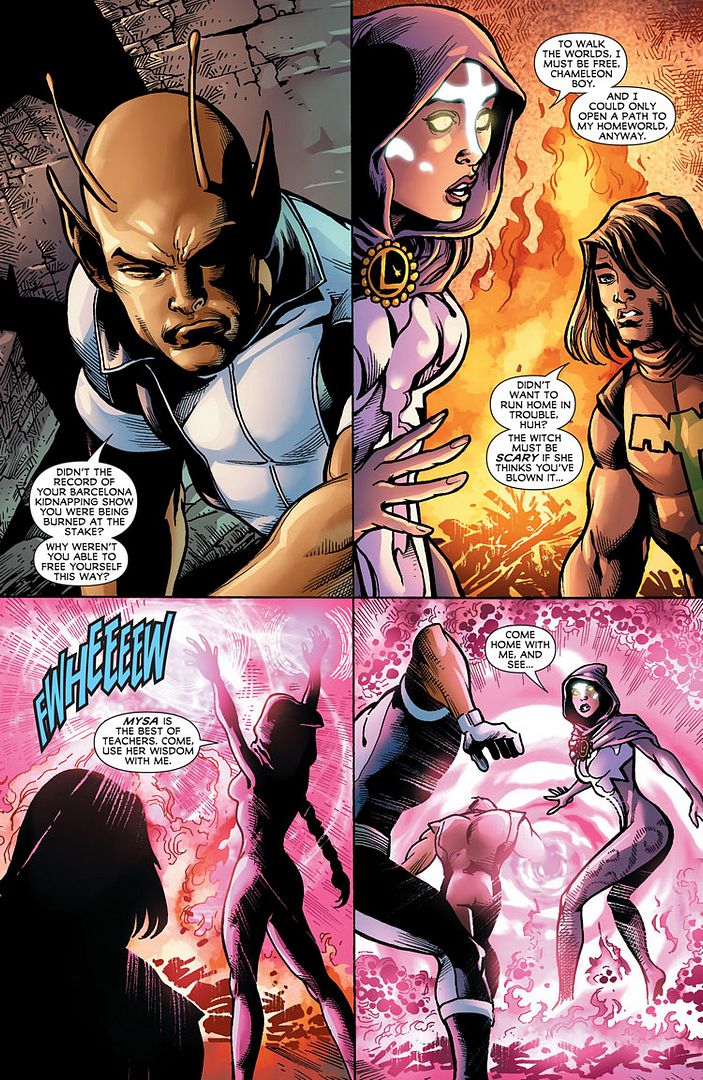 W00T! We're goin' to Sorcerer's World, and we're gonna see Blok and the Black Witch! I miss them so much.
Back on Earth, Dream Girl, Element Lad and Star Boy are horrified to see scenes of devastation on a jury-rigged monitor from some of those battery-powered float cams. HQ is collapsing and rioters are breaking down the door, and Brainy sounds the all-aboard call; he'll finish work on the makeshift cruiser once they're skyborne. Mad scramble onto the cruiser ensues.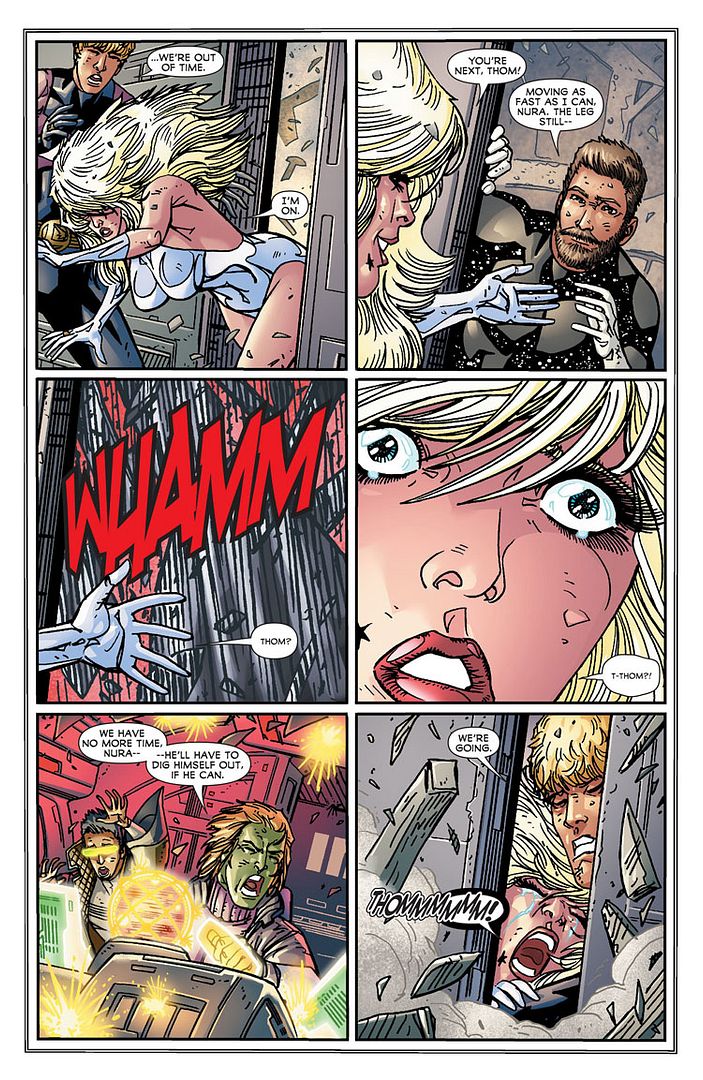 Y HALO THAR potential second Legion fatality of this arc! These Legion stragglers don't have a destination logged, but Brainy has a goal in mind: find Tharok and the Five before they destroy everything.
Elsewhere, Phantom Girl, Invisible Kid and Polar Boy are still stuck on their crash-landing site; Sun Boy is still dead, only now spit-roasted and eaten by the annoying natives, which they have come to realize are actually parasites that have grown on the surface of a sleeping Promethean Giant like barnacles. The crash site itself is in motion, however, as said Giant has awakened and busted loose from its giant chains. And there's not much the Legionnaires can do if it decides to do something like...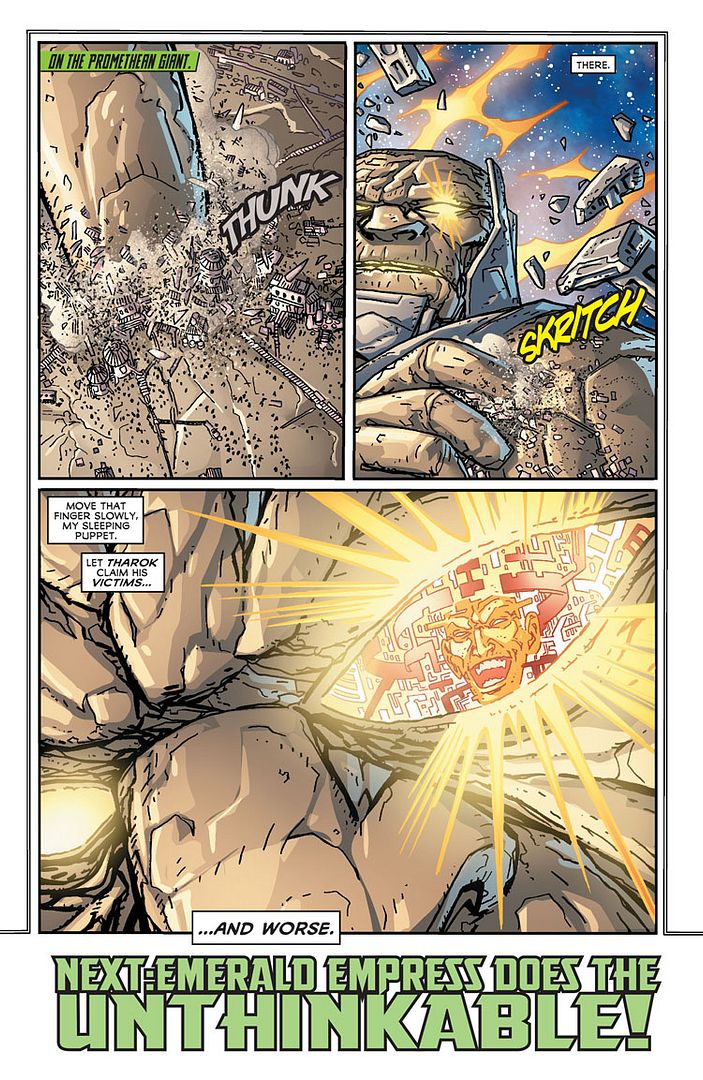 Hmmm. Not such an innocent itch after all. Didn't quite see that one coming.
The return of the Emerald Empress is unexpected, and disturbing; when last seen in the Legion Annual for the prior run pre-empted by the New 52 relaunch, the Eye of Ekron had possessed a peasant girl on Orando, and Ayla and Vi crash-landed there; Vi had to go subatomic to destroy the Eye from within, and the annual ended with an ominous green glint in Vi's eye. (I thought some of the annual was posted here by someone who wasn't me, but I can't find it through the tags. I can do a post later this week if anyone wants to see it.)
So that's four out of five accounted for: Tharok, Persuader, Validus and the one in the next ish teaser. Will it be faithful old Mano, or someone new in the fifth slot?