nevermore999 posting in

scans_daily
And here's my favorite part. Scans courtesy of weaverandom from livejournal!
So Prudence, the League of Assassins chick, sticks a gun in Steph's face and is all "I was sent to kill Stephanie Brown.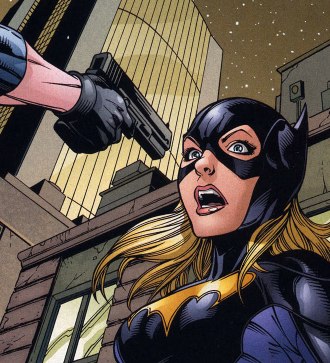 "Whoa, hey, we just met!"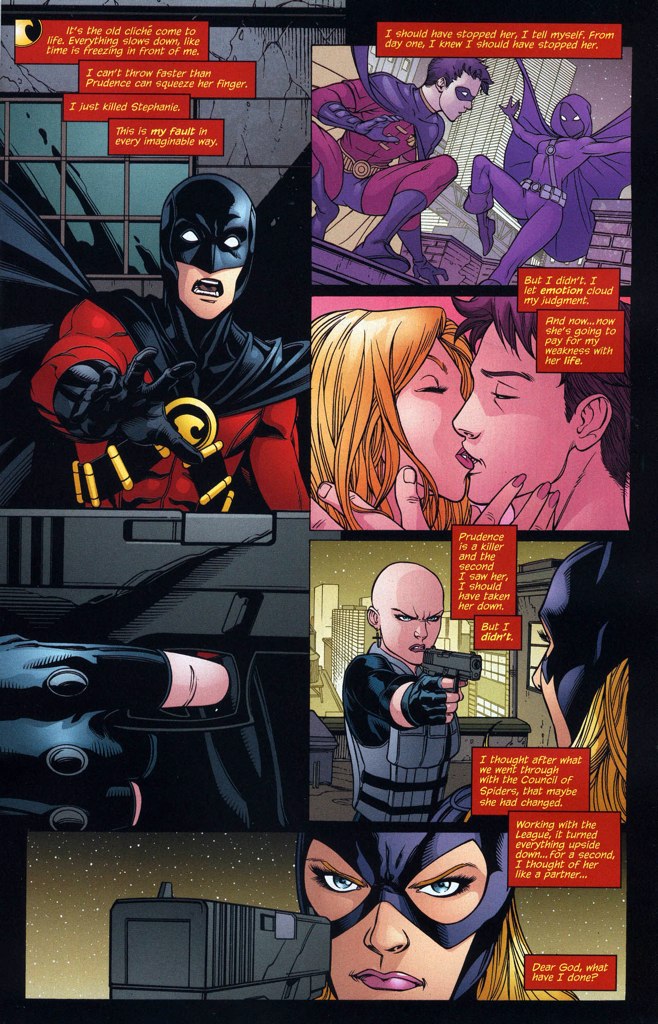 So Tim, because he is Tim and we love him (Well, I love THIS Tim. This is the Tim I remember. The Tim I wish to hug and punch at the same time. Hug-punch, as Steph would put it) immediately turns on the drama. "Oh noes, I have killed my darlingnest Steph! I have no time to save her because I must narrate now! She was always far too unsuited for this cruel, cruel business, but I let her smexiness and how pretty we're both drawn in this flashback cloud my judgement, and now she will die and it is all my fault! She will die for reals this time I bet! I am just going to curl up in a ball somewhereand cry emo tears about how my poor delicate flower has been cut by my cruel weakness, everything I love dies, oh woe is me!
Meanwhile Steph is all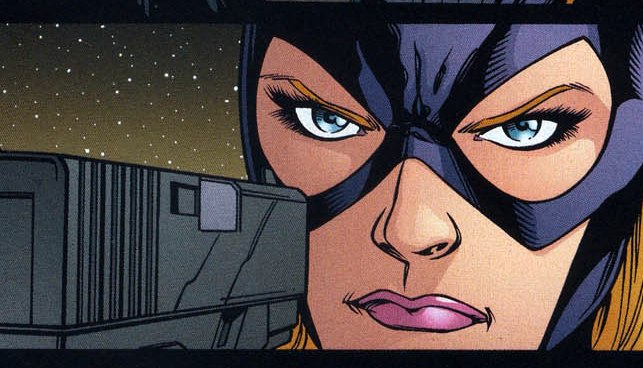 "Bitch. Please."
Tim's O-O Expression is the BEST EVER, Oh, Tim. You dork.
I'm betting this was a Babs thing. "Hey, Steph, if someone points a gun at you, pound their face into jelly. Zero hesitation. ZERO! Even if they show up in your door suddenly. GOT THAT?"
"Sure..."
"Now I'm going to stick a gun in your face until you get it. GUN!"
"What the-"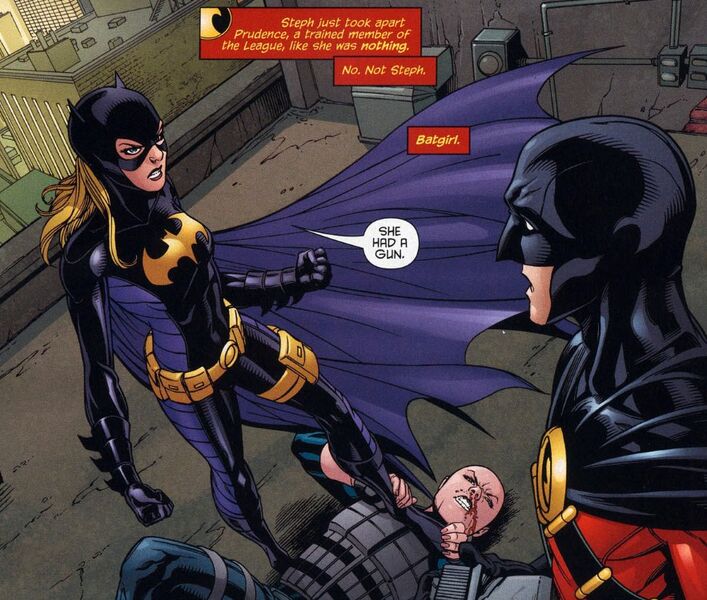 Dude, Steph could have done that even when she was Spoiler. That's just my opinion here, though! Man, I miss Cass and all, but I cannot tell you how happy it makes me that becoming Batgirl has finally somehow gotten Steph some
goddamn respect.
And now Tim is dorky and not broody anymore and I can buy his title....
Of course, just as I'm beginning to enjoy it, they have to change writers...whatever. Nicieza, don't screw my Timmy up again.
Turns out Prudence was faking it for some reason and the gun wasn't loaded. Why she stuck the gun in Steph's face in the first place I have no idea. Who cares. Steph kicked ass. It was awesome.
And here is an awesome panel of Steph and Tim kicking ass in formal wear (I will admit to loving when people do that. It's almost a kink. I love it even more when women rip up their pretty dresses so they can roundhouse better, which Steph. DID.) Because Marcus To is a good artist, Steph is not wearing a strapless gown held up by magic and sporting the most common superpower. But she is still wearing eggplant. Because she's Steph. Duh.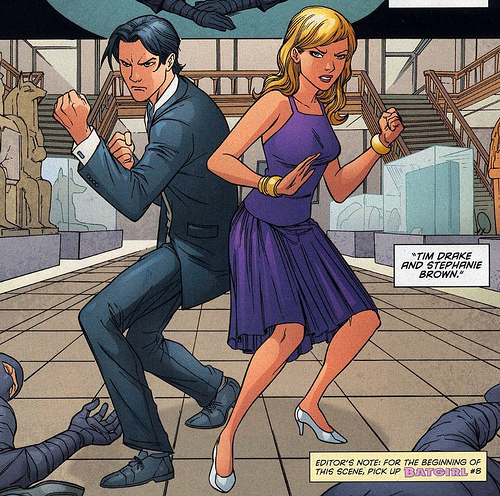 "...scourge of the League of Assassins in high heels and dress shoes!"
They are so adorable! I want to marry Marcus To's art so hard. Much better than the crap they had in Batgirl this week.
But the point here? Tim. Steph. Love. Me. Squee. Happiest person ever. I love it.
tags: char: spoiler/robin/batgirl/steph brown, char: robin/red robin/tim drake, title: red robin, creator: chris yost, creator: marcus to