badficwriter posting in

scans_daily
Bring back the
old
bad guys!
Spider-man Annual 1998. Writer: Tom DeFalco. Artists: Tom Lyle.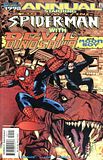 The Circus of Crime returns! Spider-man handles it without Daredevil's help, but Matt Murdock makes a one-panel appearance as an homage to their first team-up.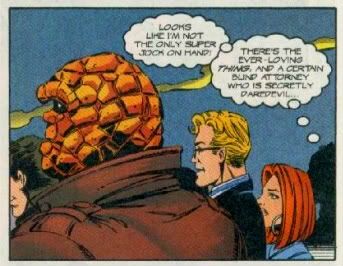 Aug 1998. Spider-man: Made Men (4 and a half pages from 49 page story) Writer: Howard Mackie. Artists: Norman Felchle.
Ben Urich writes the story of how Wilson Fisk, once Kingpin of Crime of Manhattan, returns to New York City.
Review here.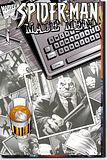 Two men reminisce over a shared childhood memory of watching the Kingpin while they hid behind trash cans in an alley.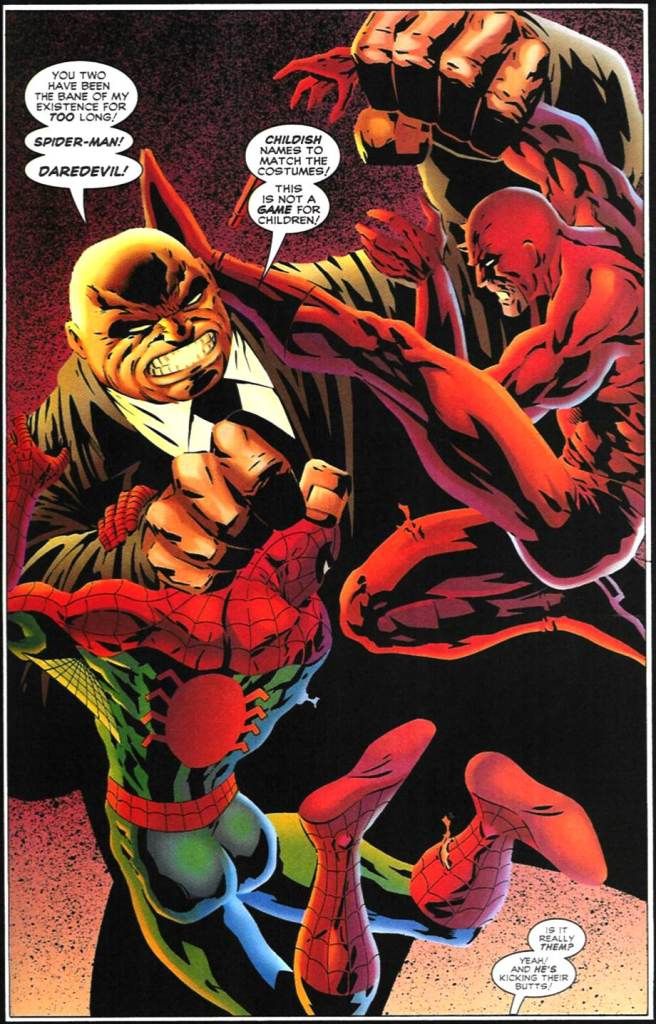 The other man remembers it differently.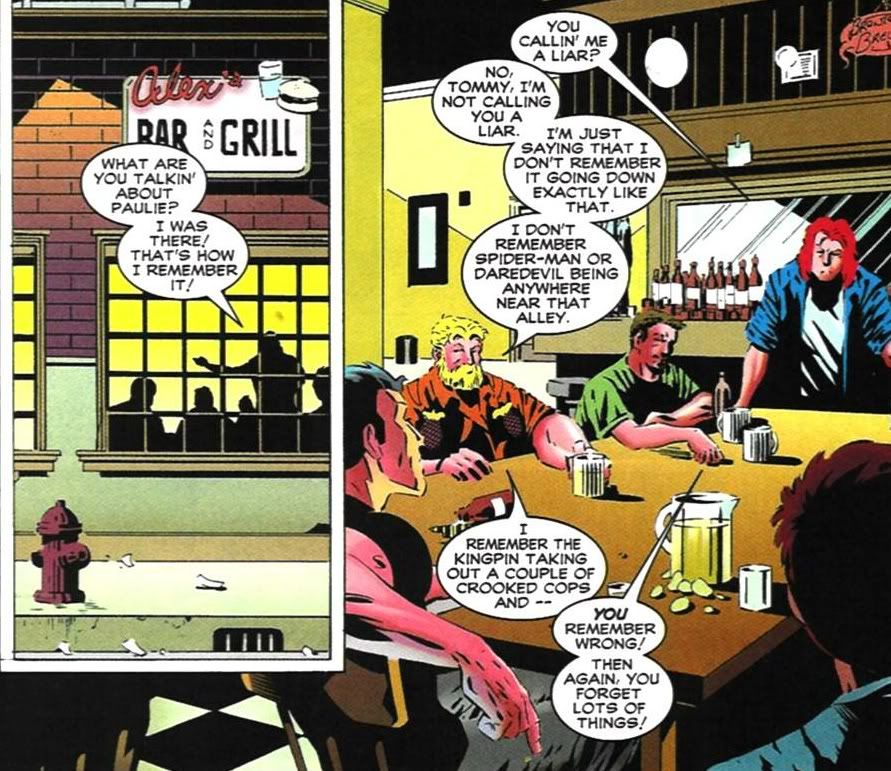 The two men have grown apart. One is a hood looking for a position with the right gang, the other has become an undercover cop.
The hood saves the Kingpin when he comes in at the airport. Fisk hires him and makes a speech while the city explodes in violence from his return.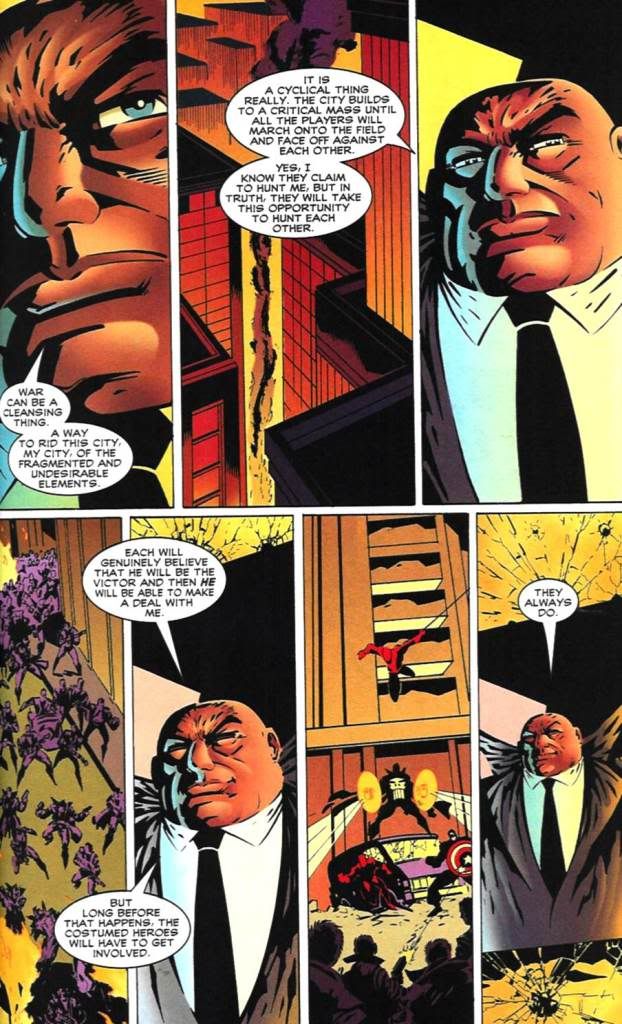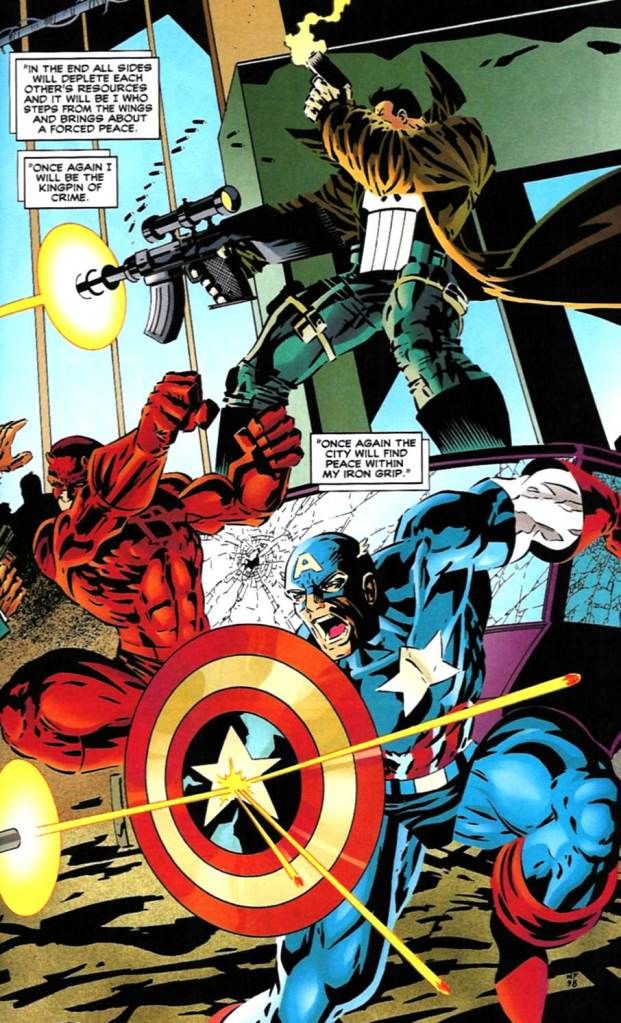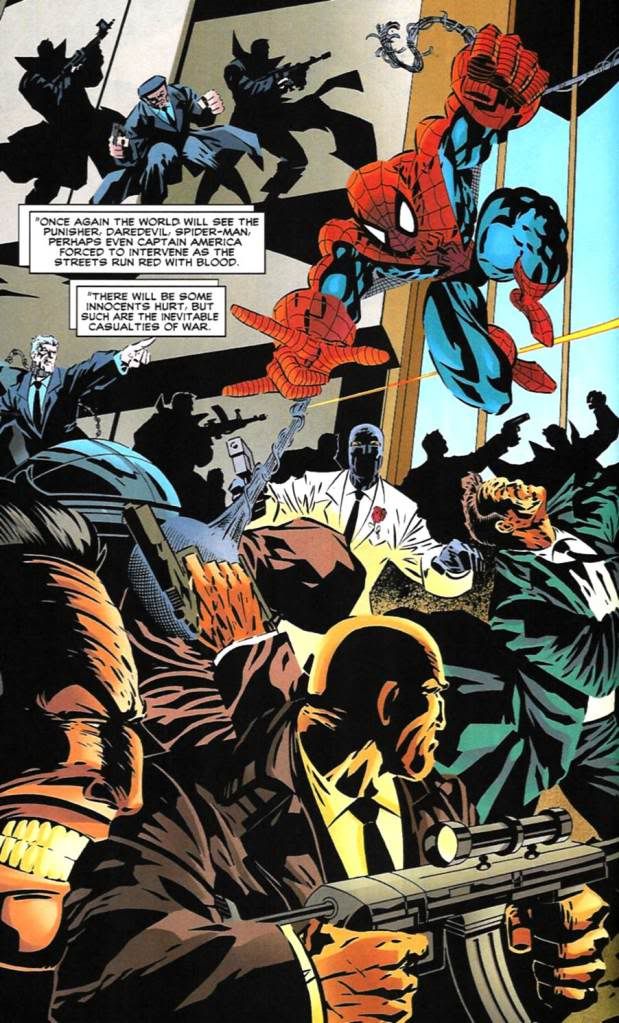 Nov 1997. Spider-man/Kingpin: To The Death (6 pages of 41 page story) Writers: Tom DeFalco, Stan Lee. Artists: John Romita Sr, Dan Green.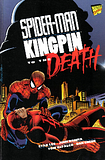 This story has been occasionally panned as unoriginal, cliche, trite use of real world type villains, etc. Others consider it a classic story by the original masters of these characters and proof that Marvel could do this kind of story again--if they really wanted to.
Review here.
Whatever, the art is lovely. And it's clear both writers are fond of the long-standing friendship between Matt and Peter. It's startling to remember that this is the one time Stan got to write them while both characters knew each others' identities.
Someone is pretending to be Spider-man again, and killing people.
The lady with the white streak is Rosalind Sharpe, Foggy bio-mother, who Foggy insisted Matt and him join a firm with.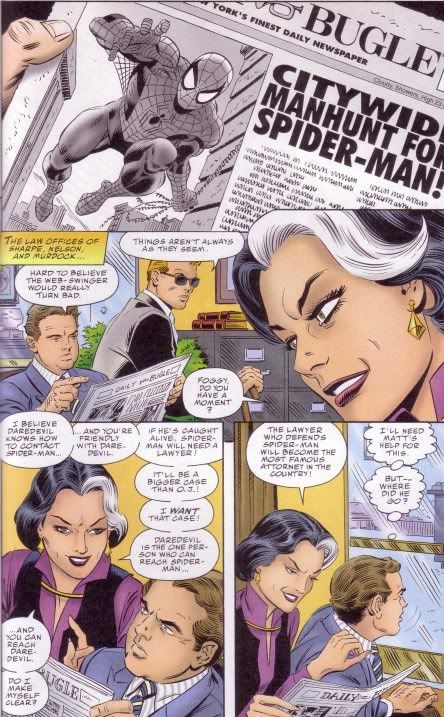 Sharpe doesn't think much of Foggy. One of the few things that she did like was Foggy's outed friendship with Daredevil.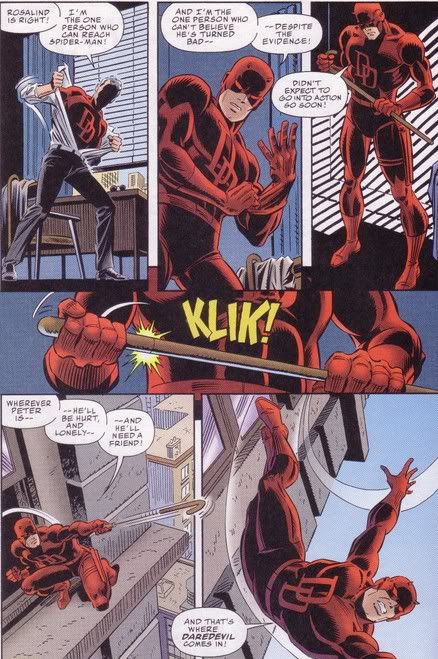 Stuff like this convinces me that those old guys just don't take slash subtext seriously. Modern writers are too afraid to write this kind of care between men.
Peter is hiding from the hero community, as usual. He senses Daredevil.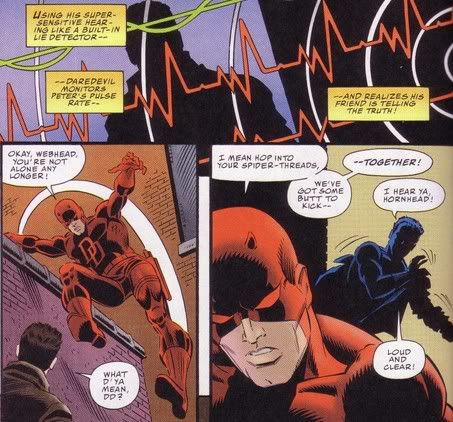 What do I love about superheroes? The way they undress at the drop of a hat in alleys.
They discover that the imposters are victims of a new experimental bioweapon drug called Death's Arrow, created by the Kingpin. The users gain superstrength, but die. Dressing them in Spider-man's costume is just for fun.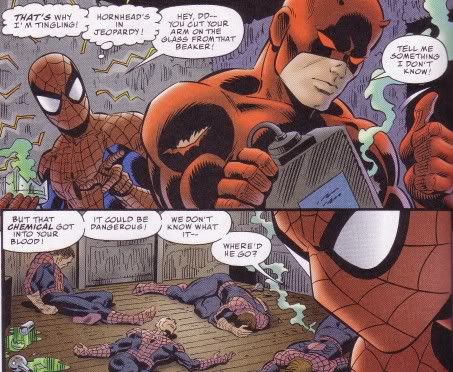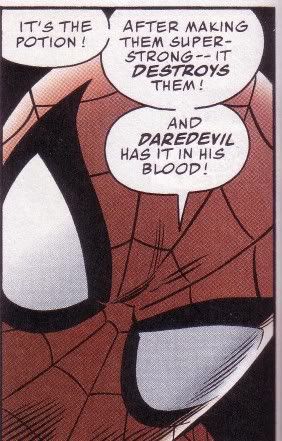 Daredevil raced after the fleeing scientist. Unfortunately, it took too long, and the superstrength wears off in time for the Kingpin to capture him.
Fisk sells Death's Arrow to a known terrorist named Zoltaro.
Zoltaro!
Tremble before his might..! Zoltaro bombs Fisk's car, at which point the Kingpin's trap is sprung. Daredevil, hypnotized and hopped up on Death's Arrow, attacks Zoltaro.
Peter used Ben Urich's connections to get the location of the buy.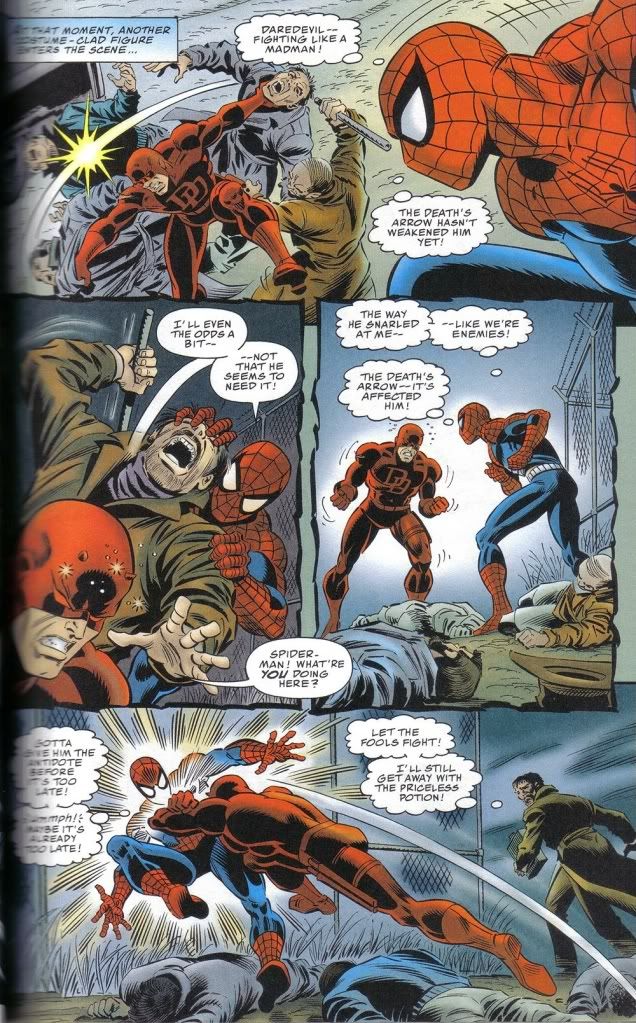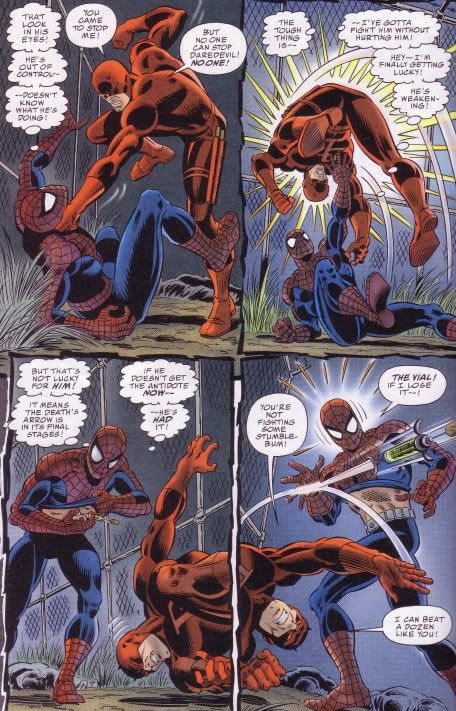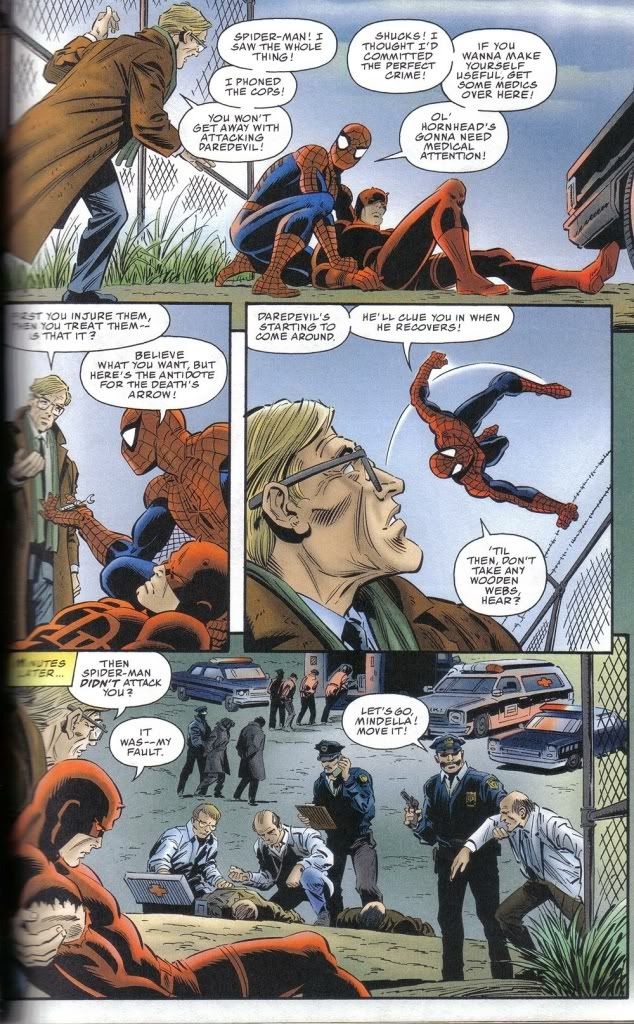 Peter Parker makes his appearance, claiming to have taken photos of everything from hiding.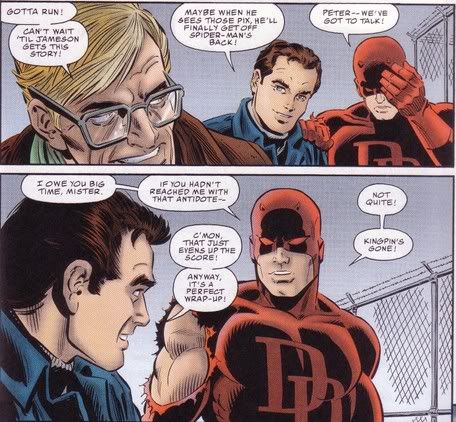 So.
Manly.
Kingpin gets the closing speech, as he promises that in the end--he will win.
Previous parts of series:
Part 1
Part 2
Part 3
Part 4
Part 5
Part 6
Part 7
Part 8
Part 9
Part 10
Part 11
Part 12
Part 13